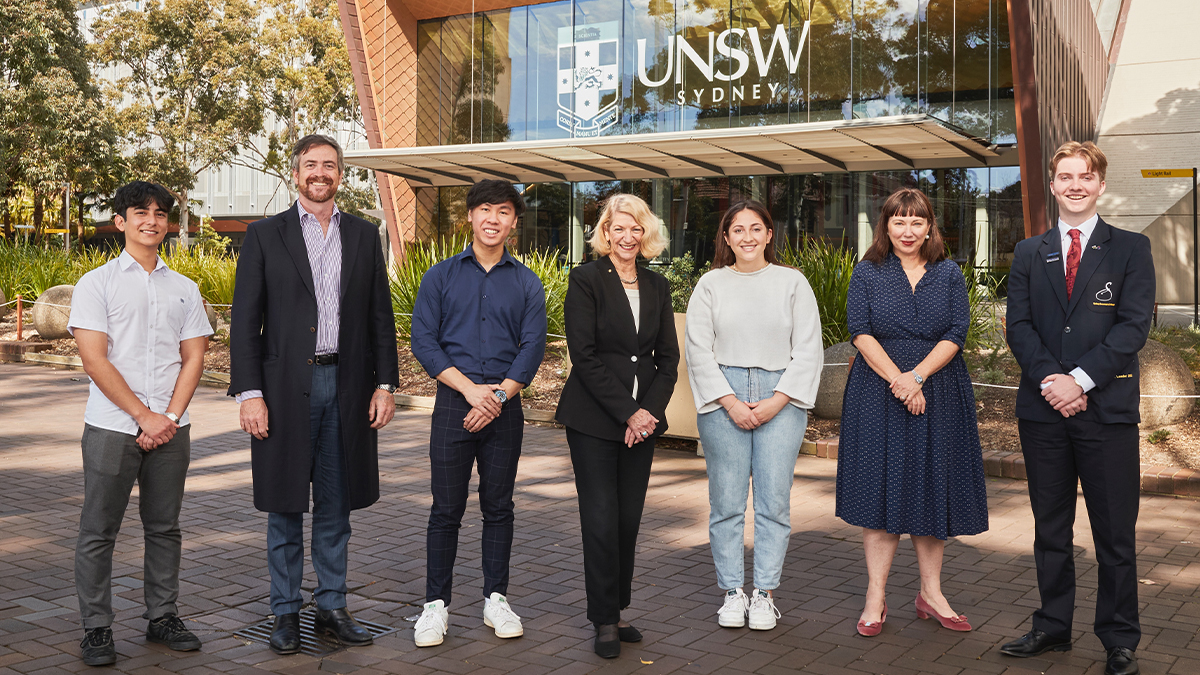 Dear colleagues
You may have seen today's article and op-ed in The Australian announcing UNSW's intention, as part of our S25 strategy to increase the positive social impact of UNSW, to refine and expand our Gateway Admissions Pathway and Program (GAPP). In its first two years of operation (2020–2022), GAPP has increased the percentage of under-represented students and schools from 15% to 18% accessing UNSW. Now, our more ambitious goal is to achieve a 25% new combined equity target that measures under-represented schools and students (low-SES) accessing UNSW over the next five years. Not only will this help us create a more equitable and just society, it also supports a continued drive for excellence at UNSW and better provides Australia with the individuals needed to build a prosperous future.
We welcomed the announcement by federal Education Minister, Jason Clare, of an additional 20,000 Australian university places for students from under-represented backgrounds – a transformative commitment that aligned with the completion of our GAPP expansion plan.
UNSW has long-supported students from under-represented cohorts, having the highest rate of success for under-represented students in the country. We have held the top spot nationally for undergraduate low-SES student success since 2011 and in 2020 were top, nationally, for undergraduate equity cohorts.
But we know we have to do more. Times have changed. The equity gap has widened. Our economy needs to draw upon the strengths and aptitudes of our entire population and we will only do that if we address the gap in educational outcomes so heavily linked to socio-economic status.
I hope that you share the sense of pride in our University being the first Go8 university to provide a coordinated and overarching program with dedicated resources. One that takes an all-encompassing, whole-of-institution approach to ensure UNSW's undergraduate student body is representative of the diversity of Australian society and that we learn from students from diverse backgrounds as much as they learn from UNSW.
My sincere thanks to Professor Eileen Baldry, DVC Equity, Diversity and Inclusion, and Mary Teague, Director of Access, Equity and Inclusion, and their team for the stellar work, as well as Professor Merlin Crossley, DVC Academic, his team and all the Deans for their support in bringing this important initiative to reality.
Read the op-ed and article in The Australian (available via subscription):
Ambassador Caroline Kennedy comes to Kensington campus
UNSW had the wonderful honour of hosting United States Ambassador to Australia, Caroline Kennedy, on campus last week. Ambassador Kennedy, who began her posting on 25 July 2022, included UNSW in her first official visit to Sydney, to attend the graduation of long-time friend Dr Melissa Chiu. Graduation ceremonies are one of the jewels in the crown of a university education – what a special occasion to present for Ambassador Kennedy's first experience of our University.
I was delighted to accompany the Ambassador on a tour of the Solar Industrial Research Facility, during which Professor Renate Egan, Scientia Professor Martin Green and Professor Alistair Sproul outlined UNSW's cutting-edge research and development in solar photovoltaics. This was a unique opportunity to demonstrate the work our University is doing to address climate change and benefit global society – actions and values UNSW and Australia share with the US.
During her visit, Ambassador Kennedy met with three of our American students, whose positive experience of studying with us reinforced the vibrant relationship between our countries. It was heart-warming to offer the students an unexpected meeting with such a distinguished compatriot! 
Back to School(s)
Now that I'm nearly seven months into my role as Vice-Chancellor, I've set myself an ambitious but SMART goal of meeting with staff in all 49 of our Schools over the course of the next few months.
With the six Focus Areas guiding the remaining delivery phase of UNSW Strategy 2025 confirmed and the dedicated working groups' efforts to pull together the plethora of S25 activities well underway, I'm eager to provide updates about the progress of this work and to better understand the strengths and challenges facing each of our schools.
In each visit, I'm giving an update of about 10 minutes and then opening the meeting as a Q&A. I've already had very productive, informative visits with the School of Art & Design (in the Faculty of Arts Design & Architecture) and the School of Population Health (in the Faculty of Medicine & Health). I'm taking the opportunity to tour the teaching and research facilities in the Schools I visit, as well as having detailed discussions with each School's leadership team.
What I'm also really keen to do is hear about what makes people proud to work in their School within UNSW. There are untold stories of positive impact throughout the University – please take this opportunity to tell me more.
As my visits gain momentum, I'm looking forward to sharing some of the common themes that are emerging from our discussions and some of your stories too. Sincere thanks to all who have attended and participated in my School visits so far.
R U OK? Day – Thursday 8 September
The elegant simplicity of asking R U OK? is wondrous. It starts conversations, it makes and enhances connections, and it may even change a life. The movement that began in 2009 with one powerful question now dedicates a national day of action each year: R U OK? Day.
This R U OK? Day, Thursday 8 September, UNSW is hosting a special program of events, in-person and online, to promote the meaningful conversations that can help our friends and colleagues through difficult times.
So, while you can certainly ask R U OK? any day, please make a concerted effort to connect and converse this R U OK? Day. There'll be 2-for-1 coffees at The Lounge…
UNSW R U OK? Day program  |  R U OK? website and resources
More Inside…
There's a multitude of great UNSW stories in this edition that are all worth reading, but I'd like to mention in particular:
The launch of the UNSW Cities Institute, which I attended with NSW Minister for Cities, Rob Stokes, and Professor Claire Annesley, Dean of UNSW Arts, Design & Architecture last week.
UNSW's partnership with Pride in Sport, part of our commitment to equity, diversity and inclusion, which aims to break down barriers to LGBTIQ+ people's participation in sport and create a more welcoming, inclusive environment.
And, if you enjoy socialising or having a bite to eat while on campus, here is some great news: the new Quad Food Court will be ready for Term 1 2023.
Best regards
Attila
Professor Attila Brungs
Vice-Chancellor and President
Comments