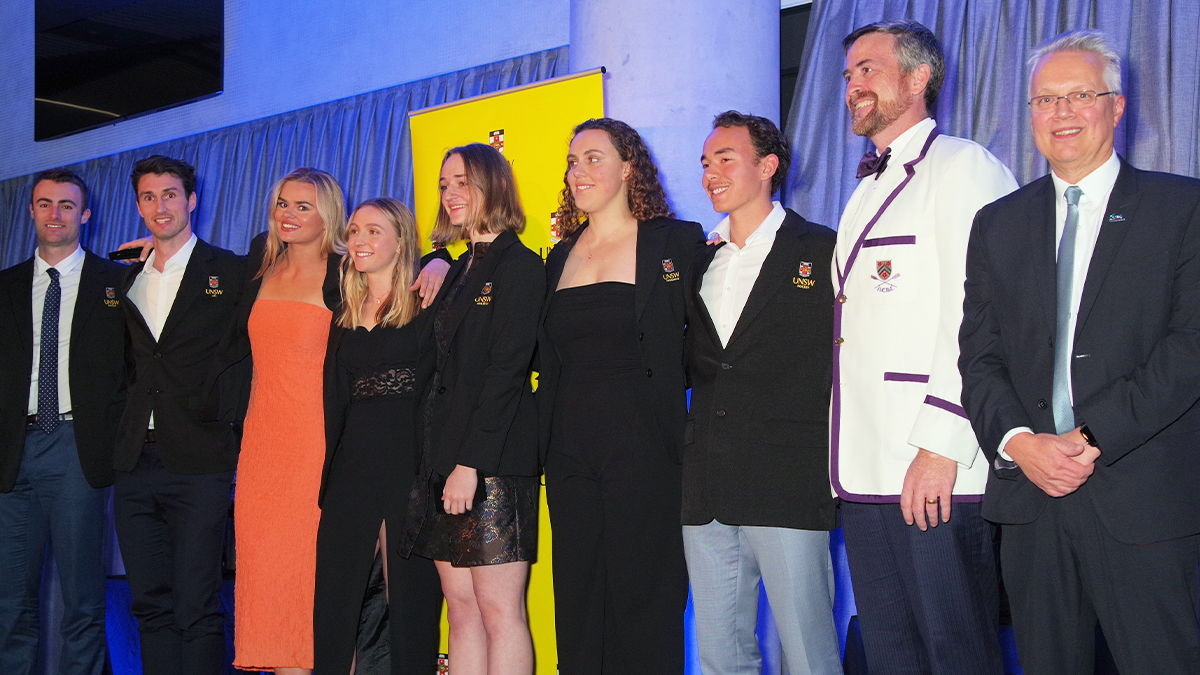 Dear colleagues
It has been another few weeks of amazing accomplishments across UNSW as we accelerate towards the end of term. From celebrating our sporting achievements on field and off field, success at the UNSW Blues and Sports Awards Dinner, to contributing to national policy development in education.
Last week was personally momentous for me, as I notched up six months at UNSW. The adage being particularly true in this case – time flies when you are having fun, and thanks to you all, I have been having a lot of fun indeed!
This seemed the perfect time to reiterate the strategic direction I have been discussing across the University and announce some changes I have made to the senior leadership team at UNSW to better support our strategy. As you have heard me say before, our S25 strategy is not only compelling but in many ways its delivery is even more critical given the current challenges and opportunities facing society.
Based on input from students and staff, including from the Ideas Hub, reviewing the significantly changed environment and operating context UNSW is facing, and discussion with leadership and Council, I have articulated the need to continue but also slightly modify, simplify and focus S25 to ensure concrete delivery of its benefits over the next few years. Within the three pillars of our strategy: Academic Excellence, Innovation and Engagement and Social Impact, we will be increasing our focus on elements around improving student experience, scaling lifetime learning, supporting research excellence and translation, increasing our social impact momentum, supporting our people and community and upgrading/simplifying university systems. These focus areas were shared and discussed at the all-staff forum in May.
With the strategic direction clear, changes were required to better align the executive level of the University with some of the areas outlined above to provide additional focus, such as the delivery of a distinctive UNSW student experience, the development of innovative practices in education, furthering UNSW's international position and increased social impact.
Student experience
To increase the University's focus and support for student experience and the lifelong learning opportunity and challenge, and in response to input from staff through the Ideas Hub, the current role of Deputy Vice Chancellor Academic and Student Life will be split into two: DVC Academic Quality and DVC Education and Student Experience. 
The DVC Academic Quality will be ably filled by Professor Merlin Crossley. The role will also enable him to expand his existing research and teaching alongside the DVC role. Prof. Crossley's expertise as both an active teacher and researcher, and the real-world experience he brings to the role will be invaluable. 
As DVC Academic Quality, Prof. Crossley will sit in the Office of the Vice-Chancellor and manage a portfolio of activities and processes related to academic quality, including promotions, TEQSA and similar government-related matters. The portfolio will also include a core unit of any university, the University Library, as well as the Pro Vice-Chancellor Society (see more information below), UNSW Press, UNSW Global, and an academic quality unit.
The DVC Education and Student Experience (DVCESE) will be responsible for further developing and implementing UNSW's approach to education and the student experience. The DVCESE will lead the newly titled Division of Education and Student Experience. This Division will continue to perform all the vital functions of the current Division of Academic and Student Life, with the exception of those functions that will become part of the DVC Academic Quality portfolio, as outlined above.
The position is specifically charged with driving the student experience and promoting UNSW's reputation for excellence through leadership of the key educational activities within the University. This will include leading the development and adoption of innovative practices in learning and teaching; and working closely with the Division of Research & Enterprise to better incorporate research into the UNSW student experience, and UNSW educational expertise in our research translation efforts. There will be a particular focus on innovations to enhance student learning outcomes and on developing and implementing strategies and policies to deliver consistent improvements in the quality of both the academic and non-academic student experience. The Division will include Future Student Recruitment, the functions within Pro Vice-Chancellor Education and Student Experience (PVCESE), Pro Vice-Chancellor Indigenous (PVCI) and Nura Gili, and Registrar and Student Services (RaSS).
International (to be renamed Global)
A recent review of UNSW's international activity made several recommendations addressing the challenges and opportunities in UNSW's international approach. These recommendations included the conversion of UNSW's PVC International role (currently vacant) into a global role that reports directly to the Vice-Chancellor.  
The role will be responsible for developing and implementing the University's global engagement and international strategy. It will be tasked with establishing new, and developing existing, international links to maximise UNSW's contributions across the globe in the service of society, in keeping with our vision. The role will also work closely to support the Division of Research & Enterprise to assist researchers across UNSW in our critical international research engagements. 
This position will report to the Vice-Chancellor and, given the role's remit, may be an academic or professional staff appointment, hence a DVC or Vice-President. The area will be named 'Global', rather than 'International', consistent with UNSW's positioning as a global university. The unit will be relatively small, but with dotted line reporting to the significant international support areas in other Divisions, such as Future Students. Vital to the success of this role is the close working relationship with the Associate Deans, International or equivalent, across the Faculties.
This will bring into focus significant areas of importance for UNSW over the coming years, with the changes managed to minimise the impact on individuals and teams, minimise additional cost and only require a small number of reporting line adjustments. The new structure will be effective from 21 August 2022.
In addition to changes to the leadership team, Professor Megan Davis recently took up a new role as Pro Vice-Chancellor Society (PVCS).
The new PVCS portfolio is one of several recent initiatives that underscore UNSW's commitment to serving and improving society. It will be responsible for championing and inspiring UNSW's contributions to society including across reconciliation, justice, equality, environment, and the impact of technology.
This portfolio also reaffirms UNSW's support for the Uluru Statement from the Heart, which calls for a constitutionally enshrined First Nations Voice to Parliament – a campaign Prof. Davis has spearheaded since its launch five years ago.
We will commence recruitment for the DVC Education and Student Experience, the DVC or VP Global, and the PVC Indigenous shortly.
Lastly, I am delighted to share that Scientia Professor Sven Rogge has been appointed as Dean of Science, following an extensive national and international search.
Prof. Rogge has held the position of Pro Vice-Chancellor Research, leading the University's research strategy office, research grants and contracts, and research ethics and compliance support teams, since March 2021. Before that, he was head of the Science School of Physics from 2014 to 2019, after joining UNSW in 2011 from Delft University in The Netherlands. He has a Bachelor of Science in Physics from the Karlsruhe Institute of Technology and a PhD in Physics from Stanford University.
Prof. Rogge is a highly experienced senior leader in both academic research, education and administration, and I look forward to continuing to work with him on the University leadership team in his new role.
I am very grateful to Professor Scott Kable for his leadership and outstanding contributions to UNSW Science and the broader University as Acting Dean this year. He led the faculty's transition back to life on campus after the COVID-19 lockdowns and oversaw some outstanding research contributions, in areas such as RNA medicine, quantum computing, sustainable energy, climate change and the response to this year's floods.
Given the criticality of research to UNSW's strategy and my priorities, we will be moving quickly to appoint an acting PVC Research, vacated by Prof. Rogge, followed by a recruitment process.
In closing today, I'll commend another superlative issue of Inside UNSW to you. Please read this edition for a range of news about achievements and initiatives happening throughout this wonderful University.
I would also like to mention the recent loss of two respected colleagues. David Tattershall, whom many knew as the much-loved colleague, friend and mailman who always made time for a smile and a conversation, will be sadly missed. I was also sorry to hear of the passing of Emeritus Professor Cameron Rolfe Howlett, who will long be remembered for his irrepressible humour and incredibly generous nature. 
Finally, I draw your attention to the great work being done in UNSW's ongoing Cyber Security Resilience Program. Enhancing cybersecurity, including protecting information and privacy, is of paramount importance to our core functions of education and research. We all play a part in being cyber smart.
Best regards
Attila
Professor Attila Brungs
Vice-Chancellor and President
Comments