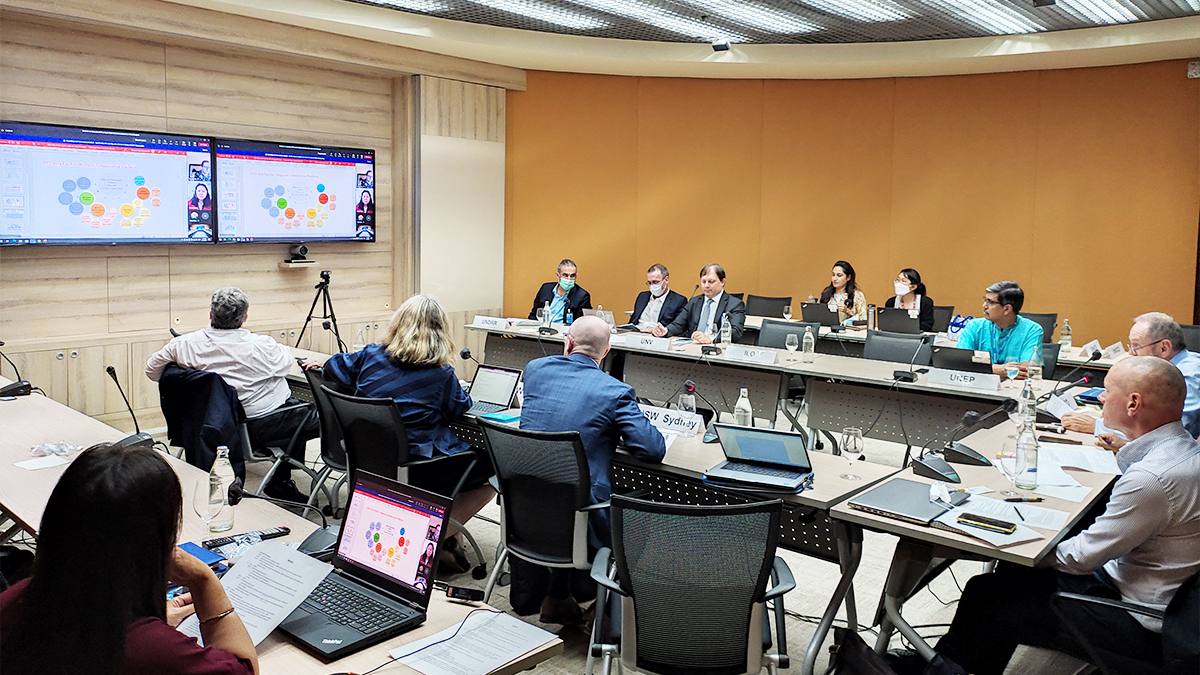 UNSW experts and leaders met with the regional United Nations Office to discuss Sustainable Development Goals.
Last week the UNSW Institute for Global Development (IGD) facilitated an introductory meeting between development leaders and experts from UNSW and the regional United Nations (UN) Development Coordination Office in-person, in Bangkok. 
The IGD, established under UNSW's Strategy 2025, works towards the worldwide Sustainable Development Goals (SDGs) by collaborating with and facilitating partnerships between experts throughout UNSW and beyond, to improve the lives of marginalised people. 
Launched in 2016, the IGD has invested in more than 35 projects, originating from almost every UNSW faculty. They have supported student placements and experience with communities in developing countries, engaged with key research networks and advocated for sustainable development across UNSW.  
Last week's meeting with the UN established a long-term partnership between the University and the international organisation, confirming UNSW as a leader in Asia-Pacific development. Multiple development experts from UNSW met with a delegation from the UN to share information about each party's activities and plans, exploring opportunities for collaboration to contribute to the SDGs and social impact in the Asia-Pacific region. 
"The IGD is pleased to have been successful in facilitating the beginning of what I hope will be a long and fruitful collaboration with the United Nations in the Asia-Pacific region. UNSW has a wealth of experience in sustainable development across its faculties and I look forward to working with eminent academics at UNSW to further this experience," said Dr George Varughese, Director, IGD. 
The UNSW delegation included: 
The delegates were hosted by the UN Development Office's Asia-Pacific Regional Director, David Mclachlan-Karr. High-level region representatives from across the UN family of agencies participated in the meetings, including UNEP Regional Director Dechen Tsering and UNDRR Regional Director Marco Toscano Tivalta. The delegation was also briefed by several Resident Coordinators, including from Samoa, Nepal, and Timor Leste on challenges and opportunities for development coordination in the Asia Pacific region.
The topics discussed included environmental and humanitarian engineering, public health, climate science, global food and water security, population migration and displacement, and more. The UNSW delegation also heard about the UN's previous successful collaborations with other universities such as the University of Timor Leste, the National University of Samoa and New York University. 
The lead of the UN's delegation, David Mclachlan-Karr said, "I am hugely grateful to George Varughese for conceiving the idea for the two day event and for co-organising it with us. The UN cannot deliver on its own, and we need new partners while working with existing ones to re-think and re-imagine how we define and deliver development solutions and results within the context of the current disruptions from COVID-19, and the global supply chains from the fall-out of the Ukranian conflict." 
A reciprocal visit has been planned for October, to be hosted by UNSW Vice-Chancellor and President Attila Brungs. 
Comments