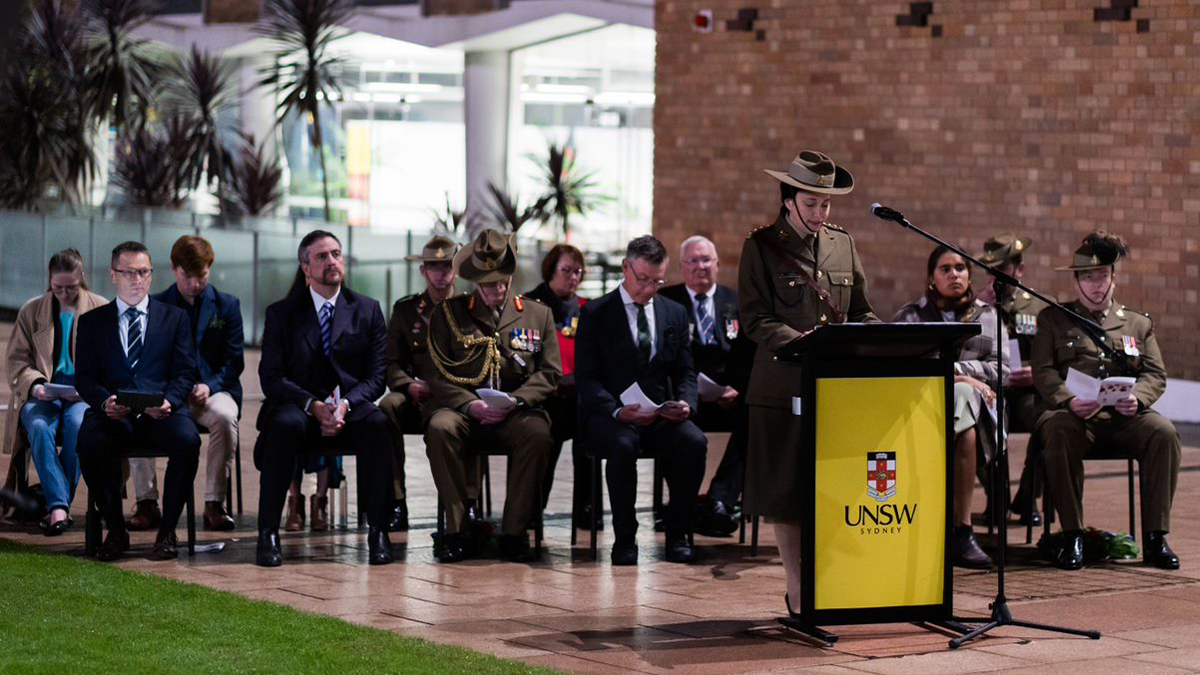 Dear colleagues
Wonderful people are at the heart of everything we do at UNSW and I am frequently in awe of the impactful work happening across the University. Thank you to the team of dedicated people who have brought us the Celebrating UNSW Women on Campus project, which received a tremendous reception at a packed Roundhouse recently. This excellent program is increasing the visibility of some of our University's previously unheralded, most outstanding alumnae and former staff.
Celebrating UNSW Women on Campus will see better representation of iconic figures among our remarkable and diverse UNSW community with 17 buildings and spaces now named after inspiring UNSW women. I would particularly like to thank and acknowledge the Chancellor, David Gonski, for his leadership and support of this initiative. While I was disappointed I couldn't attend the launch, I was excited to be involved in the initiative and part of this moving video about the project, alongside a cadre of brilliant UNSW women.
I highly recommend checking out the Celebrating UNSW Women's Trail which has been created across the Kensington and Paddington campuses, celebrating the immense contribution of women to our University over decades and inspiring the next generation of UNSW women.
UNSW Regiment ANZAC Day Dawn Service
I was honoured to attend the University of New South Wales Regiment Anzac Day Dawn Service on the Globe Lawn last week. It was pleasing to see a strong turnout of students and to gather with members of the regiment and broader UNSW community. Together, we paid tribute to the spirit and the sacrifice of the Anzacs, and acknowledged all who have placed their lives on the line in service to, and defence of, their loved ones and their community and country. It was also a poignant reminder of the role we must all play in contributing to a peaceful world by nurturing tolerance and acceptance in our society.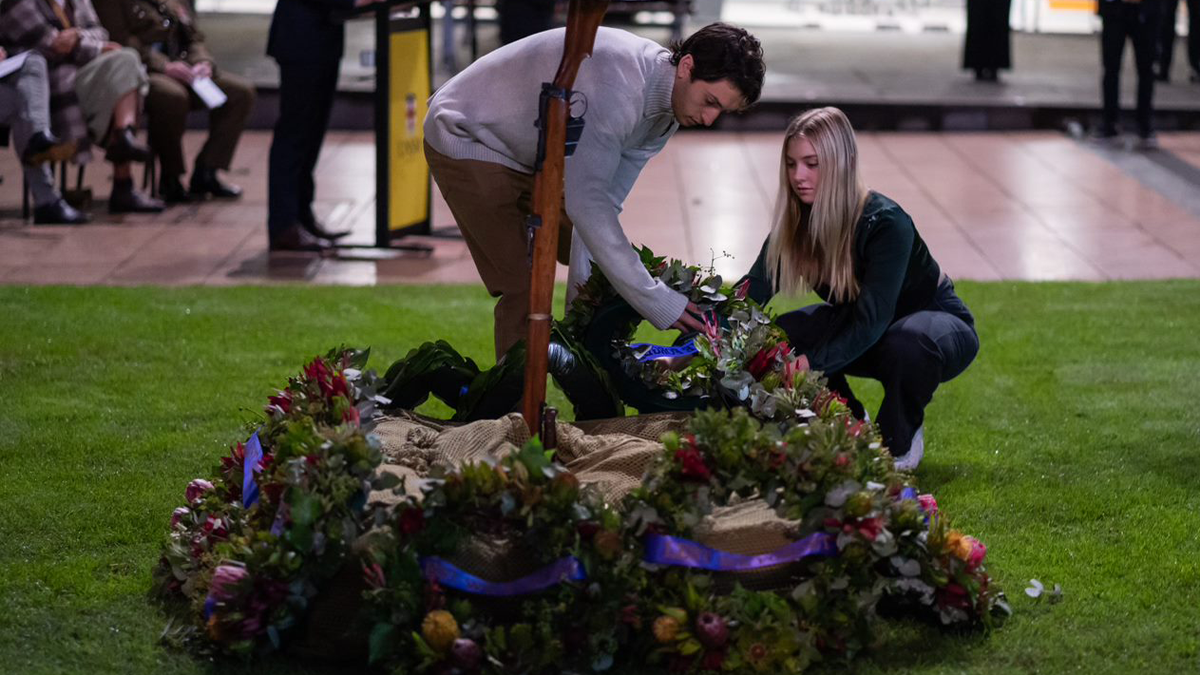 Philanthropic support hits milestone
I am delighted to report that the ambitious goal we set to raise $650 million in philanthropic support by 2025 is well in sight. We hit an important and impressive milestone last week, reaching the $500 million mark. This support has already propelled world-class research at UNSW, increased the number of scholarships we are able to fund by 22 per cent and enabled many community projects that have improved the lives of those around us. This milestone is more than just a number: it represents the tangible impact that philanthropy has in our UNSW community and beyond. I am grateful to all who have played a part in contributing to this very significant philanthropic accomplishment and for the immense generosity of our philanthropic community.
Victor Dominello appointed to UNSW and UTS digital hub  
I am pleased to share that former NSW Government minister Victor Dominello has been appointed director of a new initiative from UNSW, in collaboration with UTS, called the Trustworthy Digital Society Hub. The hub will focus on citizen-centred digital platforms and advance the development and uptake of trusted digital services. It will draw upon the significant effort already existing across many faculties at UNSW. The role of technology in society will continue to grow and it's vital to develop digital technologies and practices that prioritise privacy and security, which is the aim of the hub. As former NSW Minister for Digital and Minister for Customer Service, Victor has a proven track record in leading digital transformation in Australia and I'm excited about the potential of this hub to support individuals, businesses and governments in building a true and trustworthy digital society.
Cyber Security eLearning Module launching shortly
Speaking of digital society, cyber vigilance is a continuous exercise in which every one of us must engage. The security of our information resources and the privacy of our students and staff are essential to the University's operations. That's why I'm pleased to announce that the new UNSW Cyber Security Awareness eLearning module will be progressively introduced from this month. I have already completed the module and found it provided both powerful reminders and prompted me to reflect on some of my own approaches to cybersecurity. All UNSW staff will be required to complete the module annually.
The Cyber Security team is working hard to develop a strong cyber awareness culture at our University and they have my full support in this endeavour. I encourage you to watch this video as an introduction to the upcoming training.
You can read more about the training and other key initiatives of the Cyber Security Resilience Program in the latest cyber program news.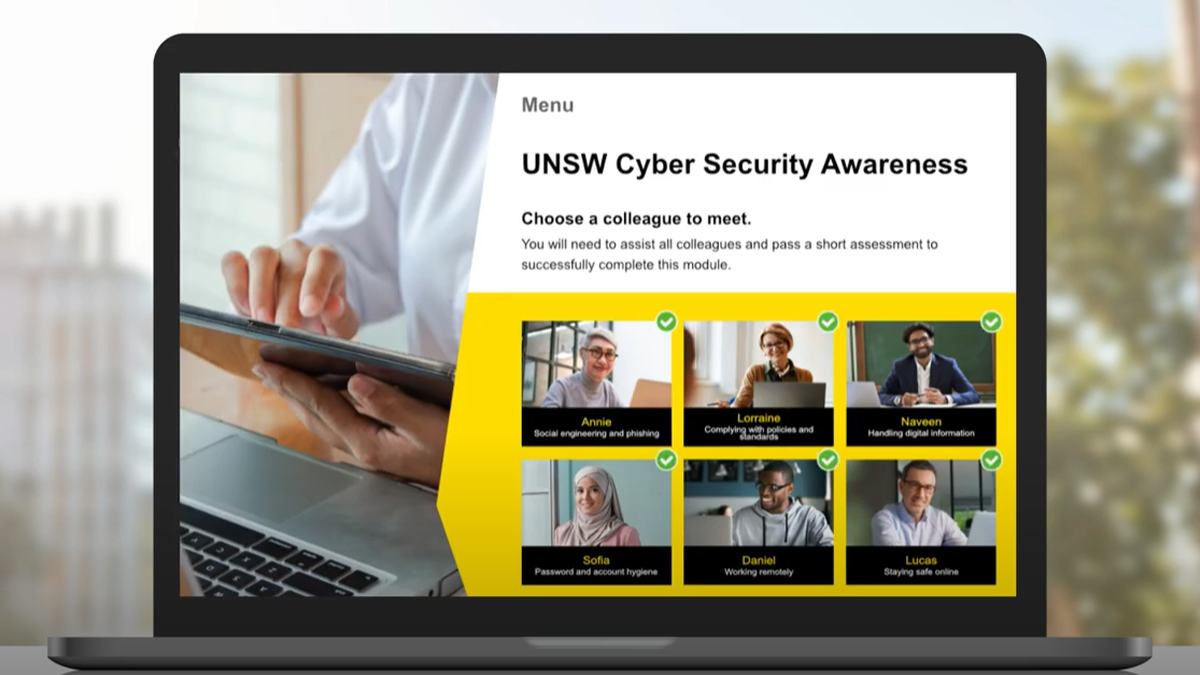 Remaining vigilant against financial scams
In a related matter, last week UNSW sent an email to all students to remind them to be vigilant against possible scams. The University has been informed that there are new financial scams currently circulating in the local community. We are aware of UNSW students who have been victims of such scams, which are targeting both domestic and international students.
The UNSW Current Students website includes information about some of the scams affecting the community and links to help services.
I ask all colleagues to be vigilant, to help protect our students, staff and University from cyber threats and financial scams, and to keep the UNSW community safe.
U21 partnering for change
Last week, I attended the U21 Annual Network Meeting and Presidential Symposium in Brisbane which explored the role of universities in achieving a net-zero future. UNSW has deep expertise in climate science and sustainability, and together with other members of U21 from around the world, we have a responsibility to use our rich source of knowledge and capability to address the global climate crisis and the transition to a more sustainable future.
UN Sustainable Development
I left U21 slightly early to rush back to a roundtable discussion organised by the UNSW SDG Committee to help progress dialogue about climate adaptation and resilience, particularly in the Indo-Pacific region. It was an honour to host Director for UN Development Coordination in the Asia-Pacific, David Mclachlan-Karr, at UNSW for the meeting. It was a brilliant, energising discussion that demonstrated the immense potential of collaboration among universities, industry, governments and international organisations that share a vision for improving lives. UNSW is privileged to have such deep credentials in climate science, sustainability and a broad range of disciplines, as well as an abiding commitment to partnerships with impact. This demonstrates both UNSW's incredible expertise in the area and also our repsonsiblity to use such opportunities to contribute in concrete ways to the betterment of our planet and communities across the globe.
New email signature reaffirming UNSW support for First Nations Voice
Reconciliation is at the heart of the UNSW Indigenous Strategy 2018–2025 and the UNSW ethos of having a positive impact on the world around us. Earlier this year UNSW reaffirmed its support for the Uluru Statement from the Heart, including its call for a First Nations Voice to Parliament. A new email signature confirming UNSW's support for a First Nations Voice to Parliament has been developed. If you wish to use the new email signature, you can download it from the UNSW Brand Hub.
UNSW Accord submission now available
As I mentioned in my last newsletter, UNSW has made a submission in response to the discussion paper released by the Australian Universities Accord Panel, furthering our involvement in ensuring that the Australian higher education sector is well prepared for the future. UNSW's submission is now available from the Vice-Chancellor and President website, as well as among the full list of submissions on the Department of Education website.
There's even more to read Inside UNSW…
Finally, I would like to again thank everyone who took the time to participate in the Insight staff survey. As mentioned in previous communications, we are committed to involving you as we take meaningful action to make UNSW an even better place to work, based on the feedback you have provided. We had a total of 4580 continuing and fixed-term staff complete the first phase of the survey, a participation rate of 61 per cent, which provides a strong starting point to get the critical insight to ensure we can support you better. The second phase of Insight is designed to capture the voices of UNSW staff employed on a casual basis. I look forward to sharing the results and more Insight updates with you in the coming weeks and months.
Best regards,
Attila
Professor Attila Brungs
Vice-Chancellor and President
Comments