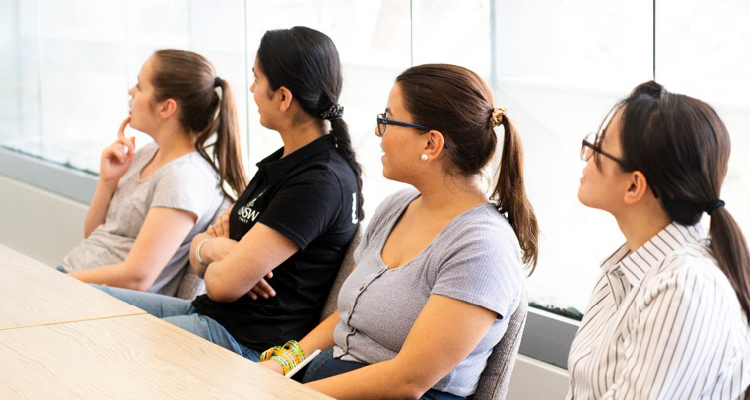 The Student as Partners Consultative Group (SCON) provides UNSW staff with student input.
SCON, formerly UNSW's Student Lived Experience Advisory Group (LEAG), is a consultative group of 18 current students, representative of UNSW's diverse student body. It consults on University projects and initiatives, drawing on the students' individual lived experiences.
The group includes students from culturally diverse and migrant backgrounds, students with disability, parents, carers and students from LGBTIQ+ communities. They have provided consultation on a range of projects, including the Disability Action Plan, Study Abroad and the Women's Wellbeing Academy.
How it works
Reach out to scon@unsw.edu.au with an outline of your project. Staff will work with you to communicate your project with SCON.

Attend the SCON meeting where you'll have the opportunity to hear students' thoughts and ideas on your key questions and focus areas. Meetings can be in-person or online.

Receive minutes and additional responses on your project in the week after the meeting.
Upcoming meeting dates and deadlines
Monday 5 June (submission deadline: 25 May)

Monday 11 September (submission deadline: 31 August)

Monday 27 November (submission deadline: 16 October)
The next meeting is on Monday 5 June. Reach out to scon@unsw.edu.au to have your project included. Submissions for this meeting are due 25 May 2023. If these meeting deadlines don't meet your project requirements, please get in touch to organise a more appropriate meeting time.
Learn more about the Students as Partners Consultative Group, past testimonials and the 2023 members on the EDI website.
Comments