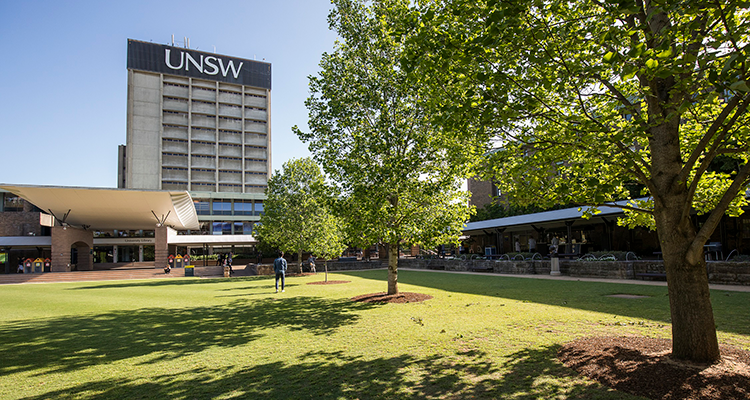 Dear colleagues
Our recent special edition of Inside UNSW focused on the steps UNSW is taking to support our students and staff during this prolonged lockdown. Since then, additional measures have been agreed to support staff, including an additional leave day, two 'recharge weeks' and access to one day per week of accrued carer's leave, which I hope will assist members of our community through this time. Details can be accessed in the message below. Meanwhile, UNSW staff and students continue to excel and this newsletter contains examples of important achievements and contributions.
UNSW RNA Institute an exciting step forward
The UNSW RNA Institute that was announced recently will be an important component of the NSW Government's plan to build RNA research and development in NSW. UNSW Sydney will invest $25 million in the new institute, with the goal of driving forward new RNA-based technologies and assisting with the NSW Government's plan to establish an RNA-based manufacturing hub in Sydney.
The Institute heralds a major step forward in onshore development of novel RNA technologies and therapies and will capitalise on our University's existing expertise, ably led by Professor Pall Thordarson from UNSW Science.
UNSW is proud to collaborate with the NSW Government, industry and academic partners to drive the development of the RNA ecosystem in NSW, as part of a collaborative RNA Bioscience Alliance Network involving other NSW universities. The potential of RNA technologies and treatments is enormous, not just to address current and future pandemics, but also to develop new approaches in cancer, genetic and autoimmune diseases.
You can read more about the Institute and RNA more broadly in this article co-authored by Palli and DVC Research, Professor Nicholas Fisk.
New Dean UNSW Law & Justice
Please join me in again congratulating Professor Andrew Lynch on his appointment as the new Dean of UNSW Law & Justice.
This is a wonderful appointment for UNSW following an extensive national and international search process. Law & Justice is a world-class faculty with an abiding commitment to serving the needs of the local and global community, and to social justice. I know that Andrew will be a fervent champion of this mission, with a continuing focus on the contemporary challenges facing our society.
Andrew is recognised internationally for his expertise in constitutional law and has an impressive research and publication record in the areas of federalism, judicial dissent and decision-making, judicial appointments, and legal responses to terrorism. He has a deep understanding of university teaching and research as well as experience of working with our external partners and stakeholders.
I am grateful for his contribution as Acting Dean and I know that he will continue to lead the faculty from strength to strength. In the faculty's 50th anniversary year, as we celebrate the breadth of its achievements, it is fitting that Andrew is also an alumnus!
Additional support for staff wellbeing
The pandemic has affected all of us in different ways and I recognise that this lockdown is taking a toll on our health and wellbeing. Many colleagues are working increasingly long hours from home, others are juggling the demands of their work with the added pressure of needing to home school or provide care and support for other family members. Some in our community may be feeling increasingly isolated and anxious, especially those who live alone. We also know many of you are supporting our students as they navigate not only the challenges of learning remotely but also the social impact of the lockdown.
That is why we have introduced the following additional measures to try to alleviate some of the pressures:
Access to one day per week of your accrued carer's leave entitlement
A University-wide staff Wellbeing Day
Recharge Weeks.
Please visit the HR Hub for information about these new measures and the existing wellbeing measures already in place for our staff.
Scientia Professor Michelle Simmons awarded the Bakerian Medal and Lecture
Scientia Professor Michelle Simmons has received another prestigious international award, the 2021 Bakerian Medal and Lecture from the Royal Society of London.
In receiving this accolade, Michelle has been recognised for creating the field of atomic electronics, making "seminal contributions to our understanding of nature at the atomic-scale by creating a sequence of world-first quantum electronic devices in which individual atoms control device behaviour".
The Bakerian, first given in 1775, is the premier lecture in physical sciences and boasts an illustrious list of scientist orators, including one of Michelle's own heroes, Michael Faraday. That Michelle was advised of her award on her birthday was a happy coincidence! Congratulations, Michelle.
UNSW leads the way with Education Focussed Summit
I extend a warm thank you and congratulations to Professor Louise Lutze-Mann, Director of Education in the PVCESE Portfolio, and the team who delivered the sector-wide Education Focussed Summit recently. More than 30 senior academic leaders from 24 universities attended the summit and discussed the opportunities and issues surrounding education focussed (EF) roles. The summit was the first of its kind in Australia and UNSW intends to host an EF Congress annually, bringing together EF academics from across the country. It is exciting that the summit demonstrated a clear appetite for collaboration across the sector and support for EF roles among institutions.
The introduction of EF roles was an important initiative as part of the 2025 Strategy. We can be proud that UNSW is a leader in this arena.
UNSW students excel in Japanese speech contest
There have been some tremendous achievements from UNSW students who competed in the recent 51st Japanese Language Speech Contest (NSW). In the Open Division, Monika Agarwal won first prize for her speech 'Message from an Older Sister to an Older Brother' and Mengqian Wu received second prize for 'What I've Gained in 2020'. Monika goes on to represent NSW in the Australian National Final at the beginning of October, and I wish her well. I acknowledge the involvement of UNSW students in moderating the contest, and Professor Chihiro Kinoshita Thomson, who chairs the contest steering committee. Congratulations to all in the School of Humanities & Languages who represented UNSW so well in the contest.
R U OK? Day – Thursday 9 September
It's R U OK? Day next week and this year's message 'Are they really OK? Ask them today' is particularly pertinent. The importance of staying connected with others has never been greater, and there is enormous potential for us to have conversations that can help our family, friends and colleagues through difficult times.
UNSW Wellbeing has organised innovative ways to mark R U OK? Day amid the restrictions of COVID-19. At 10am on Thursday 9 September, there will be a 'Virtual Town Hall' for all staff. The event will be hosted by UNSW Disability Champion Roshana Sultan, with talks and a Q&A session featuring an R U OK? Community Ambassador and a representative from our Employee Assistance Program provider, Benestar. Registrations are essential and questions for the Q&A may be submitted in advance.
Here are all the details about R U OK? Day at UNSW, including the opportunity to hang a note on the 'Virtual Gratitude Tree' and download themed backgrounds for your Teams and Zoom meetings.
Remediating historical casual academic staff payments
I am pleased to advise that this month UNSW began remediating historical casual academic staff payments. The University will be in contact with any current or former casual academic staff found to have been underpaid through the extensive review that is ongoing.
UNSW is committed to investigating and correcting underpayments as quickly as possible, in line with our ethos of valuing staff and their contribution to the University. We reaffirm our commitment to paying our staff in accordance with our enterprise agreements and relevant legislation.
Information about the review, remediation and process improvements is available here.
2021 NSW HSC exams delayed due to COVID-19
On Friday 27 August the NSW Government announced that the Higher School Certificate (HSC) exams will be postponed until early November. Thank you to our colleagues in the Divisions of Academic & Student Life and External Engagement for quickly publishing a range of information to help current Year 12 students understand what the delay means for university entry in 2022.  We want to assure Year 12 students that we understand the hurdles they are facing and that we will work with them to realise their higher education ambitions. These students' knowledge and skills will be greatly needed in the years to come.
In closing, I would like to express my appreciation for all that you have achieved so far this year – now we are two-thirds of the way through 2021. Your camaraderie and professionalism are invaluable as we face current challenges together. Please continue to make use of the range of supports available for the UNSW community as we live with COVID-19 lockdowns and associated pressures. I urge all in our community to comply with the health orders, get tested as soon as symptoms arise, however mild, and, if you can, get a COVID-19 vaccination as soon as possible. We will continue to keep the UNSW community up to date with COVID-19 issues affecting our University through regular emails.
Please take care of yourselves and your loved ones and look out for your colleagues during this difficult time.
Best wishes, stay well

Ian
Comments