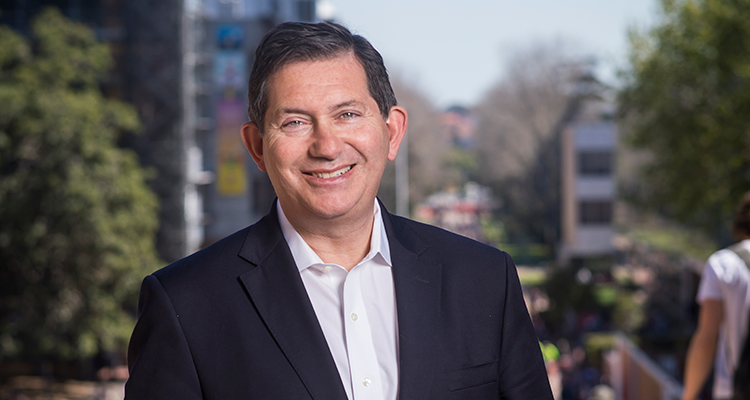 Dear colleagues
As our state makes progress along the NSW Government's roadmap to easing stay-at-home orders, UNSW is working on plans to reactivate our campus in a phased way. The UNSW return to campus plans will be shared at an all-staff virtual meeting from 9am – 10am on Thursday 7 October. An invitation to this meeting will be issued shortly. We hope that by the end of this year, many colleagues will have the opportunity to catch up with one another safely, in person, on campus. It will be particularly pleasing if we can reunite for end of year get-togethers to celebrate the camaraderie and recognise the hard work and resilience that have again been on display throughout the UNSW community during a very challenging period. Meanwhile, I encourage students and staff who can get vaccinated to be vaccinated as soon as possible to help keep all in our community safe.
In a positive development last week, the NSW Government announced a pilot plan to start returning international students to NSW. University leaders, the government and Study NSW have been working together on this initiative for some time. Details of eligibility and processes for bringing international students back to UNSW will be available in the coming weeks, including at this webpage.
October is Health and Wellbeing Month
While we continue to live with lockdown and associated pressures, it is timely that UNSW Wellbeing invites us to celebrate Health and Wellbeing Month in October. Throughout the month there will be a wide range of free events for students and staff, focusing on mental health, physical health and nutrition. From online yoga to live cooking classes, mental health webinars to music therapy, and something called 'Coffee Roulette' – which sounds both intriguing and energising – the Health and Wellbeing Month program has been specially curated to offer a variety of activities to pique our interest and boost our wellbeing. Further, it turns out You Can Make Friends with Salad!
You can find out more about the Health and Wellbeing Month events here.
RE: Connecting with Diversity Fest – 25-29 October
I encourage all our students and staff to browse the program of more than 50 events that are taking place during UNSW Diversity Fest, which will take run from 25 to 29 October. This is the third consecutive year that the Division of Equity Diversity & Inclusion will bring us this celebration of the depth and breadth of the diverse UNSW community.
This year's theme 'RE: Connecting' continues the festival's objective of bringing people together, but also acknowledges the need to rebuild connections for communities that have been affected disproportionately in recent times.
Thank you to EDI and all who are contributing to Diversity Fest 2021, including student and staff groups, the Faculties, Arc, the Student Representative Council and the Postgraduate Council. The full festival program is available here.
Generous donation from the Sir William Tyree Foundation
UNSW is immensely grateful for the recent $1 million donation from the Sir William Tyree Foundation to support our expanding, internationally renowned nuclear engineering program. This generous donation will foster the development of skills for using future technology, by funding scholarships for masters students, assistance for research students, work placements with industry partners and other professional development opportunities for the Tyree Scholars.
This significant gift continues a rich history of support and generosity to UNSW by the Tyree family. It furthers the vision of Sir William Tyree and will assist greatly in educating a new generation of nuclear engineers. It will be a boon for Australia's nuclear technology industry, which has applications as diverse as energy, medicine, advanced manufacturing and aerospace. On behalf of UNSW, I extend our warmest thanks for the ongoing support of the Tyree family and the Sir William Tyree Foundation.
TEDI-London campus opens its doors to first students
Wonderful news from the PLuS Alliance, with the purpose-built TEDI-London campus opening earlier this month to welcome its first students. This is the culmination of two and a half years of preparing to educate generations of socially aware, globally focused engineers who have the right combination of skills to tackle grand challenges and help change people's lives. This first group is a diverse cohort which includes 50% women and 23% mature-aged students.
The TEDI-London campus at Canada Water will be a vibrant collaborative hub for staff and students. It's a combination of sustainable development and modular design that includes a makerspace for students as well as facilities dedicated to student life, including a café, event and exhibition spaces, conference and teaching rooms, and flexible places that can be used for worship, meditation and reflection.
This milestone is a great credit to PLuS Alliance partners Arizona State University, King's College London and UNSW; and our founding industry partner, British Land. We wish Dean and CEO, Professor Judy Raper, and our inaugural students the very best for this exciting beginning.
Striving for Silver in SAGE Athena Swan
In 2018, UNSW was proud to be among the first group of research and higher education institutions to receive Bronze Athena Swan accreditation from Science and Gender Equity Australia (SAGE). The aim of Athena Swan at UNSW is for women in science, technology, engineering, mathematics and medicine (STEMM) disciplines to thrive.
UNSW is now working towards achieving Silver accreditation in 2024, with guidance from Academic Lead for Athena Swan for 2021-2023, Scientia Professor Fiona Stapleton (School of Optometry and Vision Science) and Deputy Academic Leads, Dr Sue Williamson (UNSW Business School) and Associate Professor Amelia Thorpe (UNSW Law & Justice).
The Athena Swan Self-Assessment Team is seeking new members with a passion for driving UNSW towards our gender equity goals. I encourage you to read more about SAGE Athena Swan and gender equity at UNSW here.
International Universities Climate Alliance ClimateTalks Festival heralds COP26
While leaders around the world prepare for November's COP26 in Glasgow, the International Universities Climate Alliance is in the midst of its first #ClimateTalks Global Festival, 21 September – 1 October.
ClimateTalks is an ambitious, accessible student engagement program that spans the globe. Free, online events are being hosted by 10 Climate Alliance member universities and feature almost 30 climate researchers.
There are several events still to come this week, which will address the crucial areas of climate change communications and countering misinformation. You can find out more and register via the Climate Alliance website.
In support of COP26, the Climate Alliance is inviting staff, students and the broader community to share their views on how they feel about climate change and related solutions in their own community. It is hoped that this survey will become an annual evaluation of diverse experiences and I encourage you to participate by registering to receive the survey link.
UNSW is proud to have convened the International Universities Climate Alliance. My thanks to all member universities for their participation in the inaugural #ClimateTalks events and best wishes to the researchers from our member universities who will be observers at COP26.
The 2021 Student Experience Survey
The 2021 Student Experience Survey (SES) is now open. The SES gives students the opportunity to reflect on their time at UNSW and provides us with valuable feedback. Please encourage your students to participate in this survey so that we understand how our students' rate their overall experience and can make informed decisions about developments in the support and education we offer.
You will have read in Friday's email that all courses will be delivered online for the remainder of Term 3, to provide certainty and help with planning. I hope that things will have changed by Term 1 next year. As Term 3 progresses, please do continue to make use of the range of supports available for the UNSW community. I urge all in our community to comply with the health orders, get tested as soon as symptoms arise – however mild – and, if you can, get a COVID-19 vaccination as soon as possible.
We will continue to keep the UNSW community up to date with COVID-19 issues affecting our University, through regular emails.
Best wishes, stay well
Ian
Comments