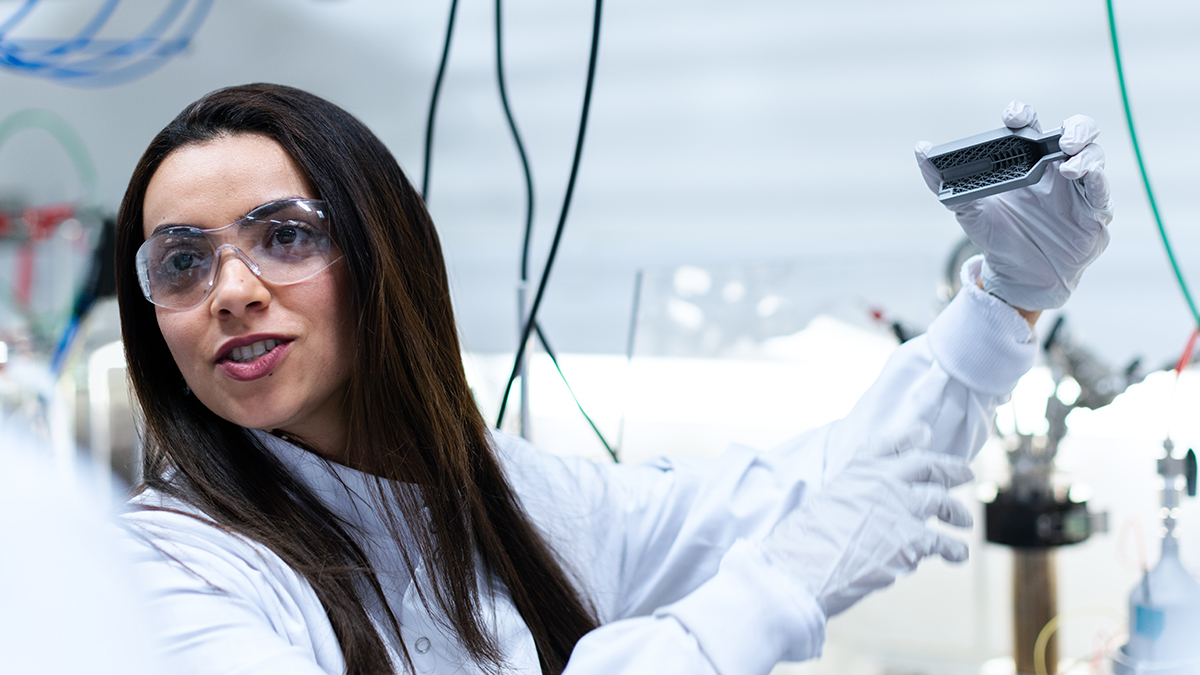 UNSW has been accepted as a Women in STEM Decadal Plan Champion by the Australian Academy of Science.
In recognition of UNSW Sydney's commitment to supporting women in science, technology, engineering and mathematics (STEM), the Australian Academy of Science has named UNSW as one of its Decadal Plan Champions.
The Decadal Plan is the Academy's vision for women in STEM industries in Australia, framing the next decade's progress as six opportunity areas for action to increase the presence and retention of women in STEM: leadership and cohesion, evaluation, workplace culture, visibility, education, and industry action. UNSW has made a commitment to improve—with a clear and detailed plan—in each of these categories, and with the framework of Bronze Athena SWAN accreditation driving its efforts has already made significant progress.
The Decadal Plan aims to create workplaces for future STEM graduates "that are respectful, free of harassment and discrimination, value diversity, and structured to support the needs and preferences of their diverse and professional employees".
Scientia Professor Fiona Stapleton of the School of Optometry and Vision Science is UNSW's new Athena SWAN Academic Lead.
"UNSW is proud to support the Australian Academy of Science's 2030 vision for the future of women in STEM disciplines in Australia. As a higher education and research institution we have a critical role in realising this vision, educating and empowering the next generations of women in STEM," Professor Stapleton said.
The Athena SWAN initiative recognises the challenges that women and gender diverse people face in academia generally and the STEM industries in particular, such as a lack of representation of women in senior roles, the loss of women across the career pipeline and the disproportionate effects on women of the increased use of short-term contracts. SAGE Athena SWAN also recognises and commits to "tackling the discriminatory treatment often experienced by transgender people".
According to Professor Stapleton, "The Athena SWAN program at UNSW provides our framework for driving and measuring the success of initiatives designed to support women in STEM at UNSW—and women across the institution in both academic and professional roles. Being a Bronze Athena SWAN award winner and delivering on our action plan has allowed UNSW to step forward as a Women in STEM Decadal Plan Champion for the Australian Academy of Science."
Gender equity is now embedded in regular reporting and KPIs at UNSW's highest levels of management. As part of the 2025 Strategic Plan, the university committed to "aiming for 40% female representation at senior academic levels D and E and 50% at senior professional staff level 10+ by 2025." A firm focus on this target has flowed through to a range of initiatives across Equity Diversity & Inclusion, Human Resources and the faculties, resulting in female representation at levels D and E growing from 28% on receipt of the Athena SWAN Bronze Award in 2018, to 34.9% in January 2021. Parity for female professional staff at Level 10+ was reached in July 2018 and has been maintained ever since.
As a Women in STEM Decadal Plan Champion, UNSW will continue its efforts towards gender equity both in the STEM disciplines and across the University. With a focus on intersectionality, the Athena SWAN program aims to drive UNSW's progress and inspire other organisations to ensure that all women's talents are fully utilised for the benefit of society.
 For more information, visit these pages: Decadal Plan Champion and SAGE Athena SWAN Award.
Comments