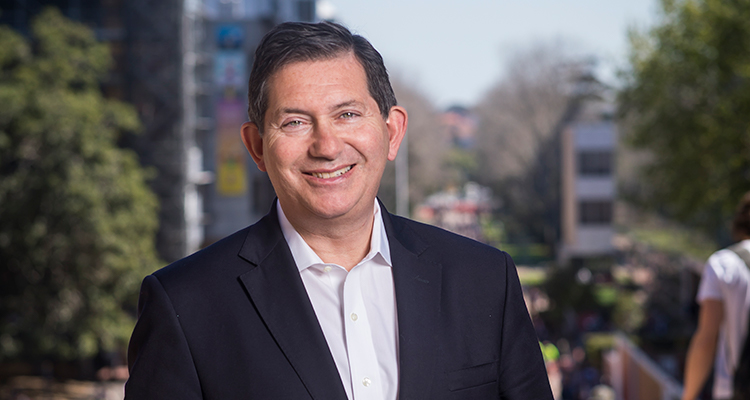 Dear colleagues
Today's edition marks a momentous time for UNSW Sydney, following the welcome announcement last week of Professor Attila Brungs as our next President and Vice-Chancellor. We also observe NAIDOC Week, in celebration of the rich history, culture and achievements of Aboriginal and Torres Strait Islander peoples. This year's NAIDOC theme, 'Heal Country!' invites us all to embrace First Nations' cultural knowledge and understanding of Country, and highlights calls for stronger measures to recognise, protect, and maintain all aspects of Aboriginal and Torres Strait Islander culture and heritage. All of this against the background of the pandemic and COVID-19-related restrictions.
COVID-19 safety
The current stay-at-home orders in place for Greater Sydney, including the Blue Mountains, Central Coast, Wollongong and Shellharbour, and in parts of other states and territories remind us that COVID-19 is a constant presence in our lives. In the absence of a significant level of vaccination in the Australian community, the current outbreak and restrictions that followed are not surprising and achieving 'COVID-normal' will require a significant uptake in vaccinations once supply increases.
The current orders for Greater Sydney capture all UNSW Sydney campuses.
Please do not come to campus unless you cannot work or study from home. Faculty staff who propose to continue working on-campus at this time, whether related to teaching or research, must notify their Faculty Dean or Faculty Executive Director. Divisional staff must notify their Divisional Head.
Please adhere to the health orders that the NSW Government has put in place, as set out in the NSW Health COVID-19 rules. Please also stay up to date on venues of concern, take hygiene precautions such as wearing face masks and washing hands, adhere to social distancing, use QR codes to check in to all locations, get tested even for mild symptoms, and follow the advice of NSW Health.
Students who require study, wellbeing or other support may contact our Student Support Advisors. Staff and their families may avail the Employee Assistance Program, which offers confidential counselling, coaching and wellbeing services.
Please continue to check the NSW Government website for the latest COVID-19 updates and alerts. Answers to a range of questions to support you during the COVID-19 pandemic are on the UNSW COVID-19 website.
Appointment of Professor Attila Brungs as our next President and Vice-Chancellor
It has been a delight to read and to receive the many messages celebrating the appointment of Professor Attila Brungs as the next President and Vice-Chancellor of our University. As I wrote in my note last week, Attila is a leader of the highest calibre and a stellar appointment for UNSW. Attila has a deep understanding of the university and related sectors, of Sydney, and of the Australian and global operating environments. His appointment has been very well received and I am pleased that our students, staff, alumni and university partners can now have certainty about the leadership of UNSW.
Attila and I began our respective VC roles at UTS and UNSW within months of each other, and it has been a pleasure to work with him over these seven years. We have collaborated through the NSW Vice-Chancellors' Committee, the SPHERE partnership, plans for the Randwick Health Innovation Precinct, the developing vision for the Aerotropolis in Western Sydney and our universities' responses to the COVID-19 pandemic. Attila and I are already planning the arrangements to ensure that he has a comprehensive briefing and handover, so that we achieve a seamless transition of leadership at the end of January 2022.
I will be sad to leave this great University but it is a comfort to know that I will pass the baton to a dynamic leader who will steward UNSW to great things. Until then, I will enjoy working with you and will remain focused on doing my very best for UNSW.
NAIDOC Week: Heal Country!
The 2021 NAIDOC theme, 'Heal Country!' calls for stronger measures to recognise, protect, and maintain all aspects of Aboriginal and Torres Strait Islander culture and heritage. I encourage you to read the 2021 UNSW NAIDOC Address by Pro Vice-Chancellor Indigenous Professor Megan Davis, in which she reflects on this year's theme and challenges us to turn symbolic gestures into action.
UNSW is privileged to walk with Megan and colleagues on the Uluru Statement from the Heart journey, and to be part of the important national conversation about a constitutionally enshrined First Nations Voice to Parliament. This NAIDOC Week is an opportunity for us all to come together, and in healing Country, heal the nation.
The Office of the Pro Vice-Chancellor Indigenous is providing opportunities for the UNSW community to dig a little deeper. Do consider registering for one of the UNSW NAIDOC Webinars, including Professor Davis' conversation with three esteemed guests on the role of truth and history in the Uluru Statement.
You can read the NAIDOC Week feature in this edition of Inside UNSW and visit the UNSW NAIDOC Week website to find out more, including an update about the events calendar in light of current COVID-19 restrictions.
Please also take the time to browse the new UNSW Indigenous Strategy, Education and Research website, which features the work of the Office of Pro Vice-Chancellor and Nura Gili in a single online home. Well done to all who have established this terrific platform.
Solar pioneer Professor Thorsten Trupke wins 2021 Cherry Award
I am delighted to congratulate Professor Thorsten Trupke from the School of Photovoltaic & Renewable Energy Engineering, UNSW Engineering, on receiving the 2021 IEEE William Cherry Award. This internationally coveted award recognises outstanding contributions to photovoltaic science and technology. Thorsten is a world-leading semiconductor scientist whose research breakthroughs and their industrial translation have contributed to improving the competitiveness of the entire solar industry.
The Cherry Award is often regarded as the top research award in the world in the field of solar technology. Please join me in congratulating Thorsten on this global recognition of his pioneering work and further fortification of UNSW's robust photovoltaics pedigree.
'Temporary' podcast wins NSW Humanitarian Award
Congratulations – again! – to the team behind the 'Temporary' storytelling project, which has received a NSW Humanitarian Award for the podcast. 'Temporary' is an eight-part documentary produced by the UNSW Centre for Ideas, the Kaldor Centre for International Refugee Law and Guardian Australia, giving voice to people who fled their homes to seek refuge in Australia but found no way to secure permanent protection.
The NSW Humanitarian Award acknowledges those who have gone above and beyond in making an extraordinary difference in the lives of people from refugee backgrounds in 2021. Well done to the award-winning team for telling these vital, human stories.
Farewell Stacey Mills
This month we farewell Stacey Mills as Chief Financial Officer. For the past two years, Stacey has led Finance with dedication and expertise that have been pivotal to UNSW maintaining a robust financial position. I am grateful for Stacey's efforts through a period which has undoubtedly provided the biggest financial challenges in the history of UNSW and the higher education sector broadly.
Stacey leaves us to take up the role of CFO at the University of Adelaide. Please join me in thanking Stacey for her immense contribution to our University and wishing her well in her new leadership role.
Farewell Laurie Pearcey
Next month we sadly say goodbye to our Chief Executive Officer of UNSW Global and Pro Vice-Chancellor International Laurie Pearcey, who is leaving UNSW to join the Chinese University of Hong Kong as Associate Vice-President External Engagement & Outreach.
This will end Laurie's eight and a half years of working for UNSW, where he has led our China and India strategies, the International Office, and more recently UNSW Global Pty Ltd. It has been an exciting time for the development of UNSW's international impact and profile. Laurie's ability to engage with other countries and cultures, and the energy, enthusiasm and expertise he has brought to our efforts have been exceptional.
Laurie is a fluent Mandarin Chinese speaker, with his Chinese skills developed as an undergraduate in UNSW's International Studies program. This is a skillset that will continue to serve him well as he takes up his new position in Hong Kong.
I have many good memories of visits overseas with Laurie during the five years before the pandemic. He had a wonderful ability to enthuse our international partners in universities, government departments and companies and through that created major opportunities for UNSW. His foreign language ability was an enormous asset in enabling us to communicate effectively, develop strong relationships and introduce humour into our discussions.
Among his many achievements, Laurie was instrumental in setting up our first overseas centres in China and India, securing the highest numbers nationally for UNSW in New Colombo Plan mobility funding, leading UNSW Global's response to the COVID-19 pandemic and in establishing the Torch Innovation Precinct.
On behalf of the UNSW community, I wish Laurie all the very best in what will be a challenging and exciting role in an exceptional university. Laurie is a proud alumnus of our university. I know that he will remain a strong supporter and hopefully in due course return to a role at UNSW.
Academic freedom and freedom of speech
Last week, Human Rights Watch released a report entitled '"They Don't Understand the Fear We Have" How China's Long Reach of Repression Undermines Academic Freedom at Australia's Universities'.
UNSW welcomes the release of the report. As I have stated on many occasions, UNSW is committed to upholding the highest levels of academic freedom and freedom of speech, as shown by our adoption of the Model Code on freedom of speech.
We also take the safety and security of our students and staff extremely seriously and want to ensure that all our students enjoy a positive, safe, rewarding experience at our University.
UNSW currently has a framework in place that governs the behaviour of students and staff, including our Student and Staff Codes of Conduct, a central Conduct and Integrity Office, and an established complaints mechanism to deal with incidents and respond to complaints. Our guidelines have been updated to cover the recording of classes based on privacy law requirements, including non-sharing of information. Importantly, complaints can be made anonymously whenever a student or staff member is concerned that their privacy has been invaded or a person has caused them to fear for their safety.
We are always looking to ensure that we have the best possible policies and processes in place to provide our students with the optimal experience and our staff with a safe and rewarding workplace, and will continue this work, especially as we increasingly utilise digital technologies. The Human Rights Watch report highlights why this is needed.
The release of this report is further evidence of the need for the review of policies and practices that UNSW already has underway, which includes our Student and Staff Codes of Conduct, face to face and online teaching and examination, discourse as part of our learning programs and in classes, research activities, and general discourse involving students and staff. Our review will include consulting with our students and staff to make sure their voice is an important part of this process.
We look forward to communicating the outcomes of that review to our student and staff community in the near future.
New Chair in Dermatology honours Professor Warwick Morison
UNSW is pleased to honour the memory of the esteemed dermatologist Professor Warwick Morison with a new Chair in Dermatology. This has been made possible through the donation of $3 million from the late Prof. Morison and his wife, UNSW Medicine alumna Dr Bronwyn Jones. This generous gift will enable UNSW to conduct research with the potential to improve outcomes for dermatology patients in Australia and around the globe. It is with great pride that we establish this Chair in Dermatology, honouring Prof. Morison as a pioneer in photodermatology and an enduring member of the UNSW community.
UNSW's commitment to women in STEM recognised
I am thrilled that UNSW has been accepted as a Women in STEM Decadal Plan Champion by the Australian Academy of Science. The Decadal Plan is the Academy's vision for women in STEM industries in Australia, setting out action areas for increasing the presence and retention of women in these disciplines. Recognition as a Decadal Plan Champion acknowledges UNSW's abiding commitment to supporting women in STEM, an achievement of which we can all be proud.
As UNSW continues our efforts to reach gender equity in STEM disciplines and across our University, I thank all who have contributed to the gains we have made in recent years. We will continue to strive for the targets in our 2025 Strategy and realise the great potential of women in our University and society.
NSW Budget 2021-2022 supports precincts and research
The NSW Government's Budget 2021–2022 included a number of programs and research investments relevant to UNSW:
$740 million for the Liverpool Health and Academic Precinct.
A $1.15 billion dollar investment in the Aerotropolis city of Bradfield, including $138.2 million for the First Building in the Bradfield Centre that will include $22.9 million worth of shared-use equipment for research institutions and industry to collaborate.
Funding of $37.4 million for the New Education and Training Model that will provide more than 7000 courses for almost 3000 students, as part of the Bradfield City investment.
$50 million for a newly integrated specialist neurosciences centre, the Neurosciences Comprehensive Care and Research Centre, to be located at the Sydney Children's Hospital in Randwick. This facility will be incorporated into the Randwick Hospital Innovation Precinct development, which is scheduled for completion in 2026.
$28 million for bushfire research and development, including establishing a Bushfire Technology Network, engaging small business to develop and commercialise bushfire technologies, and testing new technologies with frontline bushfire services.
In his comments on the Budget the Deputy Premier noted that revitalising the international education sector will be a key part of NSW's post-pandemic recovery – UNSW will continue to work with the NSW Government to make this happen.
Best wishes, stay well

Ian
Comments