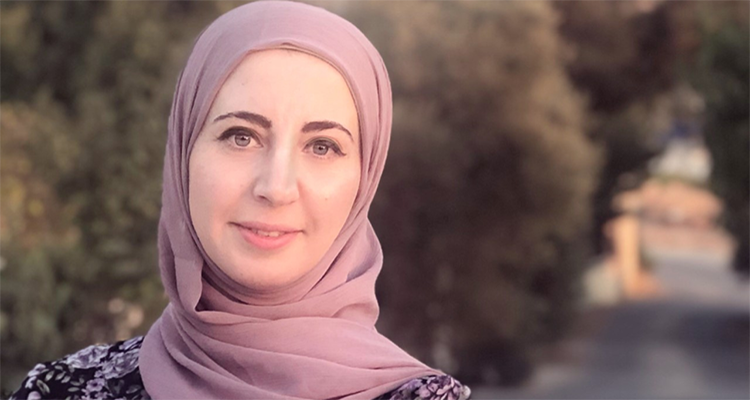 Universitas 21 has recognised UNSW Science's PhD student Eman Alghoul as its first U21 Champion.
In these difficult and turbulent times, U21 worked to create some positivity to share around the network. They wanted to recognise and celebrate those people who have made a real difference to their colleagues and their workplace during the pandemic – the network's U21 Champions.
The first of the Champions announced is UNSW Science's PhD student Ms Eman Alzghoul, nominated for the U21 Champion Award by her colleague, Ms Sidar Sarwat.  Ms Alzghoul has been prevented from travelling back to Australia and has been unable to return to her research and workplace, but has continued to support others who are in the same situation as well as trying to complete her own PhD. 
"On behalf of our University community, I extend my heartfelt congratulations to Eman," said Professor Jonathan Morris, Dean of Graduate Research.
"Eman has worked above and beyond to make a difference to UNSW. This is a well-deserved recognition of her efforts to promote wellbeing, enhance the student experience and connect our community while facing her own personal challenges."
Ms Sarwat wrote of Ms Alzghoul in her nomination, "I believe Eman is worthy of this recognition for her contribution to UNSW, her friends, and UNSW students before and during the COVID-19 pandemic. In addition to significant contributions to her field of research in vision science, I wish to share my personal experiences of her exemplary behaviour as a colleague. Without her genuine support and encouragement during this hurdle time, I believe I would have lost my enthusiasm to complete my Ph.D. She shows a high level of sympathy, is a good listener and capable of coming up with a solution to my problem.
"With travel restrictions, Eman has been prevented to return to Australia and forced to be away from her research and workplace. However, Eman did not lose her enthusiasm and passion to complete her PhD, support her fellows and other international students who are in the same situation," Ms Sarwat said.
"While life in the midst of COVID-19 has sparked fear, frustration, and anxiety all around, Eman spread the hope and shed the light on the value of 'All for one and one for all'. During the pandemic, Eman has volunteered with many organisations and events to support international students and raise awareness about COVID-19 infections. She has completed the Professional Development Program with UNSW. During this program, she was assigned to work with UNSW Study Abroad Research Practicum to enhance the staff and student experience during COVID-19.
"Eman also is an active member of the UNSW Cultural Mentor program; she assists the new students to smoothly adjust to learning at UNSW and Sydney life, she provides support and introduces them to the University's resources and facilities as they cannot go to Australia," she continued.
"Eman also participated in the UNSW language exchange program to help the international students developing their language skills and make them actively participate in the Australian community.
"For the past two terms, Eman has led a social club called 'We Are Here For You' which aims to support the international students who joined a Personalised English Learning Enhancement (PELE) course to enhance their language and gain a new experience. Within this club, Eman has spread the spirit of support, passion, and encouragement.
"In addition to her significant contribution through [the] COVID-19 pandemic, Eman did not give up her dream to be a distinguished academic, she enrolled in many courses to enhance her academic career such as Beginning to Teach (BTT) at UNSW, learn to lead with UNSW Alumni, and Structure to Success – Sydney University and TAFE.
"Eman carries an air of congeniality that has earned her great respect from people who have had the pleasure of working with her or learning from her," Ms Sarwat concluded.
Reflecting on her award, Ms. Alzghoul remarked, "During the COVID-19 outbreak, mixed feelings of anxiety, fear, disappointment, and depression have driven us.
"Through these difficult times, we need the most to be supported to support others. We need to fight our fears with optimism and hope. I believe that we are braver than we believe and stronger than we seem, so each one of us should work for one and one for all."
UNSW congratulates Ms Alzghoul and all the UNSW Champions who are making 2020 just that bit better for their friends and colleagues.
Read the original article by Rachel Edwards, Communications Manager, Universitas 21.
Comments