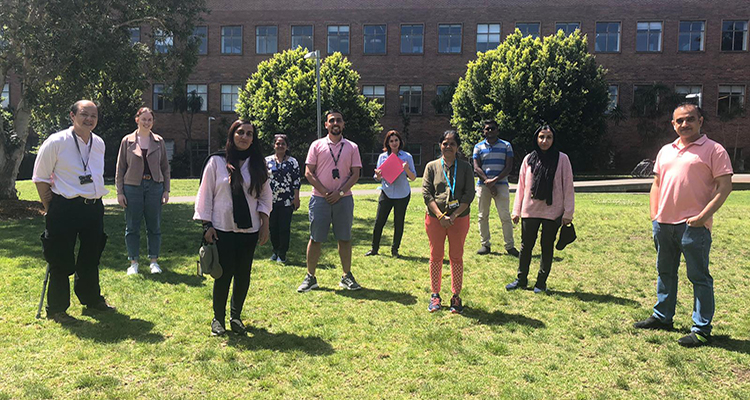 Students and staff across our community came together virtually and in person to show solidarity for breast cancer awareness. 
More than 160 UNSW students and staff, representing 14 schools across the University, came together on 30 October for UNSW Breast Cancer Awareness Day. Organised by Scientia PhD Scholars Aria Ahmed-Cox and Diana Zhang, the event set out to rebuild a post-COVID sense of community spirit. 
This event was held as part of Breast Cancer Awareness Month, a worldwide campaign to increase attention and support for the most common cancer to affect women. In Australia alone, breast cancer is the second most common cause of cancer-related deaths with nearly 20,000 Australian women and 160 Australian men to be diagnosed in 2020. Fortunately, with early diagnosis, the five-year survival rate is greater than 90%.  
In a statement of support, President and Vice-Chancellor Professor Ian Jacobs thanked those who participated in the event.   
"In my work as a women's cancer surgeon, too often I saw the suffering that cancer can cause – in patients, and among their families and loved ones. 
"By raising awareness through activities like today, we can help encourage screening, early detection and treatment, and help reduce the impact of breast cancer," he said. 
"Thank you to all who are showing their support today by wearing pink, hosting team get-togethers and sharing their photographs." 
The students hope to organise a fundraiser for next year's Breast Cancer Awareness Day. Read more about Breast Cancer Awareness Month.  
The team of student organisers included:  
Aria Ahmed-Cox (School of Women's and Children's Health) 

Buna Bhattari (School of Population Health) 

Constantine Tsounis (School of Chemical Engineering) 

Diana Zhang (School of Chemistry) 

Grace Constable (School of Chemistry) 
Henry Liu (School of Electrical Engineering) 

Jerry Offor (School of Biotechnology and Biomolecular Sciences) 

Poshan Thapa (School of Population Health) 

Rabia Mobeen (School of Optometry) 

Sam Miles (School of Chemistry) 
Stephanie Nemec (School of Chemistry and School of Materials Science & Engineering) 

Talal Khan (School of Electrical Engineering) 

Zainab Mustafa (School of Chemical Engineering) 
Comments