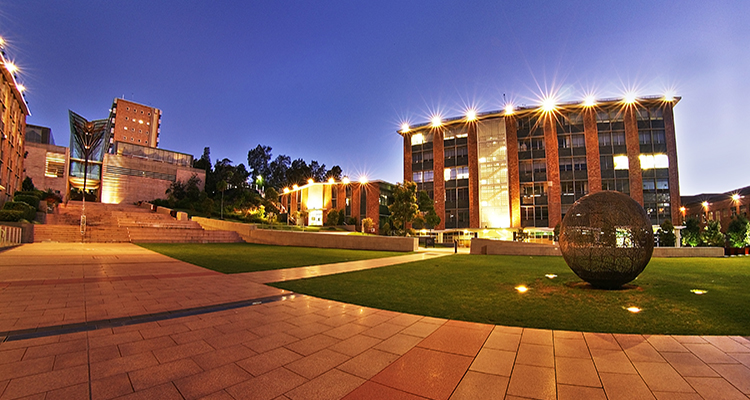 Dear colleagues
We are now only a month away from the end of this quite unique academic year. As teaching weeks draw to a close and the examination period nears, I offer my congratulations and appreciation to all our students and staff. Your resolve, talent and sheer grit have carried our University to this point, and you can be proud of all that you have achieved together over these past months.
I am pleased to congratulate UNSW colleagues who have received worthy accolades recently. Among these are five newly elected Fellows of the Academy of Social Sciences in Australia: Professors Katherine Boydell (Medicine, Black Dog Institute), Andrew Byrnes (Law), Karen Fisher (Social Policy Research Centre), Pauline Grosjean (Business) and Fleur Johns (Law). These fellowships recognise scholarly distinction in research or the advancement of the social sciences.
Furthermore, 22 UNSW academics will receive more than $9 million in the Discovery Early Career Researcher Awards (DECRA) for 2021. These DECRA grants will support innovation in science, technology, engineering, law and arts. This is a tremendous result for our next generation of researchers and all who will benefit from their discoveries.
Recognition of the talent within our University is especially pleasing at a time when evidence and academic rigour are crucial in addressing great challenges across the globe. Well done to all who have received awards in 2020.
Australian Mental Health Prize winners
I was delighted to welcome the His Excellency, Governor General, General the Honourable David Hurley, finalists and guests to the Australian Mental Health Prize ceremony earlier this month. This prize, initiated and organised by UNSW, is now in its fifth year and has special meaning in 2020 as more Australians than ever have experienced the challenge of mental health.
From among a field of seven finalists, two winners of this year's prize were announced: Scientia Professor Gordon Parker and Professor Helen Milroy.
Prof. Parker is well known to the UNSW community. He is the founder of the Black Dog Institute and Professor of Psychiatry at UNSW. Gordon has a career-long focus on finding the correct diagnosis for differing mood disorders, to ensure a more logical choice of treatment that challenges 'one size fits all' approaches to mental health therapies.
Prof. Milroy is the Stan Perron Chair of Child and Adolescent Psychiatry at the Perth Children's Hospital and University of Western Australia, and an Honorary Research Fellow at Telethon Kids Institute. Her work and research have had a lasting impact on children's mental health, combining Aboriginal and western knowledge in mental health education.
I extend a warm congratulations to Professors Parker and Milroy for such well-deserved recognition of their vital work.
Professor Helen Lochhead appointed PVC Precincts
I am delighted to announce that Professor Helen Lochhead has been appointed our new Pro Vice-Chancellor, Precincts. Helen's distinguished leadership as Dean of UNSW Built Environment for the past five years, combined with her reputation as an authority on the inception, planning, design and delivery of complex urban projects, will be invaluable in her new role. Helen is widely respected in the built environment sector through her involvement with government and industry panels, commissions and boards, including as President of the Australian Institute of Architects, 2019-20.
I congratulate Helen on her appointment and look forward to her strategic leadership and advice on UNSW Precincts including the Randwick Health and Education Precinct, Liverpool Health and Innovation Precinct, Canberra City Campus and the Western Sydney Aerotropolis. Our Precincts strategy is an essential part of realising the immense potential of co-locating university, industry and government organisations for better social and economic outcomes.
Please join me in congratulating Helen on her appointment and thanking her for her exceptional contribution to UNSW as Dean of Built Environment. Helen commences as PVC Precincts this month.
NAIDOC Week 2020 – Always Was, Always Will Be
Thank you and congratulations to all involved in bringing the NAIDOC Week program to life on campus and online last week. The week-long celebration of Aboriginal and Torres Strait Islander cultures, histories, and achievements featured a wide range of events hosted by Arc, the Indigenous Students' Association, the Library, UNSW Arts, Architecture & Design (working title) and UNSW Medicine. I encourage you to watch the video interviews with a selection of Indigenous UNSW alumni. Samantha Rich, Jessica Bulger and Jonathon Captain-Webb discuss the significance of this year's theme, 'Always Was, Always Will Be', and what it means to them.
New panel to investigate research translation opportunities
Federal Education Minister, Dan Tehan, last week announced a new panel of university and business leaders to advise the government about accelerating the commercialisation of university research. The panel will provide input to the $5.8 million scoping project that the government announced in the federal budget last month.
Professor Michelle Simmons, Director of the Centre of Excellence for Quantum Computation and Communication Technology at UNSW, is a member of the panel, which also includes the Vice-Chancellors of Wollongong and Queensland Universities, Professor Paul Wellings and Professor Deborah Terry. Congratulations, Michelle, on this important appointment.
As I outlined in my presentation to the AFR Higher Education Summit, the opportunities for research commercialisation in Australia are immense and UNSW will continue to make a major contribution.
Graduate Outcomes Survey 2020
The report of the 2020 Graduate Outcomes Survey was published this week. This survey provides information about labour market outcomes for graduates in Australia, including employment rates and salary levels. While the report acknowledged the major impact the pandemic has had on the labour market this year, UNSW's performance was strong. We were ranked first in the Go8 for undergraduate employment levels, first in Australia for postgraduate median salaries, first among Go8 universities for undergraduate median salaries, and fifth in Australia for the undergraduate full-time employment rate, with just over 76% of our undergraduates employed full-time four months after completing their course, above the national average of 69.1%. Full details are available in the 2020 Graduate Outcomes Survey National Report.
Scientia Clinical Research hosts Australian leaders
As progress towards a COVID-19 vaccine gains momentum around the world, our state-of-the-art Scientia Clinical Research facility is involved with early-phase clinical trials for the Novavax vaccine. The specialty Phase 1 clinical trial facility housed in SCR is the only one of its kind run by a university in Australia. Prime Minister Scott Morrison visited SCR recently, announcing new agreements for Australia to secure two more COVID-19 vaccines, should those trials prove successful. Mr Morrison's visit to SCR highlighted the crucial role of collaboration between science and research and government in helping society overcome the pandemic. We can be immensely proud of the world-class contributions UNSW experts from a range of disciplines are contributing to this quest.
Term 3 MyExperience Survey now open
What clearer indication that the end of term is nigh than the opening of the myExperience survey! The survey is a vital part of helping us understand what we have done well and where we can do better, especially given the greatly changed educational experience amid this year's global challenges. Please do encourage your students to participate so we can continue to improve their experience.
Over the course of this year I have been impressed by the way our staff have incorporated new educational modes into their practice, and that has been reflected in student comments. I look forward to this latest round of feedback from our students.
Food Hub reminder
A reminder about the Arc Food Hub, which is providing hampers of nutritious grocery items to students in dire need. Food Hub operates three times each week from the Sam Cracknell Pavilion on the Lower Walkway. In addition, Dinner Hub provides pre-made meals on Wednesday evenings and the Food Cupboard is available at all hours. Thank you to Arc and all the partners who are making this possible. If you are able to make a donation of food or money to support this essential initiative, please visit the Food Hub page here.
Please continue to check the NSW Government website for news and updates related to COVID-19 health alerts. If you need support, free, confidential counselling is available through our Employee Assistance Program. The service is also available for immediate family members. Assistance for our students is available via The Nucleus on 02 9385 8500 and our Student Support Advisors.
Take care and stay well
Ian
Comments