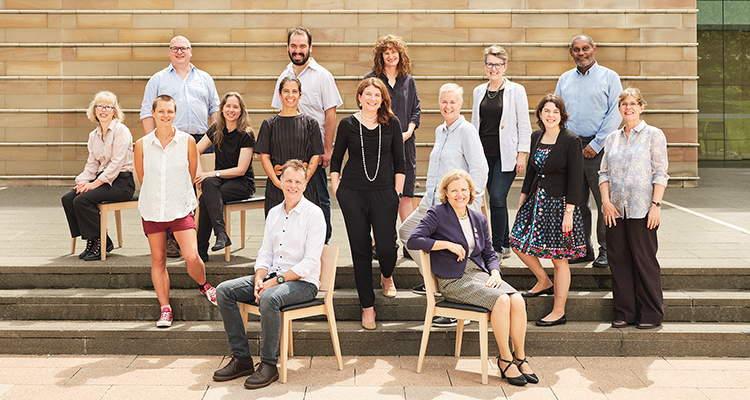 Expressions of Interest are now open to spearhead the Athena SWAN Self-Assessment Team as the new Athena SWAN Lead.
UNSW is a proud member of the Athena SWAN Charter – a national gender equity program for the higher education and research sector – run by the Science in Australia Gender Equity (SAGE) Athena SWAN initiative, with a focus on women in academia and science, technology, engineering, mathematics and medicine (STEMM) disciplines.
There is now an opportunity to drive UNSW's participation, building on the University's work and ongoing commitment to advancing gender equity. UNSW was recognised with a SAGE Athena SWAN Bronze Institutional Award in 2018.  The new Athena SWAN Lead has responsibility for inspiring the current Self-Assessment Team (SAT) and overseeing the progress of UNSW's Athena SWAN Action Plan: 2018-2022 (see pages 77-89).  
How you can get involved
The Athena SWAN Program at UNSW is looking for a new Lead for 2021-2022. The role is a two-year fixed-term leadership position, commencing ideally in January 2021. You will have opportunities to access and influence UNSW's most senior leaders, including members of the EDI Board, and make a significant contribution to UNSW's equity, diversity and inclusion agenda.
Associate Professor Lucy Marshall shares her thoughts on what motivated her to take on the Lead role for the Athena SWAN Program two years ago, and what the incoming Lead can hope to achieve during their term.
"One of the things I have enjoyed most about leading the Athena SWAN initiative at UNSW is working with a fantastic community of people, the SAT, who are as passionate about gender equity as I am. It was also rewarding being in a position where I could both drive and influence effective change across the University, and contribute to improvements in UNSW's gender equity, diversity and inclusion practices and outcomes," said A/Prof. Marshall.
The SAT has identified five immediate priority areas within the Action Plan which the new Athena SWAN Lead will drive forward:
Contributing to the ongoing review and evaluation of the Inclusive Leadership Program for Faculty and Division leadership teams
Interrogating the Athena SWAN evidence base at UNSW through important gender data analytics 
Unpacking and making recommendations on UNSW's Academic Promotions policy, procedure and support for candidates
Strengthening the focus on UNSW parents and families
Developing a powerful and effective communications plan for spreading the important work of UNSW Athena SWAN.
Benefits of being the Athena SWAN Lead
The incoming Lead will benefit by:
Developing and strengthening their leadership capacity and skills by taking this leadership role
Influencing and shaping UNSW's culture by contributing to a working and learning environment which fosters respect and promotes the benefits of diversity and inclusion
Connecting with like-minded colleagues and students
Raising their profile and expanding their network within and outside of UNSW
Sharing their professional and personal experiences of gender equity.
To apply
If you are interested in applying, please note that the Expressions of Interest (EOIs) for the Athena SWAN Lead position close at midnight on Tuesday 24 November 2020. EOIs will be reviewed by the current Lead and other members of a selection panel.  Applicants will be advised of the outcome of their application in December 2020, with a view to starting in the role in the new year. If you have questions, please contact Kylie Owens (Program Manager), A/Prof. Lucy Marshall (current Lead) and Kate Wilson (Director University Diversity and Inclusion).
Meet the new members of UNSW Athena SWAN Self-Assessment Team (SAT)
Following a call for Expressions of Interest in August 2020, UNSW is pleased to welcome eight new members to its SAT. The applications were so competitive that the selection panel couldn't choose just five new members and expanded the membership instead. The decision also took into account that a number of current members would be rolling off after their initial term which had been extended to December 2020, due to COVID-19.
Please welcome our new SAT members who are:
Dr Andrew (Matt) Brodie, Senior Lecturer, Graduate School of Biomedical Engineering/Engineering
Dr Damia Mawad, Senior Lecturer, Materials Science and Engineering
Dr Dorna Esrafilzadeh, Scientia Fellow, Graduate School of Biomedical Engineering/ Faculty of Engineering
Jessica Luquin, Team Lead, Peer Support Student Experience Team, Student Life and Community (DVCA)
Prof Miles Davenport, Professor, Kirby Institute
Dr Natasha Cortis, Senior Research Fellow, Social Policy Research Centre
A/Prof Pierre Le Clech, Associate Professor, School of Chemical Engineering
Dr Sue Williamson, Senior Lecturer, School of Business, UNSW Canberra
More information about UNSW's Athena SWAN Program and the University's other equity, diversity and inclusion initiatives is available on the EDI website.
Comments