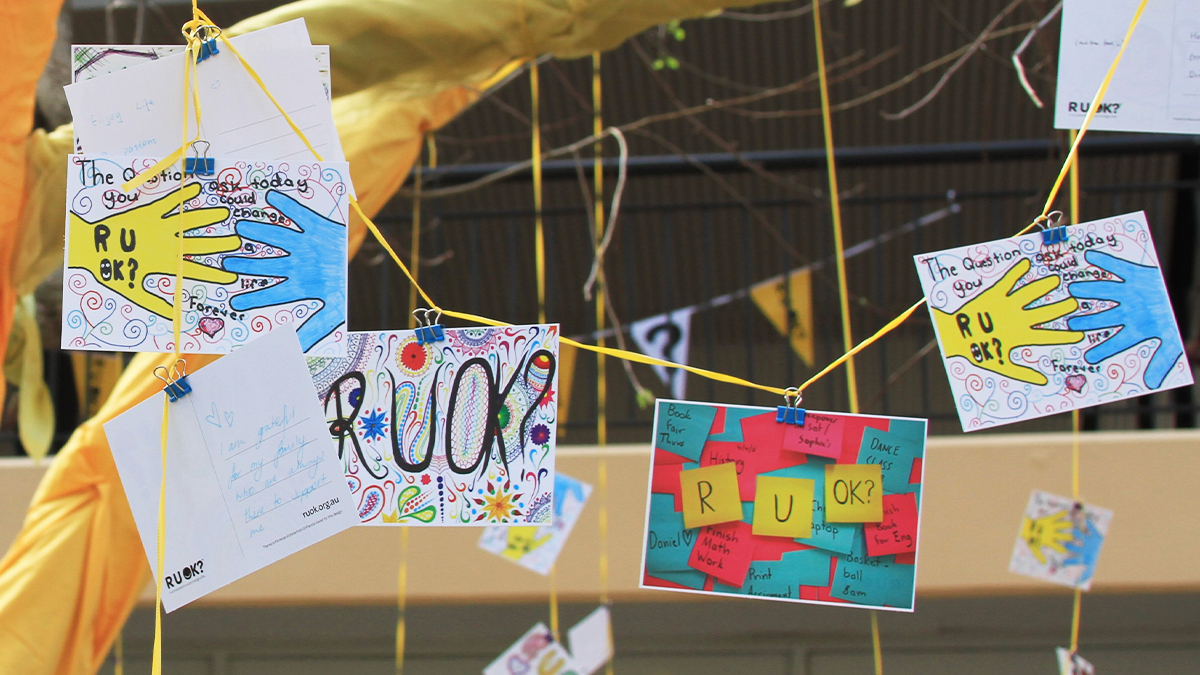 Join with colleagues to celebrate this year's R U OK? Day
This year, R U OK? Day will be held on Thursday 9 September.
R U OK? is an Australian charity that encourages people to stay connected and have conversations that can help others through difficult times in their lives. Their work focuses on building the motivation, confidence and skills of the help-giver.
R U OK? contributes to suicide prevention efforts by encouraging people to invest more time in their personal relationships and informal support networks – friends, family and colleagues – to be alert to those around them, have a conversation if they identify signs of distress or difficulty, and connect someone to appropriate support, long before they're in crisis. 
As the COVID-19 pandemic stretches out towards two years, it is more important than ever to support each other and maintain our work, social and family connections. So, despite the limitations of the restrictions imposed by COVID-19, UNSW has sought out innovative ways to mark this significant day.
Virtual All-Staff Town Hall
At 10am on Thursday 9 September, UNSW Wellbeing will present a Virtual Town Hall for all staff via Teams Live. UNSW Disability Champion Roshana Sultan will host the Town Hall, which will feature a talk and Q&A from R U OK? Community Ambassador Mostapha Kourouche. Mostapha is the Advisor, Health Programs at Sydney Trains and has a particular interest in employee mental health, trauma and suicide prevention.
Following Mostapha's talk, Benestar will present a briefing on the services available to all staff (and their immediate family members) under our Employee Assistance Program (EAP).
Despite the UNSW community being spread out and physically distant from each other, our connections now are more significant than ever.
Please come along to this important event to learn more about how to look out for each other and to have your questions answered. Registration is essential – click here to register.
We are taking questions in advance and there will be a live Q&A on the day. If you have any questions for the speakers that you would like to send through in advance, please send them to our Wellbeing Coordinator, Liza Poppert.
Virtual Gratitude Tree 
In addition to the Virtual Town Hall, we will also have a Virtual Gratitude Tree this year. Sometimes it is easy to forget the good things we already have in our lives, and how lucky we are to have them. Click here to access the Virtual Gratitude Tree and place a sticky note showing what you're grateful for this R U OK? Day. (If you haven't used Miro before it will ask you to create an account – but don't worry, it's free!)
Virtual Backgrounds
In the lead up to R U OK? Day, why not show your support by changing your virtual background in Teams and Zoom meetings? Click here for R U OK? resources you can use for your virtual backgrounds.
Comments