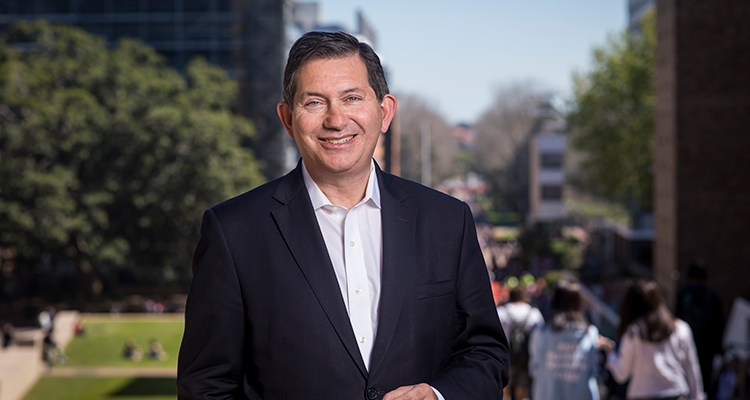 Dear colleagues
It is my pleasure to begin this newsletter by congratulating the 12 UNSW students and alumni who competed in the Olympic Games in Tokyo. They performed superbly on the world stage after an unorthodox lead-up and without family, friends and fans to cheer them on. What's more, they brought a great deal of joy to the UNSW and broader community as many of us turned our attention to the Olympics for welcome respite during lockdown. Huge congratulations to students Tim Brand and Dylan Martin, who brought home the silver medal in men's hockey. And congratulations to all our Olympians – your world-class achievements have made our community proud. We now look forward to the Paralympic Games, which begin next week.
New Dean and Rector of UNSW Canberra
I was delighted to announce last week the appointment of Professor Emma Sparks as incoming Dean and Rector, UNSW Canberra. Emma is an accomplished systems engineer with more than 20 years' experience in the higher education and defence sectors. She will join UNSW from her current role as Director of Programme Portfolio Delivery, Deputy Director of Education and Head of the Centre for Systems and Technology Management at Cranfield University in the United Kingdom.
Emma has worked extensively with the military, defence contractors and government agencies, and will bring to UNSW deep insights into the impact university teaching and research can have for the benefit of these important stakeholders. Emma will arrive at an exciting time, given our renewed agreement with the Australian Defence Force underway and plans progressing for our new Canberra campus in partnership with the ACT Government. You can read more about Emma's experience and accomplishments here.
It is noteworthy that Emma is the first female to be appointed Dean and Rector at UNSW Canberra. Please join me in congratulating Emma on this exciting appointment.
My thanks to Professor Harvinder Sidhu, who stepped in as Acting Rector at the start of the year and has skilfully guided UNSW Canberra through a challenging time. Harvi has agreed to continue as Acting Rector until Emma takes up the position in January 2022.
UNSW's exceptional progress in ARWU Rankings – up nine places to 65
Congratulations to the entire UNSW community on our outstanding result in the latest Academic Ranking of World Universities. UNSW moved up another nine places to 65th globally and is now third in Australia behind the University of Melbourne and University of Queensland.
In 2015 when Strategy 2025 was launched we were 134th in the ARWU ranking – we have risen 69 places since then. This success reflects the excellence, hard work and collaborative approach of our academics. It is also a positive outcome of our strategic investment in research through Scientia PhD awards, Scientia Fellowships, research infrastructure, Futures Institutes and SHARP appointments.
Global university rankings are far from perfect and there are many other ways of evaluating our work, but they do provide an external measure of our progress and impact compared to other universities nationally and around the world. ARWU scrutinises more than 2000 institutions and ranks the top 1000 universities worldwide based upon objective research outputs.
Thank you to all in our community whose dedication, expertise and professionalism contributed to this success.
IPCC report provides certainty about urgent actions required on climate change
The release of the sixth assessment report from the Intergovernmental Panel on Climate Change (IPCC) report was met with alarm by many. It provides clarity about what must be done and the urgency for action to address climate change. That will require every individual, every community and every government to be part of the solution. Universities, which store an enormous wealth of knowledge on the environment, built over decades, will be crucial to meeting this challenge.
UNSW climate researchers are some of the world's leading experts and have long advocated greater global climate action. UNSW has taken a leadership role in the higher education sector globally, founding and convening the International Universities Climate Alliance, bringing together over 50 universities representing every continent, to support global leaders in the task of averting the worst of the climate crisis.
In the coming months, the Climate Alliance has a calendar of events with the aim of engaging students and staff from member universities, as well as members of the public and the media from across the world. Among the initiatives are a 'hackathon', seminars and live Q&A with experts in the lead up to COP26 in Glasgow. The Climate Alliance will also hold a 'climate census' event with participants from across the Climate Alliance university community, and the general public.
ADAnow – bringing the Faculty's bold vision to life
During August and September, UNSW Arts, Design & Architecture (UNSW ADA) will present ADAnow, a digital program of events to showcase how the Faculty's diversity, innovation and creativity are addressing the world's great challenges.
ADAnow will feature a conversation On Consent with ADA alumna Chanel Contos and presenter Yumi Stynes, moderated by Triple J's Avani Dias; an UTZON Lecture on the power of nature in domestic decor, delivered by Professor Penny Sparke; and a discussion On Creativity with Professor Pasi Sahlberg and 2021 Young Alumni Award Winner Jessie Tu. The program will be rounded out by Social Sciences Week, headlined by a new podcast series, 'Ask a Social Scientist', hosted by Associate Professor Siobhan O'Sullivan.
UNSW ADA Dean Professor Clare Annesley's invitation to engage with ADAnow is compelling: the festival will be "a demonstration of how the world-leading creativity happening right here in our faculty is shaping the future of our world." I encourage you to read more about the ADAnow program and get involved.
Wear It Purple Day – Friday 27 August
I will be finding something purple to wear next Friday, 27 August, in celebration of Wear It Purple Day, the annual marker of ongoing efforts to foster supportive, safe, empowering and inclusive environments for LGBTIQ+ young people. This year's theme, 'Start the Conversation… Keep it Going' highlights the importance of ongoing discussion on this topic and of sharing stories as an important part of creating an environment in which LGBTIQ+ young people can thrive.
UNSW aims to provide a safe, supportive and welcoming environment for all students and staff. While we can't celebrate together on campus this year, our UNSW LGBTIQ+ Champions are encouraging us to start a conversation with LGBTIQ+ youth at UNSW by recording a short video conversation, uploading it to a dedicated Wear It Purple webpage, and keeping the conversations going by posting comments. Publishing a purple selfie next Friday is also a key part of the celebration!
Find out how you can be involved in Wear It Purple Day and throughout the year here.
UNSW Global leadership transition
Following the departure of Pro Vice-Chancellor International, Laurie Pearcey, I am pleased to announce the appointment of Sarah Lightfoot as Chief Executive Officer, UNSW Global, for an initial period of six months. Sarah has been Chief Business Development Officer and a member of the UNSW Global Executive Team for the past two years. Sarah's experience and leadership will ensure UNSW Global is ready for 2022 and primed for future growth. Sarah will have an operational reporting line to the Deputy Vice-Chancellor Academic and Student Life.
Please join me in wishing Sarah well in her new role.
Approaching an ancient clay tablet from the right angle
For more than a century, a 3700-year-old artefact was lying in wait for Dr Daniel Mansfield, who has revealed that an ancient clay tablet is the world's oldest known example of applied geometry – demonstrating that the Babylonians used 'Pythagorean triples' to make accurate right angles for land surveying, more than a thousand years before Pythagoras was born.
Daniel, from UNSW Science's School of Mathematics and Statistics, first learned about the tablet known as 'Si. 427' in excavation records of the 1894 Sippar expedition, which took place in what is now the Baghdad province in Iraq.
Congratulations on your fascinating discovery, Daniel, and on showcasing this important chapter in the history of mathematics, which has received global media coverage. You can read more about Daniel's discovery and watch a terrific animation describing Si. 427 and its significance.
Iridoteuthis merlini honours our DVC Academic
To have a species named in one's honour is a rarity, but that honour has been bestowed upon UNSW Deputy Vice-Chancellor, Academic, Professor Merlin Crossley, with a new species of 'butterfly bobtail' squid named Iridoteuthis merlini. The species was discovered and named by Dr Mandy Reid, manager of the malacology collection at the Australian Museum Research Institute. The eponym recognises Merlin's valued contribution on the Trust of the Australian Museum from 2012–2021, and as previous chair of the Science Advisory Board.
I was intrigued to read about the luminous quality of the Iridoteuthis merlini, one of only three species that are formally known to belong to this small group of cephalopods: a fitting tribute to a UNSW and Australian Museum luminary!
New quantum computing research
I was fascinated to read about some of the recent progress by UNSW Quantum engineers in Science Advances. They describe advances in technology that may enable quantum computing to go from controlling a few 'qubits' – the "basic building blocks of a quantum computer" – to controlling the millions of qubits likely required for applications of global significance.
Scientia Professor Andrew Dzurak and Dr Jarryd Pla also explained how this great engineering challenge might be surmounted in a piece in The Conversation. They highlighted the potential of quantum computing to transform capability in many areas including the development of drugs, climate science and AI. An area of enormous potential in which UNSW is proudly at the cutting edge.
This is an opportune moment to advise that applications are open for Sydney Quantum Academy (SQA) PhD Scholarships. Students have the unique opportunity to undertake coursework across SQA's four partner universities: Macquarie University, UNSW, the University of Sydney, and the University of Technology Sydney. Applications close on 26 September and there is an information session this Friday. Find out more about SQA PhD Scholarships.
I'll close today with a reminder about the range of supports available to the UNSW community as we continue to live with COVID-19 lockdowns and associated pressures. The previous edition of Inside UNSW provides an excellent portal to the supports available. I urge all in our community to comply with the health orders, get tested as soon as even the mildest symptoms arise, and if you can, get a COVID-19 vaccination as soon as possible. We will continue to keep the UNSW community up to date with COVID-19 issues affecting our University through regular emails.
Please take care of yourselves and your loved ones, and look out for your colleagues during this difficult time.
Best wishes, stay well
Ian
Comments