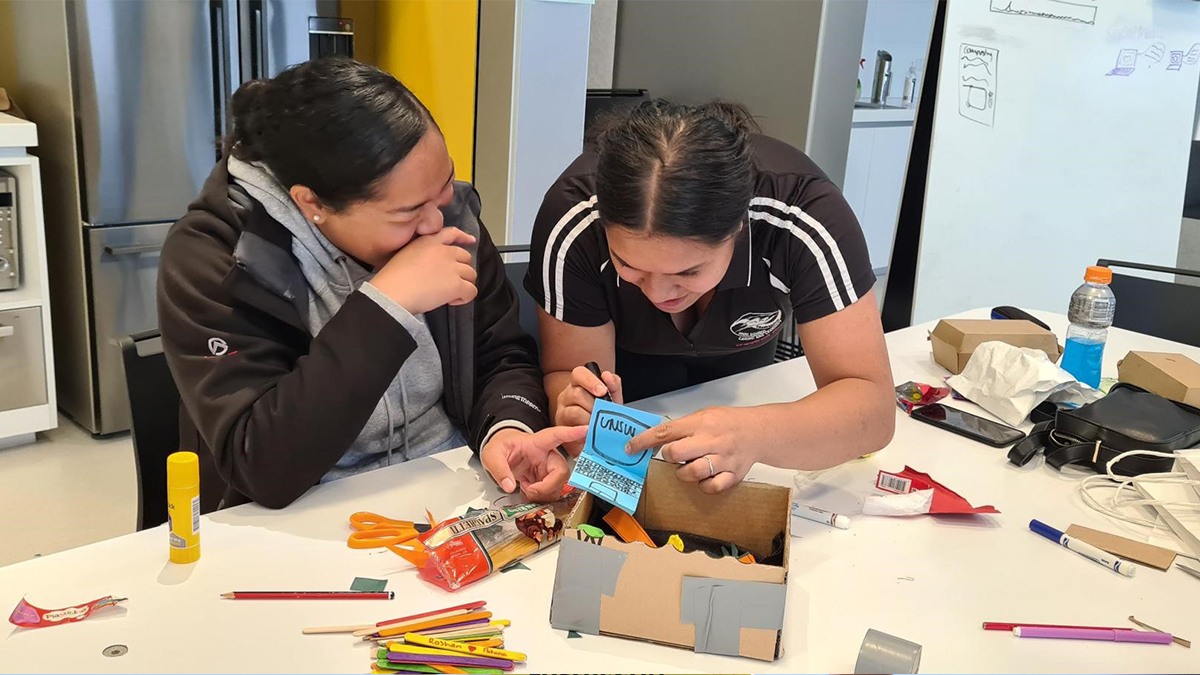 Through collaboration with Liverpool Innovation Precinct, TAFE NSW and UNSW Sydney, a Youth Engagement Strategy (YES) 'Business Startups and Innovation' pilot program gives TAFE students from Western Sydney a chance to think and learn differently.
The Youth Engagement Strategy (YES) programs are a special blend of industry training and hands-on activities which are being delivered to South West Sydney students in collaboration with the Liverpool Innovation Precinct, TAFE NSW and UNSW Sydney. They provide secondary students with an opportunity to gain industry experience and employability skills. 
The pilot cohort of students travelled to UNSW's Michael Crouch Innovation Centre to participate in a UNSW Founders program design thinking workshop. The workshop challenged the students to think creatively about solving a problem. They were given a problem they had to define and then solve. The students created prototypes, gave each other feedback and presented a solution. They discovered life-lessons in the process.
"I learned that you can always get feedback," said Jesse, one of the participants, "and I can use that feedback to improve."
Lucinda, a peer in the program, agreed, "You always have to improve your ideas in order to find the best solution."
The students participated in 10 days of workshops held across Sydney, exploring ideas of design thinking and prototyping, how to develop ideas, create a career plan and make an idea into a business opportunity. They travelled to Cicada Innovations and UNSW for the hands-on experience, and UNSW will be co-delivering content in Liverpool with our TAFE partners.
"We're so excited to be co-designing and co-delivering this program for TAFE NSW," said Dr Zoe Terpening, Strategic Lead of UNSW's health precincts.
"We saw an opportunity to offer an educational experience that was a little bit different for these students. We're really hoping that the program will inspire their learning and think about life beyond Year 12. It was really lovely to see the students engaged and thinking creatively," she said.
The program provides an insight into the world of innovation, start-up ventures and design thinking to get student ideas moving into viable business opportunities. At the end of the program, the students will receive a Certificate of Participation outlining the skills they gained.
UNSW has a 30-year partnership with Liverpool Hospital and is a committed partner in the Liverpool Innovation Precinct (LIP). Established in 2017, the LIP has the vision to reimagine how health, education and research is undertaken individually and collaboratively to drive innovation in Liverpool. The LIP brings together people from across government, education, business and health sectors in a collaborative effort to deliver an aspirational vision for the Precinct. They will develop the area as a growth precinct focusing on health, education and research sectors.
Comments