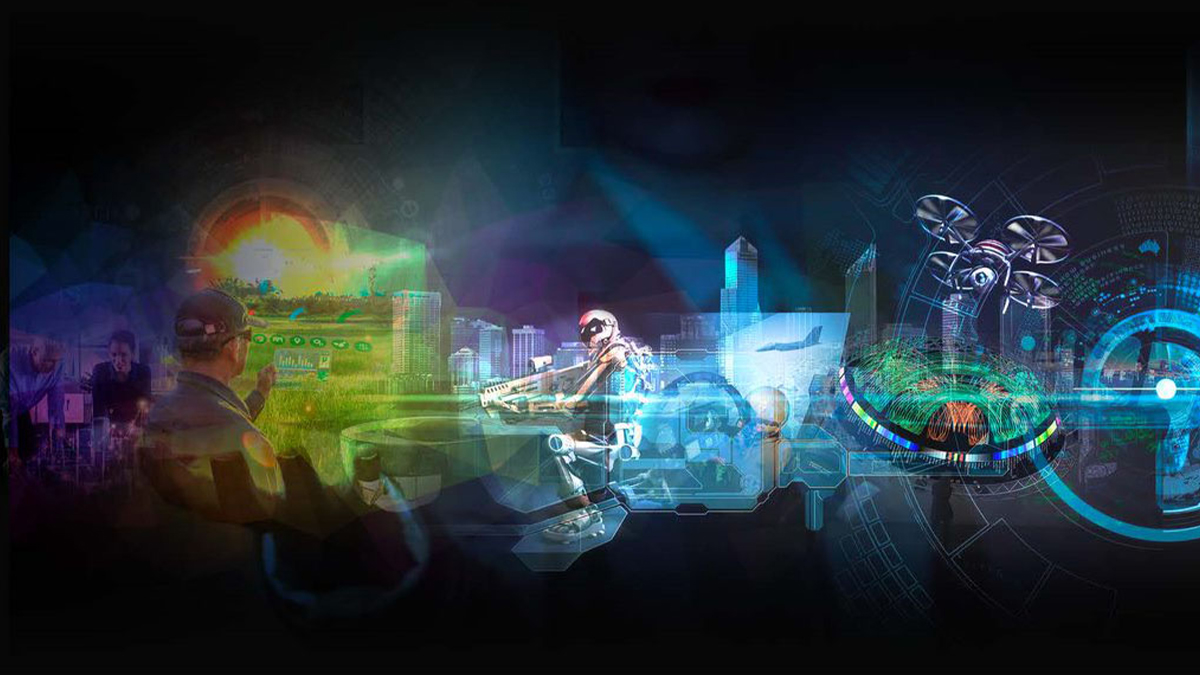 Two UNSW Sydney academics have been recognised for their work to advance adoption of immersive learning technologies in higher education. 
 Associate Professor Simon McIntyre and Dr Teresa Crea from UNSW Arts, Design & Architecture (ADA) have won the inaugural iLRN Champions in Higher Education for XR Award for their Master of Visualisation, Simulation, and Immersive Design (MVSID) program. 
The Champions in Higher Education for XR Award, an initiative of the Immersive Learning Research Network (iLRN), acknowledges exemplary work of teams working in higher education to advance the adoption of extended reality and immersive learning technologies. The award was presented at the recent iLRN 2021 Conference – the premier scholarly event focusing on advances in the use of virtual reality, augmented reality, mixed reality, and other extended reality (XR) technologies to support students across the full span of learning. 
A rapid rise in emerging technologies has opened new opportunities for higher education practitioners to further intensify the students' learning experiences. The unique MVSID program offers a human-centric, design-led approach to harness the power of immersive technologies.  
A/Prof McIntyre, Director, Educational Innovation, Portfolio of the Pro Vice-Chancellor, Education & Student Experience, said, "Our aim with the MVSID program was to launch a new generation of professionals ready to apply these emerging practices and technologies in innovative ways across a variety of industry contexts." 
The program's co-designer, Dr Crea, added, "The MVSID program was a response to industry consultations and our work with the Asia Pacific Simulation Alliance, the principal program partner. Collectively we realised there was a gap in training that needed to be addressed and built a modular, adaptable program to skill students in these emerging areas and elevate what they do best. This award recognises the potential of immersive technologies to revolutionise the way we deliver course content and learning experiences."
As immersive technologies evolve and mature, they will continue to gain traction across industries, and it is up to universities like UNSW to ensure students are equipped with the requisite knowledge.
"We worked closely with industry partners to give the program currency and real-world context. Through this program, UNSW is empowering students to go into a whole range of industries and sectors and develop strategies, effectively using immersive platforms, to tackle industry-specific problems," A/Prof McIntyre said. 
Augmenting and future-proofing the student experience 
The MVSID program attracts practitioners from a wide range of industry sectors to integrate visualisation, simulation and immersive environments into their own work contexts.
"A great majority are working professionals. All have come into the program aware that immersive practices are disrupting their sector and keen to work out how and where to use immersion," Dr Crea said.
"They engage with these technologies first-hand through real case studies and gain insights from industry partners." 
The first cohort from the program is leading the way, gaining recognition and galvanising University-wide support, from the LITEroom (the central support service for immersive technologies), through to the UNSW Founders for their proposals and start-up initiatives. An example of the exciting new pathways opening up to students through this program has been brought to the fore by the achievements of Peta Estens from the inaugural MVSID intake.   
 In its first year, the program has been instrumental in Ms Estens winning an iLRN award for her global education project – Pangea Minds. 
 "UNSW has designed an incredibly versatile course," said Ms Estens. "I was an English teacher for almost 20 years with a strong interest in how technology is reshaping the way we learn. I knew absolutely nothing at all about VR or AR or design. The MVSID course has given me a completely new professional bio as an immersive learning and training designer. I'm thrilled UNSW won this award. It is quite something for me personally to be graduating from an award-winning degree with an award-winning research-inspired project!" 
 Talking about her time in the MVSID program, Ms Estens said, "It has been a profound experience to meet world-leading specialists from a range of industries as my lecturers and tutors. They have real-world experiences and their shared stories really helped to make sense of the concepts from the lectures and the literature. Personally, I feel stronger as I've been given the opportunity to explore how these emerging technologies are impacting the way we learn, work and play. It's changed the way I see the world." 
 A/Prof McIntyre says human-centric design is fundamental to delivering a truly connected capstone experience for the students. "The MVSID program is designed around key human principles: stimulus, complex information, and how humans deal with both. Essentially, we are asking where does the human sit in immersive technology and how can we uncomplicate this learning experience while also personalising it? Our students deserve a unified, streamlined experience which is tailored to their journey as students. 
"We've built the master's program around a personal portfolio approach, where we encourage our students to contextualise this newly acquired knowledge within their industries. So, it becomes a capstone experience where students can be partners." 
The Education Focussed academics credit their interdisciplinary, multi-faceted backgrounds for the success of the program. A/Prof McIntyre is a trained designer and a multi-award-winning educator who led the development of an award-winning open education resource Learning to Teach Online (LTTO) Massive Open Online Course (MOOC) and was recognised as an Apple Distinguished Educator in 2015. Dr Crea is an internationally recognised simulation expert, with an extensive career as a writer, director and researcher. Her work focuses on narrative sense-making and immersive experiences starting with the user experience. 
Discover more about UNSW's award-winning Master of Visualisation, Simulation & Immersive Design program here.
Comments