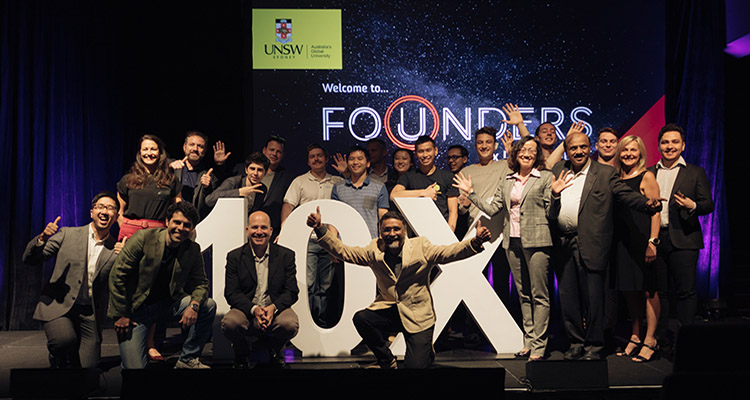 UNSW Founders has chosen seven teams to participate in this year's flagship UNSW 10x Accelerator program. 
Representing a wide array of industries, the projects include on-demand drone images, 3D modelling software where school students create their own adventures, realistic fabric imaging technology designed to reduce online fashion returns, and a mobile docketing system that replaces the need for paper receipts. 
 "More than 75 UNSW startups applied for this year's 10x Accelerator program which is more than we've ever had before," said Director of Entrepreneurship David Burt.
"We've had a greater proportion of UNSW alumni teams, signalling that many people in career transitions are starting new companies rather than seeking another corporate job." 
 Launched in 2018, UNSW Founders 10x Accelerator is tailored for high potential startups founded by UNSW students, staff or alumni. The bespoke program runs annually as a three-month intensive, followed by six months of incubation and post-program support. Each team is also matched with a wide network of mentors, investors and UNSW Founders program alumni.  
 This year, in line with UNSW physical distancing policy, the 10x Accelerator will be delivered completely online. The move to remote delivery has enabled the cohort to be geographically diverse for the first time with teams located in NSW, ACT, Vic and Qld. 
The participating 20 founders have completed 19 different UNSW degrees – including four PhDs – across a wide variety of disciplines that includes engineering, digital media, computer science, commerce and aviation.
"This program has produced some extraordinary companies. One of these is Tiliter whose computer vision product is revolutionising supermarket checkouts, reducing theft and waste, and saving time. Another is InsideSherpa which runs free company-branded virtual internships with the world's largest companies. We are excited to be supporting the global ambitions of these next seven startups," Mr Burt said. 
 "Australia's economic recovery from COVID-19 requires the creation of more than one million new jobs. We know from research conducted in both Australia and overseas that most new jobs are created by companies less than five years old.
"Data like this prove that if we want rapid job creation in Australia, we need to support the people who are stepping up to start and lead new companies. As Australia's most entrepreneurial university, UNSW is doing everything we can to help this next generation of founders to grow their companies and create new jobs in Australia," he said. 
UNSW Founders 10x kicks off mid-August and culminates in early November with a demo night.  
2020 UNSW Founders 10x accelerator cohort includes:
 Some of these startups have recently participated in the UNSW Founder Pre-accelerator program. At the inaugural UNSW Founder Pre-accelerator Showcase event on 12 August, eight finalists will compete for a share in almost $15,000 of prize money. Register to attend here and cast your vote for the People's Choice Award.
Degrees held by 2020 UNSW Founders 10x Accelerator teams
Alumni - Aviation Honours, MBA AGSM
Alumni - Bachelor of Arts, History and Philosophy, Bachelor of Engineering, Electronics and Electrical
Alumni - PhD Applied Mathematics
Alumni - Bachelor of Commerce Accounting/Marketing
Alumni - PhD BcScience (Honours) Physics
Alumni - Bachelor of Computer Engineering, Master of Biomedical Engineering, Computer Engineering
Alumni - Bachelor of Computer Science and Bachelor of Digital Media
Alumni - Bachelor of Digital Media, Bachelor of Engineering (Mining)
Alumni/staff - Bachelor of Engineering, Master of Engineering, Electric Engineering
Alumni - PhD/staff - Post Doctoral Research Fellow, PhD Photovoltaics
Alumni - PhD Photovoltaic Engineering
Alumni - Bachelor of Engineering, Mechanical Engineering
Alumni - Bachelor of Engineering, Master of Engineering
Comments