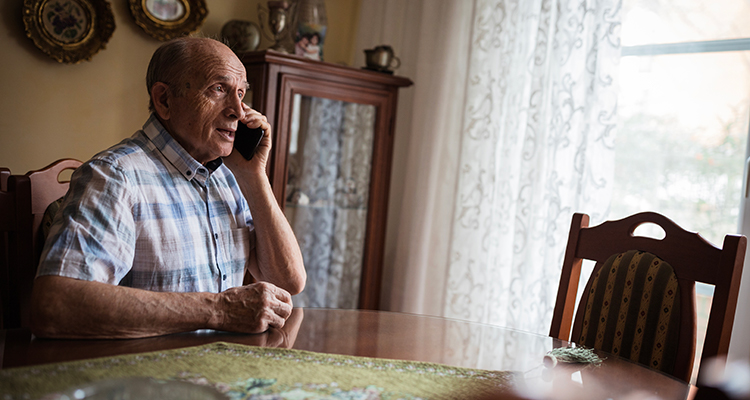 Researchers come together to explore COVID-19 mental health issues and the impact of fake news.
Protecting the psychological wellbeing of older adults and understanding the challenges from fake news and social media are the objectives of two COVID-19 collaborative research projects funded by the PLuS Alliance.
The projects were selected after a call for submissions from researchers at King's College London (KCL), UNSW Sydney and Arizona State University (ASU).
The work on older adults is led by Professor Richard Knopf (ASU), Professor Henry Brodaty (UNSW) and Professor Dag Aarsland (KCL). It will study and compare the psychological impact on older adults in the USA, Australia and the UK, during and after COVID-19, including quality of life, mental health, coping strategies, loneliness, resilience and cognition.
In the other project, Professor Michael Etter and Professor Jonathan Schad (KCL), Professor Jonathan Bundy (ASU) and Associate Professor Josh Keller (UNSW) will examine how the challenges faced by institutions during crises such as COVID-19 are aggravated by misinformation and fake news, and the extent to which vicious cycles of fake news can be broken.
Professor Nicholas Fisk, Deputy Vice Chancellor, Research at UNSW, noted that the very different context of SARS-CoV-2 spread in the USA, UK and Australia provided a major opportunity for comparative studies to inform broader public health strategies around the globe.
"The high quality of these investigator proposals complements those recently funded through UNSW's Rapid Response Research Fund," Prof. Fisk said.
These COVID-19 projects will be complemented by two seed-funded PLuS Alliance research projects that bring together 16 researchers.
A team led by Professor Brian Gerber (ASU), Professor Luca Vigano (KCL) and Dr Elena Sitnikova (UNSW Canberra) will pursue a risk management-based framework for developing intelligent systems for natural disasters.
Professor Rebecca Ivers (UNSW), Professor Seeromanie Harding (KCL) and Professor Felicia Mitchell (ASU) will lead another team to study the effects of climate change and water-related environmental degradation on mental health.
The COVID-19 and seed-funded projects are part of an ongoing drive by the PLuS Alliance to achieve international impact through collaborative research.
Scoping work is underway to identify flagship projects in mental health and is led by Professor Sharon Stevelink (KCL), and addictions which is led by Professor Michael Farrell (UNSW).
Comments