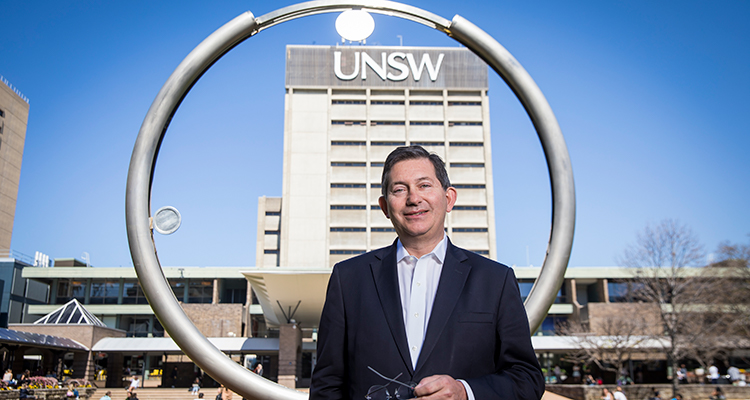 Dear colleagues
As we begin the study period for Term 2, I once again express my gratitude for all that our students and staff have achieved during a challenging year. I have been inspired by the compassion and resilience that so many people in the UNSW community have demonstrated amid the upheaval. I wish all our students and staff well as you prepare for and complete Term 2 assessments.
The Senior Leadership Team and I continue to pay close attention to public health advice surrounding COVID-19. The safety of our students and staff remains our highest priority. As I wrote to you last week, the potential for a rapid increase in community transmission continues and I encourage you to follow the advice of NSW Health regarding the use of face masks. We will continue to keep you up to date with developments as they affect our community.
Further to the plans we have in place to address the immediate financial impact of COVID-19 on our University, a reminder that the closing date for proposed alternative long-term working arrangements is this Friday, 14 August. You can speak with your manager or submit your proposal by emailing the HR Business Partnering Team.
During the next two weeks we will be able to share information about the outcome of the voluntary redundancy expression of interest process, following which we will issue a formal workplace change paper describing how we will address our remaining people-cost saving needs. I know this is an anxious time for many people, and I reiterate my commitment to making our decisions with respect and compassion during this process.
10 UNSW Future Fellows
The recent awarding of 10 ARC Future Fellowships to UNSW researchers reminds us of the depth of our University's research talent. Congratulations to our colleagues, Dr Jay Bertran-Gonzalez, Associate Professor Christopher Danta, Associate Professor William (Alex) Donald, Professor Fleur Johns, Professor Kama Maclean, Dr Matthew McKay, Dr Ke Meng, Professor Adrian Russell, Associate Professor Neeraj Sharma and Dr David White. These 10 outstanding mid-career researchers were awarded more than $9.5 million to conduct four-year research projects in areas of national and international interest, across engineering, arts and social sciences, law and science. I wish our Future Fellows well as they embark on their important research.
Engineering Industry Engagement Strategy
Our Faculty of Engineering has a long and proud history of collaboration with industry partners to address some of the grand challenges our society has faced. I commend all who have been involved in developing the new Engineering Industry Engagement Plan, which creates a unified approach to industry engagement across the faculty. The breadth of developments as a result of partnerships between UNSW Engineering and external industries is extraordinary – fraud detection, developing solar energy, and mining the moon are just a few. Industry engagement drives great innovation and tremendous real-life experience for students, affirming our position as the number one-ranked Engineering university in Australia.
Founders 10x Accelerator startups selected
Innovation, entrepreneurship and partnership are at the heart of the UNSW Founders 10x Accelerator program, which will shortly see seven UNSW startups – from a record 75+ applications – commence the 2020 program. 10x Accelerator has produced some exceptional innovations and entrepreneurs. This year's cohort of 20 founders across engineering, digital media, computer science, commerce and aviation is, yet again, impressive. In an innovation of necessity, 10x Accelerator will be delivered wholly online this year, with teams from NSW, ACT, QLD and VIC able to participate. I look forward to the Demo Night in November and the creativity it is sure to showcase. Best wishes to all the founders.
Three new UNSW Online programs
The past months have demonstrated the power of online learning, as well as the increasing appetite among students for the flexible, high-quality experience that online education can provide. It is in this exciting context that UNSW Online has launched three fully online programs: the Master of Financial Technology, Master of Cyber Security and Master of Management. These programs have been developed collaboratively by UNSW Business School, AGSM, UNSW Engineering and UNSW Canberra, in response to identified market needs. My congratulations to all involved in bringing these three courses to fruition, enhancing UNSW's suite of online educational offerings.
PLuS Alliance COVID-19 collaborations
As an enthusiastic supporter of collaborative research partnerships, I was pleased to hear about several new projects that will bring together researchers from the PLuS Alliance – UNSW, King's College London and Arizona State University. Two of these collaborations will address public health issues arising from the COVID-19 pandemic. Scientia Professor Henry Brodaty will join colleagues from KCL and ASU to investigate the impacts of the pandemic on the mental health of older adults, while Associate Professor Josh Keller and colleagues from King's and Arizona State will examine how the challenges faced by institutions during crises are aggravated by misinformation and 'fake news'. I look forward to (actual) news of the projects' findings.
Australian Mental Health Prize nominations closing soon
On 30 August, nominations close for the Australian Mental Health Prize, which was established by our School of Psychiatry to recognise Australians who are making outstanding contributions in mental health and mental illness prevention and treatment. Recent, concerning findings from the Australian Institute of Health and Welfare show that one in five Australians has a mental health condition. Unfortunately, some mental health professionals believe the COVID-19 pandemic may contribute to an increase in these figures. Recognising great work in mental health can help to combat stigma and promote discussion. So, if you know of outstanding work being done by mental health professionals in Australia, please do consider submitting a nomination for this prize.
Farewell Professor Ross Harley
This month the UNSW community farewells Professor Ross Harley as Dean, UNSW Art & Design.

Ross's long association with our University spans three decades: from his days as a Lecturer in Art & Mass Media at what was then the College of Fine Arts in 1992 through to his appointment as Dean in 2013. Ross's creative vision and energy, fused with his international standing as an artist, new media practitioner and researcher, have established UNSW Art & Design as a globally renowned and critically acclaimed leader.
There is much to admire in Ross's long list of achievements. Three particular things stand out for me. Firstly, the way in which Ross has opened the eyes and minds of many across our University to the power and wonder of the arts. Like numerous colleagues, I am personally grateful to him for all that I have learnt from working with him. Secondly, I have particularly valued his commitment to linking the talented academics in the Faculty of Art & Design into activities across the breadth of our University. This has initiated new opportunities for numerous disciplines. Thirdly, I have admired enormously Ross's ability to bring together organisations and individuals in the broader Sydney community to add value and extend the reach of the arts and cultural activities.
Ross has truly lived and breathed art and design and instilled a love of both in staff and students across UNSW. You can read more about Ross's career at UNSW via this link.
Please join me in wishing Ross well. He leaves UNSW on 28 August.
End of year shutdown dates
Our year-end break for 2020 will be from 5pm, Monday, 21 December, reopening on Monday, 4 January. The public holidays over this period are 25 December, 28 December and 1 January. I am sure that many of you are already looking forward to this time and the opportunity for our students, staff and wider community to have a break at the end of what has already been a tumultuous year.
More details about the year-end break and requirements related to leave will be shared by HR later in the year.
Finally, a reminder that you can check the NSW Government website for news and updates related to COVID-19 health alerts. If you need support, free, confidential counselling is available through our Employee Assistance Program. The service is also available for immediate family members. Assistance for our students is available via The Nucleus on 02 9385 8500 and our Student Support Advisors.
Take care and stay well.
Ian
Comments