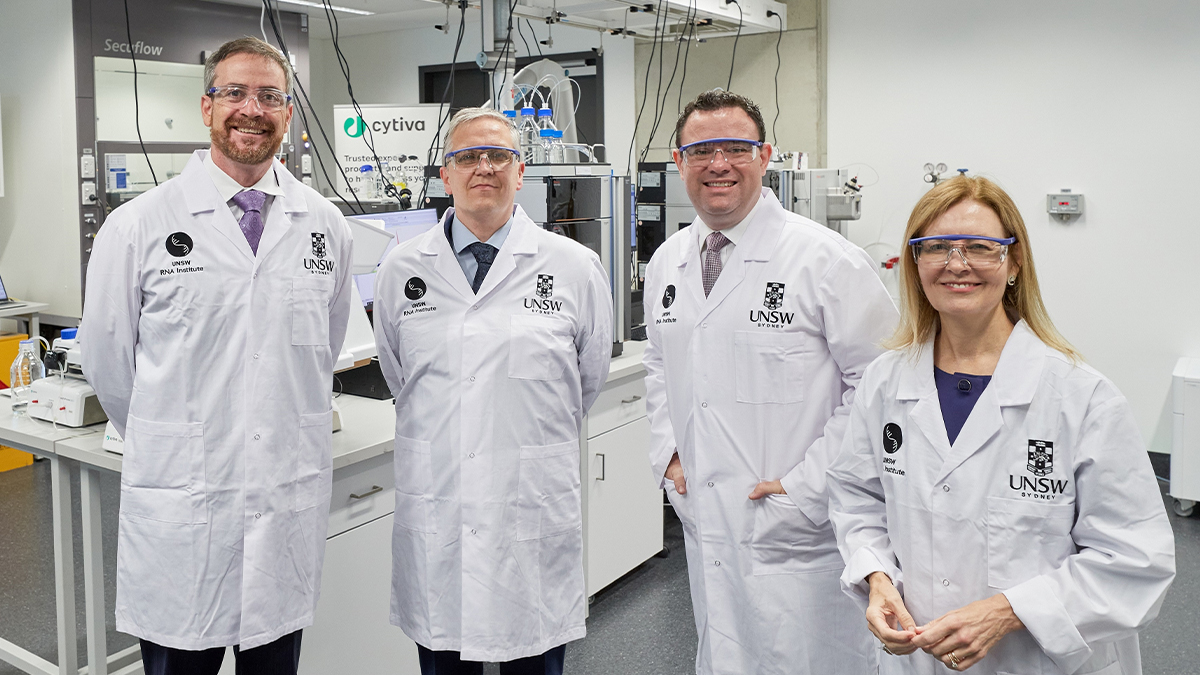 Director of the Institute, Professor Pall Thordarson says the RNA revolution is just getting started.
The UNSW RNA Institute, Australia's leading RNA science, therapeutics and translational facility, has officially opened.
Established with a $25 million investment from UNSW Sydney as part of a NSW RNA Bioscience Alliance between NSW universities and the State Government, the Institute will build NSW's capability to research, develop and manufacture RNA-based therapeutics locally.
"This is a significant milestone in the creation of the significant RNA ecosystem we are establishing here in NSW," Minister for Enterprise, Investment and Trade Stuart Ayres said as he formally opened the labs at UNSW's Kensington campus on Monday.
"A thriving NSW-based RNA industry underpinned by world-leading research talent will attract international investment and bring companies from all over the world to create high priority jobs in NSW within the $2 billion medical technology growth industry."
Minister for Science, Innovation and Technology and Minister for Skills and Training Alister Henskens said the UNSW RNA Institute heralds a new era in onshore development of novel RNA technologies and therapies post-pandemic and will play a vital role in the commercialisation of research.
"RNA-based therapeutics can also be applied to a rapidly expanding category of drugs, diagnostics and treatments for other diseases including cancer and autoimmune disorders," Mr Henskens said.
"Working together with other University partners in the NSW Bioscience Alliance, research into these novel technologies will allow us to not only lead the way in the fight against disease, but to boost productivity through innovation and create jobs for the future."
UNSW Vice-Chancellor and President, Professor Attila Brungs said the Institute will draw together UNSW's existing world-renowned expertise in this area to provide a vibrant foundation for increased collaboration and critical advances in RNA.
"UNSW is home to some of the best scientific minds in the world in this field. In creating this Institute, we have brought together scientists, engineers, and medical researchers to work on key bottlenecks at the frontier of RNA science and medicine," he said.
"We are proud to collaborate with the NSW Government, industry and academic partners to drive the development of an industry which is going to have a profoundly positive impact on human health."
The Institute will conduct pre-clinical trials for the treatment of COVID-19 and cancer using RNA-based therapeutics manufactured in NSW. It's expected pilot-scale production of siRNA for use in RNA-based therapeutics will be conducted by June this year.
Director of the Institute, Professor Pall Thordarson said the RNA revolution is just getting started.
"Some of the projects the Institute will look at range from conducting pre-clinical trials for the treatment of cancer, unravelling the complex roles that RNA has in brain development and developing short RNA based COVID-19 treatment such as inhalers," he said.
Prof. Thordarson said by supporting the RNA research runway, from chemistry to prototype pharmaceuticals, the Institute will ensure we are ahead of the game as the industry grows.
"It will help continue Australian-led innovations of RNA science and position us as a world leader in RNA science and technology," he said.
In partnership with NSW Health, UNSW also leads the NSW RNA Production and Research Network. This Network brings together five universities – UNSW, The University of Sydney, University of Technology Sydney, Macquarie University and the Australian National University – plus several medical institutes and hospital-based facilities with the UNSW RNA Institute, to enable an RNA community of practice in NSW/ACT.
This Network will be underpinned by a core RNA Accelerator Manufacturing Facility for mRNA, synthetic RNA, and nanoparticle production, which will support researchers from right across NSW to fast-track research and development (R&D) towards clinical trials and major new products.
The Institute will have at its centre the 'RNA Production Accelerator', a facility for scaling-up and producing promising RNA and nanoparticle drug candidates at pilot-scale before having them fast-tracked for pre-clinical trials.
Comments