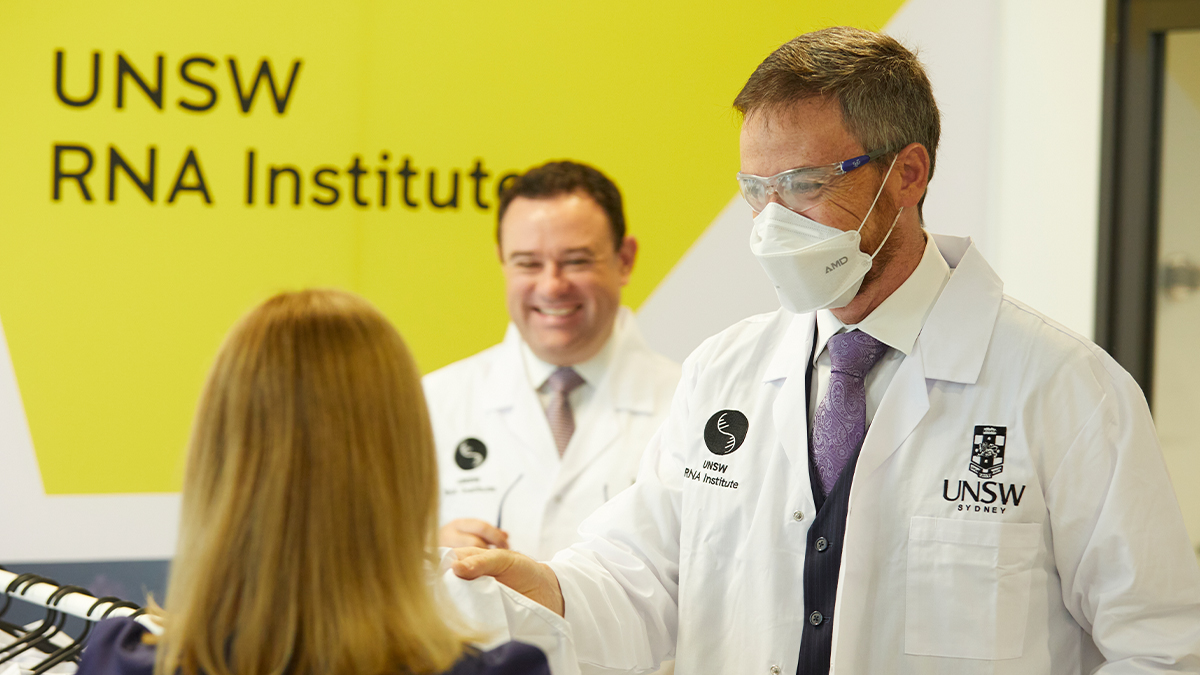 Dear colleagues
What a great time it's been on campus with graduates, their families, and friends – and a fair few photogenic puppies – celebrating graduation. I hope you've been inspired by this joy-filled time in our calendar. Graduation reminds us of the tremendous privilege we have in providing high quality education and an enriching university experience for our students.
National Student Safety Survey
UNSW has welcomed the release of the National Student Safety Survey report and we take the findings extremely seriously. The survey tells us that sexual harassment and sexual assault are still common experiences for Australian university students. While not all these experiences occur in university contexts, the findings of the NSSS demonstrate the profound impacts of gendered violence on students.
Our students are affected directly. They need us to do more, we need to do more. As universities we have additional responsibilities, not only must we make our campuses safe and welcoming places for all our students, staff and visitors, we are also uniquely placed to contribute to solutions. We graduate thousands of people every year whose understanding, expectations and actions will shape behaviour in the broader community. They will influence culture in workplaces and homes across Australia for decades to come. Our university can be a powerful force for that change.
The survey has provided valuable insights to enable us to better target our efforts, and highlighted the need to increase awareness for students about how to access support.
Behaviour that amounts to sexual harassment or sexual assault is not acceptable at UNSW. I also remind staff that, if you become aware of sexual assault or harassment within the University, you are obliged to report it. Current or past incidents can be reported via the UNSW Sexual Misconduct Reporting Portal.
UNSW, with the Gendered Violence Research Network, is developing a new strategy to help combat sexual assault and harassment at our university. Stop.Empower.Support. will be co-designed by students and staff and released in May.
You can read more about UNSW and the NSSS here.
If you would like to discuss anything that this report brings up for you, please contact 1800Respect, the national sexual assault, domestic and family violence counselling and information service. Call 1800 737 732 or visit 1800Respect.org.au.
Students are central in our dedication to education
I am incredibly impressed by the dedication of our colleagues in providing an exceptional student experience, especially in the student-centred approach to the learning and teaching challenges of the pandemic.
The evolution of hybrid learning is one such example, giving students flexibility and accessibility, combining online and face-to-face learning and teaching activities in one class. While a great boon for students, it's inherently complex for our teachers, and I acknowledge the hard work required to deliver classes in hybrid mode. Great appreciation is due the dedicated people in the Pro Vice-Chancellor Education & Student Experience (PVCESE) portfolio, who have created a wealth of resources for academics, including the innovative Hybrid Learning Toolkit. The design of digital learning environments has also been top-of-mind among our colleagues in PVCESE. In response to student feedback, the Moodle learning management system is being enhanced to provide a better user experience and make the presentation of key information more consistent between courses.
Our Education Focussed (EF) program, which predates the pandemic and is a renowned leader in the tertiary sector, has provided marvellous professional expertise, with initiatives including the Course Design Institute; the diverse cross-faculty EF Communities of Practice; and the upcoming Education Focussed Symposium (Friday 8 April) exemplars of our student-centred approach.
These initiatives demonstrate how fortunate we are to have a cadre of colleagues who are passionate about providing a world-class UNSW student experience. Educational Excellence and Student Experience are two of three themes in our S25 priority of Academic Excellence, and I thank all who are striving towards this goal.
A strong year in research funding
Research Quality completes our themes for Academic Excellence, and I take this opportunity, too, to acknowledge the passion and expertise of our research community. UNSW performed very strongly in research funding grants in 2021, and we were the most collaborative university in Australia. There's a great infographic in this week's Inside UNSW that demonstrates the breadth and depth of research funding in 2021 – I encourage you to read more about our research community's terrific work.
UNSW RNA Institute launch
I was delighted to join Professor Pall Thordarson last week for the launch of the UNSW RNA Institute, with NSW Minister for Enterprise, Investment and Trade, The Hon. Stuart Ayres MP. The strong commitment to this visionary project from the NSW Government, and all our partners, is a giant step for Australia's RNA production capabilities – and it typifies UNSW's vision for improving lives around the globe.
We are immensely fortunate to have Pall leading this outstanding project. I encourage you to read more about the UNSW RNA Institute and launch here.
Welcome Back to Campus… and an historic milestone in coffee
I'll close today by thanking those who have produced the Welcome Back to Campus events over the past couple of months. While it is disappointing that COVID-19 has again thrown a spanner in the works and we've had to postpone Community Day, there are Welcome Back to Campus events happening until next Wednesday. I heartily encourage you to get amongst it – don't forget to spend your vouchers with our friendly food and beverage vendors!
A reminder too, that if you are unwell, please don't come to campus. And please do take care of yourself – even if you're working from home, you still need to rest and recuperate. The health and safety of all in our community is paramount.
Finally, in an historic milestone, you may have read that the Coffee Cart is moving! But don't fret, only a stroll across the Library Lawn and that (ahem) 'cartisan' espresso can still be yours.
Best regards, stay well
Attila
Comments