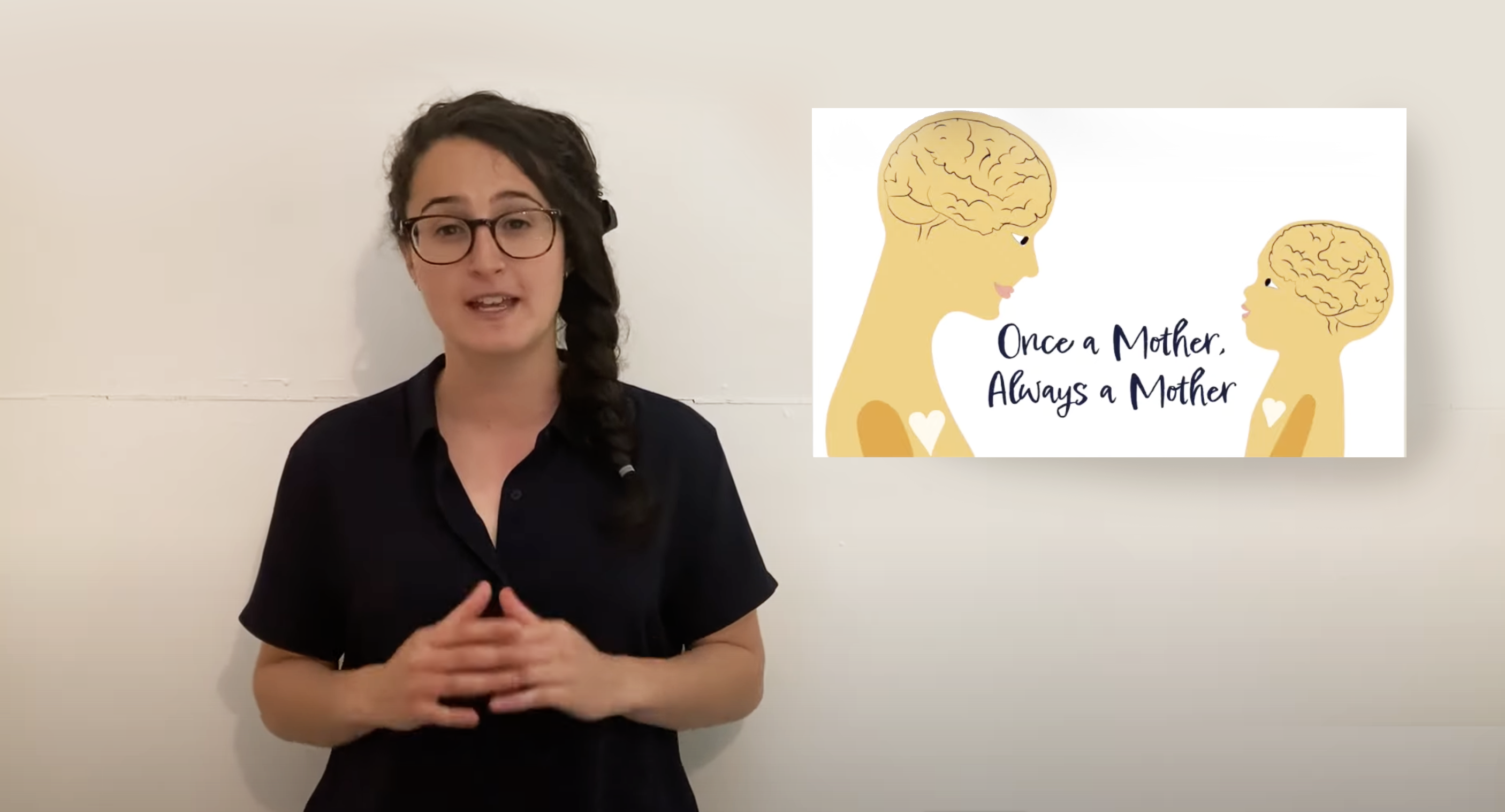 A talk on how pregnancy shapes the brain has taken out the top prize in the 3 Minute Thesis competition in 2021.
From morning sickness to the "baby bump", most of us are familiar with how pregnancy can affect the body. But how does it affect the brain? In the winning presentation at this year's 3 Minute Thesis (3MT) finals competition, Jodie Pestana explained how pregnancy can cause lifelong neurological changes that may lead to anxiety, requiring tailored treatment methods.
Ms Pestana is one of 20 PhD candidates from across UNSW Sydney who made it into the 3MT finals this year. Instead of presenting to an in-person audience of hundreds, this year's finalists submitted video entries explaining their research and its importance in just 180 seconds. Their 3MT submissions are being celebrated online, and explore new frontiers in health, law and justice, sustainability, social policy, machine learning and psychology. 
The judges – Indigenous Scientia Senior Lecturer Liza-Mare Syron, Deputy Director of CSIRO Astronomy & Space Science Sarah Pearce, and ABC science journalist Robyn Williams – awarded Ms Pestana the top prize of $3000 for the engaging way she explained the neurological changes caused by pregnancy.
Judge Sarah Pearce said: "Jodie's talk was outstanding! She was very engaging, with a strong stage presence, and she gave a good explanation of the research motivation, results, and implications."
Ms Pestana said: "I am honoured to be awarded the first prize for the 3MT competition. It has helped me not only understand the bigger picture of my research, but also to put that bigger picture into words that resonate beyond the lab. It has been an amazing opportunity to learn what other people think about my research, improve my communication skills, and just have fun talking science!"
Josephine Dwan (UNSW Canberra) took out second prize and $1500 for her presentation on how Australian legislation might help users of intimate devices like mobile phones gain more control over the personal data collected and stored on their devices. Gwendolyn Foo (Engineering) and Shuo Yang (Law & Justice) were each awarded third prize and $500 each for their talks on recycling e-waste and corporate governance in Chinese nursing homes. Shuo Yang also claimed the People's Choice Award.
The $1000 ASPIRE prize, as awarded by Liverpool Boys High School students, went to Kristina Ulm for her talk on enabling healthy and sustainable cities by growing food along street verges and footpaths.
The judges felt that this year's submissions were extremely competitive, and two additional finalists, Helen Pang and Praveen Indraratna, were highly commended.
Judge Robyn Williams said the standard of this year's presentations was "superb".
"The science is there, and so is the passion. But there is also the argument, why this is important! From the politics of energy to the understanding of the sense of touch, from veggies on verges, to the handling of e-waste, each speaker showed how their work can be spoken about to family, future employers or even sceptics in bars. That's the point of the comp: a vital new skill. And it's always a privilege to hear tomorrow's intellectual talent."
Professor Jonathan Morris, UNSW's Pro Vice-Chancellor Research Training & Entrepreneurship and Dean of Graduate Research, said: "Our PhD candidates are engaged in world class research, and the 3MT competition showcases their work in a really engaging and accessible way. I want to congratulate all of our outstanding finalists for their efforts. Each has provided a window into their exciting work and highlighted their ability to communicate and show their passion for their research."
UNSW Chancellor David Gonski AC said: "This competition is always one of the highlights of the calendar each year and this 3MT final illustrates how broad our research is at UNSW. We are very proud of the standard shown by all the finalists."
3MT Winner Ms Pestana will now represent UNSW at the Asia-Pacific 3MT competition hosted by the University of Queensland and the Universitas 21 3MT competition next month.
Watch all of this year's UNSW finalists and learn more about the judges.
Comments