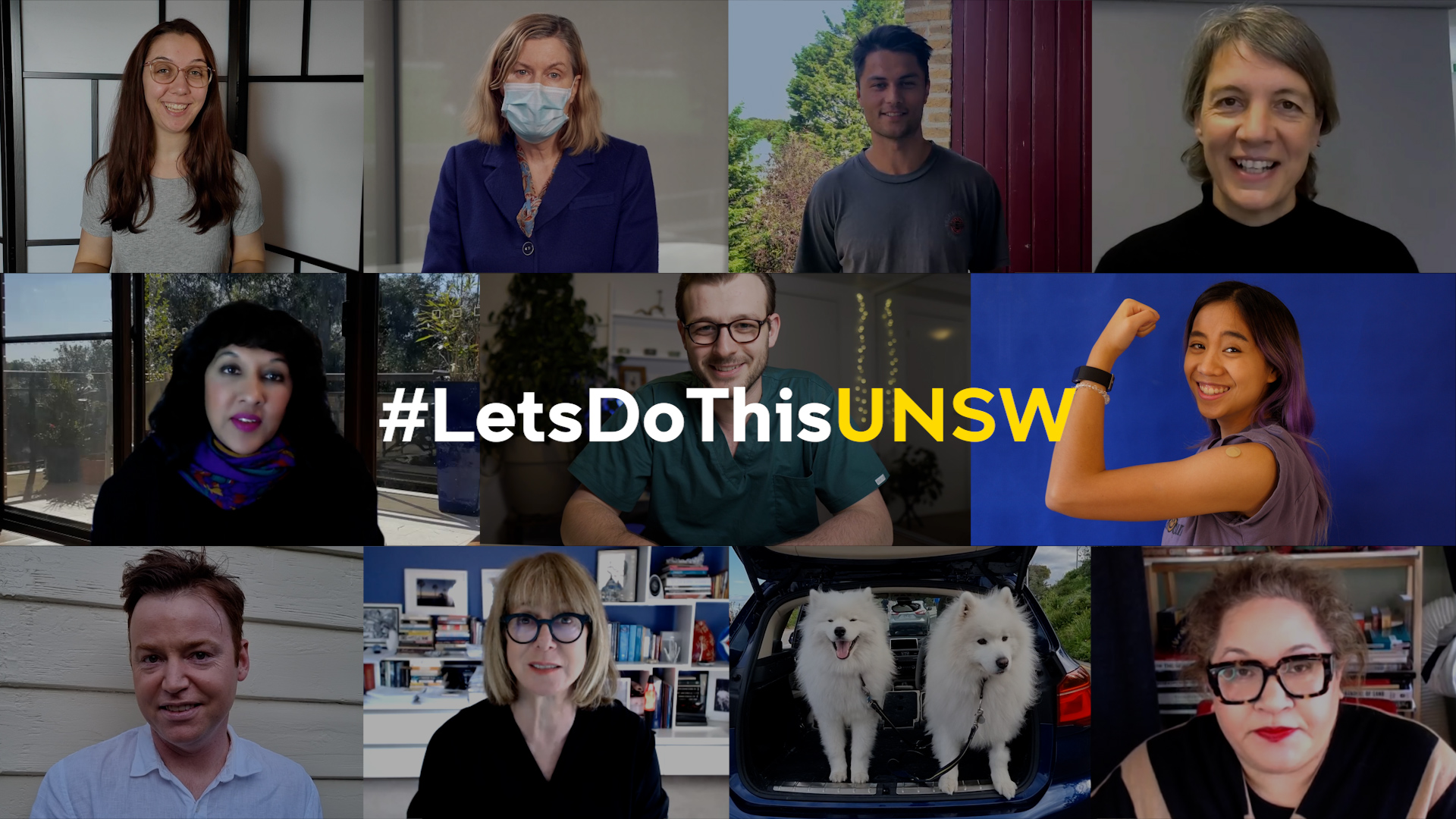 As part of UNSW Sydney's ongoing vaccination campaign, a selection of UNSW students, staff and alumni share why they decided to get a COVID-19 jab.
This new video by the University's Social Media and Visual Content teams features prominent figures from across the UNSW community talking about why they got vaccinated and sharing some of the things they are looking forward to on the other side of lockdown.
The video features a selection of medical experts and other prominent UNSW voices ranging from epidemiologists to an Olympian and even two of Law & Justice's star doggy influencers:
Professor Raina Macintyre – Biosecurity Program Head, UNSW Kirby Institute 
Professor Mary-Louise McLaws – Epidemiologist, UNSW Medicine & Health and World Health Organization Advisor
Scientia Professor Michelle Simmons AO – CQC2T Director and 2018 Australian of the Year
Professor Megan Davis – UNSW Pro Vice-Chancellor Indigenous and Professor of Law
Dr Daniel Mansfield – Mathematician and UNSW Senior Lecturer
Nicole Tabuena – UNSW Media Arts Student and Pulse Host
Tim Brand – Kookaburras Forward, Olympic Silver Medallist and UNSW Business student
Kirsten Banks – UNSW Science PhD Candidate and TikTok Superstar
Jasper and Luka the Samoyeds – UNSW Law Doggy Influencers and Very Good Boys
Dr Kerry Chant – NSW Chief Health Officer and UNSW Alumna
Dr Sylvain Meslin – Junior Doctor, YouTuber and UNSW Alumnus
The community was very willing to share their thoughts. All 10 people asked to participate enthusiastically got on board, and were happy to share their stories – or 12, including the two very good boys, Jasper and Luka.
The current health advice for anyone aged 18 years and over living in Greater Sydney is to get vaccinated with any available COVID-19 vaccine. You can use the COVID-19 Vaccine Eligibility Checker to check your eligibility and find a clinic to book an appointment.
You can share the video with your own friends and family from UNSW's social media channels – links below!
Comments