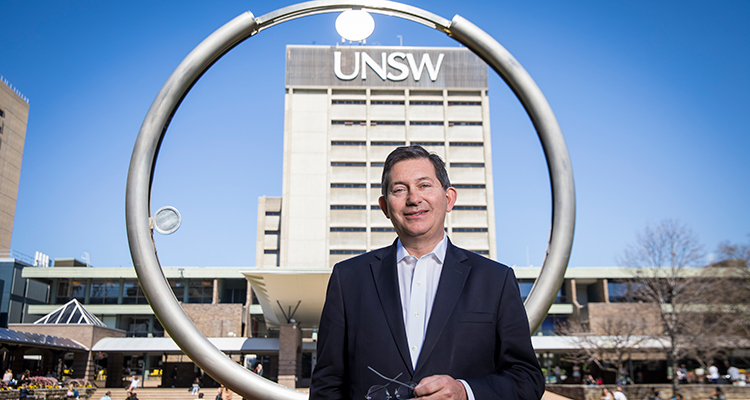 Dear colleagues
As Term 3 begins, I hope you are feeling the benefits of our recent Wellbeing Day and the first of our two Recharge Weeks. Thank you to everyone for observing a quieter schedule last week as a way of making a positive contribution to our colleagues' and our own personal wellbeing during a very challenging period. This week's newsletter is a poignant one for me. It is the last time I shall, as President and Vice-Chancellor, wish our colleagues well for a new term. I have always enjoyed the excitement of O-Week and the first week of teaching, those harbingers of infinite potential! My sincere thanks to all our staff, academic and professional, who have guided us successfully to T3 2021. Your dedication makes UNSW tick. I wish everyone in our community a fulfilling and healthy term.
UNSW 70th in THE World Rankings 2022
Over the past three years UNSW has risen 26 places in the THE World Rankings and is now 70th in the world, of the more than 1600 universities from 99 countries measured in these rankings for 2022. Achieving this rise during a period acknowledged to be the most challenging ever for universities worldwide is a testament to the quality of our academics. While rankings are but one measure of our work, we can be proud of our continuing performance in these global indicators – a true credit to the world-class UNSW community.
Professor Peter Gunning awarded prestigious President's Medal
Congratulations to cell biologist Professor Peter Gunning from UNSW Medicine & Health, who has been awarded the President's Medal by the Australia and New Zealand Society for Cell and Developmental Biology. The medal recognises Peter's "highly distinguished" scientific research career focused on the actin and tropomyosin molecules – these are among the building blocks of cells. Peter's career-long focus on childhood and adult cancers has been a driving force for his research and translation work, which has enormous therapeutic potential.
UNSW Arts, Design & Architecture Indigenous Strategy
I encourage you to read about the ADA Indigenous Strategy launched recently by the Faculty of Arts, Design & Architecture (UNSW ADA). The strategy is aligned with the three pillars of the UNSW Indigenous Strategy: Culture and Country, Give Back and Grow Our Own. It embeds in UNSW ADA the Faculty's commitment to supporting Aboriginal and Torres Strait Islander students, staff and programs to realise their potential. I would like to acknowledge Dr BJ Newton, Wiradjuri woman and inaugural Associate Dean Indigenous, UNSW ADA, who led the strategy's development; the work of First Nations ADA students and staff; and the support of Indigenous and non-Indigenous leaders across the University who have brought this visionary strategy to life.
Kaldor Centre's Frances Voon named an influential Asian-Australian
Please join me in congratulating Frances Voon, Executive Manager of our Andrew & Renata Kaldor Centre for International Refugee Law, who has been named one of the '40 Under 40 Most Influential Asian-Australians'. Frances' win in the Community Advocacy/Not for Profit category honours her outstanding leadership in advancing the rights of refugees, including in her role at the Kaldor Centre since 2015. Frances' commitment to social justice is an exemplar of UNSW's vision for improving lives around the world and I extend a warm congratulations for this much deserved recognition.
Ten UNSW finalists for the 2021 Eureka Prizes
It is that time of year once again: the nominations for the 'Oscars of Science' have been announced, with 10 UNSW Sydney projects named as finalists for the 2021 Australian Museum Eureka Prizes. These prizes award excellence in the fields of research and innovation, leadership, science engagement and school science. UNSW is proud to have finalists across three categories and I wish our nominees all the best for Australian science's night of nights. Winners will be announced on Thursday 7 October. Find out more about the wonderful range of projects for which UNSW colleagues have been nominated.
UNSW finalists:
Associate Professor Rona Chandrawati, UNSW Engineering
Associate Professor Brett Hallam, UNSW Engineering
Professor Maria Kavallaris, Children's Cancer Institute and UNSW Medicine & Health
Scientia Professor Veena Sahajwalla, UNSW Science
Associate Professor Adriana Vergés, UNSW Science
Scientia Professor Justin Gooding, UNSW Science and Professor Maria Kavallaris, Children's Cancer Institute and UNSW Medicine & Health
Associate Professor Melissa Hart, UNSW Science, in collaboration with a team from the UNSW Climate Change Research Centre
Professor Raina MacIntyre, the Kirby Institute at UNSW in collaboration with Professor Con Doolan from UNSW Engineering, and a cross-faculty UNSW team
Dr Mark Ooi, UNSW Science, in collaboration with a team from the University of Wollongong, Western Sydney University and the University of Tasmania
Principal Scientist Dr Martin Bucknall, UNSW Division of Research & Enterprise, in collaboration with Dr Lei (Adrian) Shi from UNSW Engineering and the University of Sydney
Solar-powered EV charging stations now available
UNSW continues to demonstrate our commitment to renewable energy with an array of six solar-powered electric vehicle charging (EV) stations now available atop the Botany Street car park. Even better, the PERC solar cells powering the stations use technology developed here at UNSW. The charging stations are one of Sydney's largest electric vehicle facilities and, in addition to servicing EV drivers' needs, will provide important teaching and research infrastructure for our University community. Congratulations to Estate Management and the School of Photovoltaic and Renewable Energy Engineering (SPREE) on this excellent project, which was made possible through the generosity of philanthropist Mark Tidswell. Mark is a strong advocate of renewable energies and long-time financial supporter of SPREE.
Industrial designers collaborate to develop essential ICU equipment tower
The application of expert knowledge to meet real-world needs is a superb achievement for those who seek to have a positive impact on the lives of others, and the very timely arrival of new-generation intensive care unit equipment towers at the Prince of Wales hospital is one such moment. Staff at the hospital collaborated with UNSW industrial design students and staff to create this vital apparatus in an excellent example of the power of partnership. The new tower, which holds all the equipment a patient in ICU needs – such as IV lines and ventilators – can be wheeled into a bed space, making the provision of 'surge' capacity a little easier in times like the COVID-19 pandemic. Congratulations to the team who created this 'ICU unit on wheels' to meet an essential clinical need, including Dr Miles Park, Senior Lecturer in the School of Built Environment, and industrial design honours student, Nicholas Matkovic.
My contribution to the Debate@Go8 podcast
I was pleased to accept the invitation to record an episode of the Go8 podcast series, Debate@Go8, with CEO Vicki Thomson recently. Vicki and I worked together when I was chair of the Go8 and I enjoyed discussing with her how universities have engaged with and served the wider community over the years. We discussed just how well universities throughout Australia responded to the incredible academic and financial challenges the pandemic wrought, especially in the absence of significant governmental support, and amid international borders closures and geopolitical tensions. I emphasised the vital role universities have played – and continue to play – in the global response to COVID-19 and the enormous potential for Australian universities to contribute to our nation and the world. If you would like to listen to the podcast episode, 'Universities and the nation's post-COVID recovery', please visit the Debate@Go8 webpage.
#LetsDoThisUNSW – students, staff and alumni share why they've been vaccinated
I enjoyed watching this short video in which a selection of UNSW students, staff and alumni share why they decided to get a COVID-19 vaccination – and some encouraging words about getting through to the other side of lockdown. Keep an eye out for some canine cameos part-way through!
A reminder about the University's COVID-19 vaccination survey. The results will help the University in planning our return to campus for when restrictions start to ease. We would like as many staff as possible to complete the survey, to ensure we have a representative view. You will find the survey link in the all-staff email 'COVID-19 Vaccinations – Have your say' that was sent on Thursday 2 September.
Please continue to make use of the range of supports available for the UNSW community as we navigate lockdowns and associated pressures. I urge all in our community to comply with the health orders, get tested as soon as symptoms arise – however mild – and, if you can, get a COVID-19 vaccination as soon as possible. We will continue to keep the UNSW community up to date with COVID-19 issues affecting our University, through regular emails.
UNSW year-end break dates
The dates for our Christmas and New Year break have now been finalised, enabling our staff to make their summer plans. The University will shut down its operations at 5pm on Tuesday 21 December 2021 and will reopen on Tuesday 4 January 2022. Information about annual leave days, public holidays and university holidays is set out here.
I'll finish this week with heartfelt good wishes for Term 3. I am constantly inspired by the resilience of our students and staff, and I acknowledge this resilience can take a toll. Thank you for your dedication to the UNSW community.
Best wishes, stay well
Ian
Comments