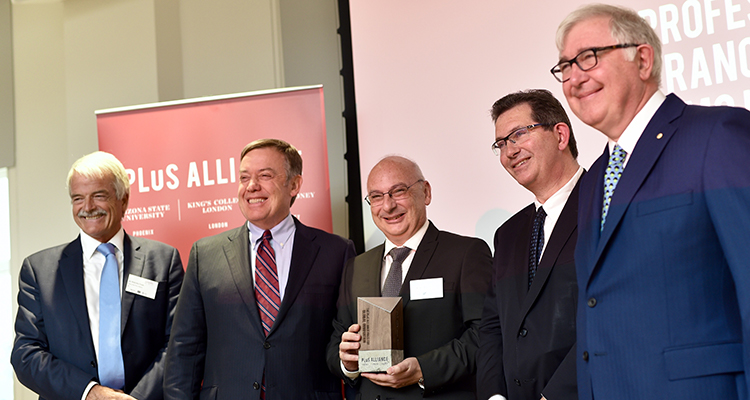 The groundbreaking discovery of CRISPR, the subsequent genome editing revolution that could cure diseases, and other innovative applications on the horizon will be discussed at a UNSW Grand Challenges event on 12 June. 
The renowned microbiologist Francisco Mojica (pictured, centre), the discoverer and pioneer of CRISPR, will be in conversation with Merlin Crossley, UNSW Deputy Vice-Chancellor (Academic) and Professor of Molecular Biology, at the event. 
You are invited to join Dr Mojica and Professor Crossley as they sit down to discuss the history of CRISPR, from Dr Mojica's discovery to the genome-editing technique that offers an end to diseases such as sickle cell anaemia, muscular dystrophy and HIV. 
The event is being held by the UNSW Grand Challenges program in conjunction with the PLuS Alliance and Spanish Researchers in Australia-Pacific (SRAP). 
"The term CRISPR refers to a family of DNA sequences found in bacteria and involved in immune defence. Bacteria use CRISPR to cut up the DNA of invading bacterial viruses that might otherwise kill them," Professor Crossley explained. 
"Today we've adapted this for an entirely different purpose – to change any chosen letter in an organism's DNA code. We might want to correct a disease-causing error that was inherited or crept into our DNA when it replicated. Or, in some cases, we may want to enhance the genetic code of crops, livestock or perhaps even people." 
In fact, Professor Crossley recently used CRISPR in a landmark study that could lead to new therapies for sickle cell anaemia and other blood disorders.  
With its powerful potential applications in everything from medicine to agriculture, Dr Mojica's discovery of CRISPR ranks among the most important scientific discoveries of this century. 
UNSW's Grand Challenges program aims to identify, explore and address the greatest challenges facing humanity – and the potential solutions. This event is a collaboration between the Grand Challenge on Living with 21st Century Technology, led by Associate Professor Lyria Bennett Moses; SRAP, a not-for-profit organisation fostering collaboration between Spanish Researchers working in Asia-Pacific; and the PLuS Alliance. 
The PLuS Alliance is an international partnership that combines the strengths of three leading universities – Arizona State University, King's College London and UNSW – to deliver research-led solutions to global challenges. In 2017, Dr Mojica was awarded the PLuS Alliance Prize for Global Innovation in recognition of his pioneering research in CRISPR.  
"As we learn more, the scope of what we can do with CRISPR will improve. We can do a lot, but every organism and every cell is different," Professor Crossley said. 
"What's more, everything in the body is connected, so we must think about unexpected side effects and consider the ethics of changing genes. Most of all we, as a society, should discuss and agree what we wish to achieve." 
To register your attendance, simply click on the link below: 
When: Tuesday 12 June, 2018, 6:30 pm – 7:30 pm
Where: The Law Theatre, Ground Floor, Law Building, (map ref F8), UNSW Kensington, NSW 
Cost: Free 
Tickets: REGISTER TODAY
Comments