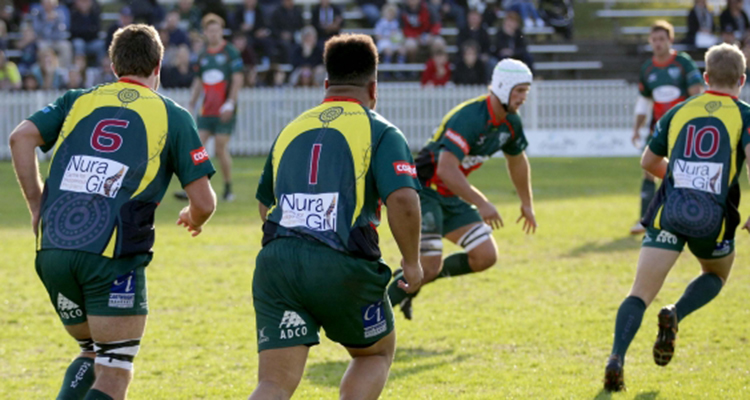 To commemorate National Sorry Day and National Reconciliation Week, UNSW staff and students will receive free entry to watch Randwick face Manly in the NSW Shute Shield Rugby Union on Saturday 26 May at Nura Gili Day at Coogee Oval.
Associate Professor Reuben Bolt, Director of Nura Gili Indigenous Programs Unit, will speak at half-time about Nura Gili's Indigenous programs, Sorry Day and Indigenous culture. Following the match, Bolt will present the inaugural Nura Gili medal for the best on ground.
Wallabies legend and former Randwick and NSW representative Gary Ella, a proud Yun and Bidjigal man, who will give the Welcome to Country. Indigenous students from Matraville Sports High School (MSHS) will perform a traditional dance prior to kick-off, and the national anthem will be sung in language by fellow MSHS student Cianna Walker.
UNSW alumnus and artist Dennis Golding, designer of the first Wallabies Indigenous jersey (the first to be worn by any Australian national sporting team), has produced another amazing piece of artwork for the Randwick jumper to celebrate the day and Randwick Rugby's partnership with Nura Gili.
UNSW staff and students will receive free entry to the game on presentation of their student or staff ID card and will also receive a free sandwich from the sausage sizzle inside the ground.
National Sorry Day, on 26 May, acknowledges and recognises members of the Stolen Generations. National Reconciliation Week follows immediately afterwards, from 27 May to 3 June, to commemorate the 1967 referendum result and the Australian High Court's 'Mabo Decision'. To learn more, download our info pack.
UNSW acknowledges and recognises the traditional lands of three separate Aboriginal communities on which its campuses are situated: the Bedegal (Kensington campus), Gadigal (City and Art & Design campuses) and the Ngunnawal people (UNSW Canberra).
Shute Shield Round 8 – Randwick vs Manly
Date: Saturday, 26 May 2018
Time: 2:30pm – 5:30pm (3pm kick-off)
Venue: Coogee Oval
Comments