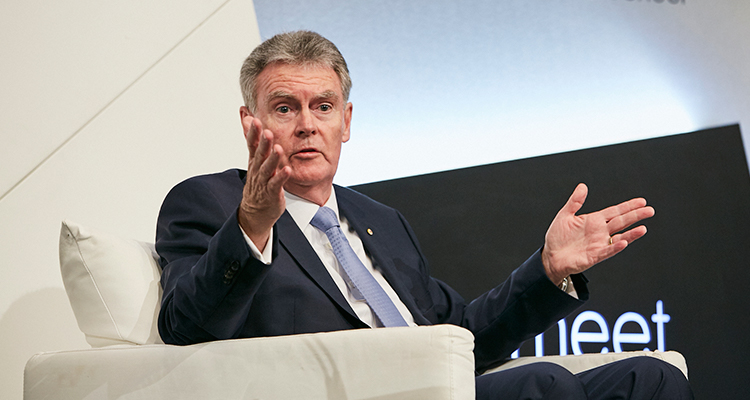 In a rare interview appearance at UNSW's Meet the CEO event, the Director-General of Security, Australian Security Intelligence Organisation (ASIO), Duncan Lewis, shared insights from his 33-year military career and transition into the political arena, the state of security in Australia, and drew interesting parallels between the military and public service.
Speaking at the Westin Hotel in Sydney, Duncan shared his unique leadership and security insights with UNSW Business School and Law alumni.
He took up the role of Director-General in September 2014 – one day after the National Terrorism Threat Level in Australia was raised to 'probable', where it remains – and said the nation had since experienced six acts of terrorism, and ASIO, with law enforcement partners, has thwarted 14 attempted attacks.
In his in-depth interview with Mark Scott, Duncan acknowledged the strained relationship between the Australian public and the government when it came to the balance between security and privacy. "Everyone's digital footprint is infinitely bigger than their physical presence, and access to that data enables us to better protect them, but people are still concerned that we will overstep," he told a packed room of UNSW alumni.
He believes that this mindset is a result of living in "a time of accelerated anxiety" – a condition he is no stranger to, due to increasing connectivity. "I check my devices first thing in the morning to see what's happened in the world overnight," he said. "Now, nine-tenths of what's there bears no relevance to me, but it makes you very anxious."
"And they're not just Donald Trump tweets you're talking about," added interviewer Mark, with a laugh.
Duncan assured the room, noting that "with great powers of intrusion – which we undoubtedly have – also brings the need for great oversight, and ASIO's oversight mechanisms are without peer".
A UNSW alumnus, Duncan underwent nine years of leadership training through his military education – something which has put him in good stead to drive ASIO's security strategy for Australia. Referring to his early school days in Perth, he joked that his teachers must be shocked with his success. "I did have a former headmaster ring me one day to express his astonishment," he said.
Duncan joined the Royal Military College - Duntroon in 1975, having set his sights on the military from a very young age, inspired by his grandfather who served in World War I. Duncan said undertaking a military education was the best thing he could have done. He exercised his leadership skills from an early age, commanding a 30-strong platoon at age 21.
From there he served in the Special Air Service Regiment and the United Nations in Lebanon, East Timor, Iraq and Afghanistan. Life in the Australian Army was not his only ambition, however, and in early 2005 Duncan accepted an offer from then-Prime Minister John Howard to leave the military and enter public service – a place of "high action and high drama".
"I was a bit worried about the cultural change – but what struck me was that people are people. It doesn't matter whether they're in uniform, in public service, or corporate Australia, people are all wired the same way," Duncan explained. "I found that by applying, with a slight modification, all that I had learned in the military, I was able to effectively lead."
Alumni enjoyed this rare peek into the world of ASIO, which was acknowledged by Duncan and Mark as a great rarity for the role, which is traditionally very low profile. In a reference to the role of 'M' in more recent James Bond films, Mark described the Intelligence figurehead as "Australia's Judi Dench". "I thought you were going to say James Bond," added Duncan, slightly disappointed.
Comments