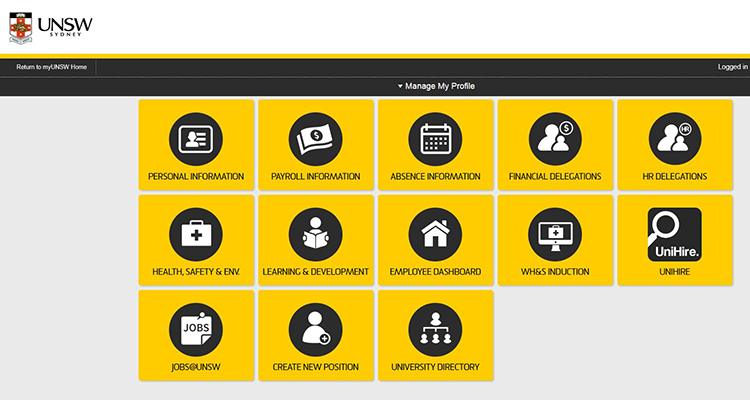 Last week our new HR system was rolled out, including the much-anticipated upgrade of myUNSW to a more user-friendly interface that's accessible on your desktop, laptop, notepad or mobile device.
Have you updated your profile?
One of the major additions to myUNSW is the new University Directory that gives you greater visibility and ownership of your position information.
It's a great way to get to know your colleagues and encourage collaboration across the University. However, we recognise that in some cases the information listed may be out of date. Everyone is therefore encouraged to navigate to the Directory to check their details and ensure your position information is correct.
If your profile does need to be updated, simply download this Quick Reference Guide that walks you through each of the steps.
In some instances, the University Directory appears to freeze and won't advance to the next screen. This has been identified as a web browser cache issue. If you experience this, don't worry. It can be easily resolved by clearing your browser's cache (go to your browser settings and clear cache/browser history is normally found in advanced settings). If this does not resolve the issue however, please do not hesitate to contact the IT Help Desk on 51333.
Are you looking to hire?
UNSW leaders looking to hire should check out our new Recruitment page, including UniHire, the new recruitment system.
The Recruitment page provides you with all the information, processes and resource links to help you find, attract and hire exceptional talent. UniHire streamlines the process of recruiting fixed term and continuing positions by assisting Hiring Managers in sourcing, screening, shortlisting and even onboarding candidates.
Provided you have an approved position description and funding approval, anyone is able to create a job request in UniHire, or act as a delegate for a Hiring Manager. Once a job request has been submitted, a Talent Acquisition Consultant will reach out to take a job brief, write the job ad and source and screen suitable applicants to present to the Hiring Manager for review. The Talent Acquisition Consultant will organise logistics for interviews and, once a suitable candidate has been identified, will work with the Hiring Manager and the HR Business Partnering team to finalise and make the verbal offer.
For more information, Quick Reference Guides and FAQs have been published on the new Recruitment page of the HR website. You can also access the eLearning course for Hiring Managers (including system simulations) using the enrolment key: Unihire.
Comments