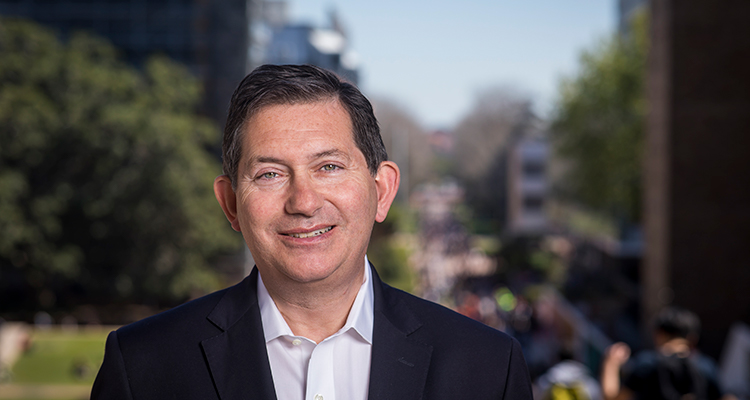 I want to extend a warm welcome back for the start of another year which promises to be busy and exciting for UNSW. I realise that the holiday period was a testing time for so many in Australia, far from the traditional, carefree summer holiday we look forward to.
You will have read that one of our students recently tested positive for coronavirus and is being treated in hospital. We wish her a speedy recovery and thank her for adhering to precautions when she noticed symptoms. The coronavirus is understandably causing anxiety in the broader Australian community as well as here on campus. I want to assure students and staff that we are closely monitoring the situation and taking expert advice. We are in regular contact with NSW Health and the Australian Government for the latest guidance, which we will immediately act on, and we will keep passing any relevant updates on. I am also in discussions with Deputy Vice-Chancellor, Academic, Professor Merlin Crossley, to see how we might assist students who will miss the start of T1 due to a ban on travel from Hubei province.
UNSW's response to the coronavirus contains links to FAQs as well as to services and information including how you can help protect yourself from contracting the virus. I encourage you to read through it.
The unprecedented Australian bushfires have sent shockwaves around the world. I have been proud to see so many from the UNSW community lending their expertise to the public discourse on the fires and related topics, such as health, engineering, the financial impact and, of course, the environmental impact. It is vitally important that UNSW, and universities in general, remain a trusted source of factual information for media at times like this, especially when misinformation campaigns on social media are becoming more common.
The positives we can take from the disaster are the stories of people coming together to help. There are many stories of selfless contributions by members of the UNSW community. One example involves UNSW Director of Customer Service, Mark Griffith, who was on duty over the break as a volunteer Senior Deputy Captain in the Kulnura Brigade of the Rural Fire Service. Mark called on UNSWIT to help the Central Coast District RFS find a way to identify the proximity of senior personnel to firegrounds and provide real-time location information. Thanks to UNSWIT team members Eddie Chi, Ahmad Hamzy, Ben Hatton, Victoria McGloin and Mandy Schippers for offering your services and using your skills to find a solution. And, of course, thank you to Mark and all UNSW staff and students who volunteered their time to help. My thoughts are with all who have been affected, directly or indirectly, by the fires. Details of UNSW's support for those affected are contained within our bushfire response and the UNSW community will be united in supporting you as you settle back into campus life.
This summer has brought to the fore the issue of climate change and its role as a contributing factor in the unprecedented nature of these bushfires. It is a fact beyond question, set out in this open letter from 80 ARC Laureate Fellows, including UNSW Professors Steven Sherwood, Matthew England and Chris Turney. I will continue to highlight UNSW's climate science and renewable energy credentials and offer to collaborate with government, industry, communities and individuals to assist in confronting this existential threat. I will have more to share with you soon on initiatives I am discussing with colleagues that will see UNSW become an even stronger voice in the call for climate action.
I am pleased to present to you the update to UNSW's 2025 Strategy. The overall direction of the Strategy remains unchanged. After consultation with the UNSW community, we have refined some elements in acknowledgement of a changing external environment and UNSW's progress since the Strategy was implemented. This document also highlights some of the many achievements since embarking on our transformation. I hope you get the same sense of pride I do when I read through them and realise what a tremendous shared effort it has been to bring us to this point. I also wish to convey my gratitude to everyone who contributed to the Strategy update process. Your considered feedback and suggestions were much appreciated by the members of the Steering Committee who did a fantastic job of bringing the various components of the task together – many thanks to all.      
On behalf of UNSW, I congratulate colleagues, alumni and friends who were recognised with Australia Day Honours, many of whom have performed extraordinary work to improve the lives of people in Australia and around the world. I am in the happy-yet-vexed position of not being able to list all our honourees here, but I would like to mention Professor John Piggott AO, Scientia Professor of Economics at UNSW Business School and Director of the ARC Centre of Excellence in Population Ageing Research; and Professor Alison Ritter AO, Director of the Drug Modelling Program at our Social Policy Research Centre, who were made Officers of the Order of Australia; and UNSW Council member and UNSW Law and Business alumnus, Mr Matthew Grounds AM, who was appointed a Member of the Order of Australia. Congratulations, all.
The UNSW recipients of Fulbright Scholarships for 2020 have been announced. Our scholars include two academics and two PhD candidates, who will be hosted by esteemed research institutions in the United States as part of the prestigious Fulbright foreign exchange program, now in its 70th year.
Dr Tristan Moss, Dr Eden Robertson, Florence Lui and Joey Rowlands were recognised for their high academic and professional merit, their strong research proposals, and their ambassadorial skills. Academic work abroad is a marvellous opportunity to collaborate and exchange ideas, and I wish our scholars all the very best in the exciting time ahead. Find out more about the work our Fulbright Scholars will undertake.
I travelled to India at the end of last year where UNSW once again co-hosted and co-created – in partnership with The Energy and Resources Institute (TERI) – the Green Rating for Integrated Habitat Assessment (GRIHA) Summit in New Delhi. This is a global gathering of consumers and representatives from government, academia and industry who support India's sustainable development agenda. UNSW's Dean of Built Environment, Professor Helen Lochhead, and I led our university's delegation, which included world-leading researchers in the fields of clean energy and sustainable housing, photovoltaics, waste-water treatment and intelligent transport systems.
While in India, I also visited Manipal Academy of Higher Education (MAHE) for the first time. UNSW has entered into a landmark partnership with MAHE to promote academic and educational exchange and joint research collaborations. While there, I was honoured to deliver the inaugural 'Vice-Chancellor's Oration' on 'Progress in screening for Ovarian Cancer' and to join the Dean of Medicine to discuss a collaboration with MAHE's School of Public Health on clinical trials in cervical cancer in the state of Karnataka. You can read more about the trip here.
Expressions of interest are now open for the Academic Lead on our next Grand Challenge, Thriving in the Anthropocene. The Academic Lead will curate the program and encourage the UNSW community to participate by sharing their ideas and expertise. You'll find more about the program here.   
Earlier this month, the UNSW Founders Program was awarded first runner-up at the Asia Pacific Triple E Awards for 2019, in the Innovation and Entrepreneurial Support category. The Triple E Awards are a global celebration of universities that strive for entrepreneurship and engagement in higher education. Since it began in 2018, UNSW Founders has reached more than 20,000 students, helping to build their entrepreneurial skills. I am delighted to see this work recognised on an international level. Read more about UNSW Founders' achievement.
This week we say goodbye to Professor Mark Hoffman who, as Dean of Engineering, has taken UNSW to Australia's No. 1 university in the field. Mark's legacy reaches beyond our campus through partnership ventures which have linked UNSW Engineering into programs in Parramatta, London, Myanmar and Uganda; and cross-disciplinary research institutes in energy, global water and health engineering. I thank Mark for his commitment to UNSW over more than 20 years, and I wish him well in his new role as Deputy Vice-Chancellor, Academic at the University of Newcastle. I look forward to continuing our close link with Mark through the NUW Alliance.
The annual Gandhi Lecture is on Tuesday, 4 February, at 7pm at the Kensington campus. This year's lecture, The Fight for Human Rights, features five extraordinary human rights champions – Pat Anderson AO, Rosie Batty AO, Anna Brown OAM, Rosemary Kayess and Shen Narayanasamy – who will share their experiences from the frontline of the fight for human rights in Australia and further afield. It will be a powerful start to our events series for 2020. Find out more about The Fight for Human Rights and register online.
A reminder to help us celebrate the trailblazers and transformers of our alumni community by submitting a nomination for the UNSW Alumni Awards 2020. With six new award categories this year and more than 300,000 alumni involved in myriad professions in over 150 countries, it's time to recognise the best of the best in this extraordinary alumni body. Nominations close on 15 February.
From Monday, 10 February we will see the campus abuzz with new students arriving for O Week. It is always a wonderful reminder that UNSW is the start of a life-changing journey for those who choose to study here. The great people of Arc have a full calendar of events planned, but we can all play a part in making students feel welcome and integral members of the UNSW community.
Best wishes,
Ian
Comments