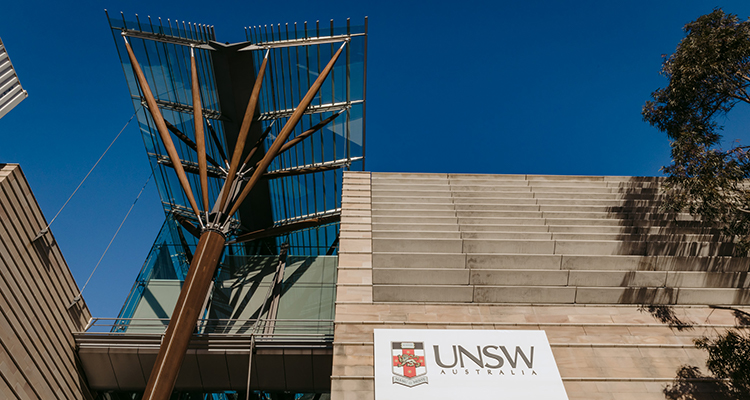 Dear colleagues
Vale Scientia Professor Katharina Gaus
The UNSW community suffered a great loss with the passing away of Scientia Professor Katharina Gaus on Wednesday 3 March. Our thoughts are with Kat's husband, Scientia Professor Justin Gooding, and her family and friends.
Kat was an outstanding mentor and collaborator, admired for her efforts to support other academics and to bring together teams of researchers within UNSW and across the globe. She was the founder and Head of the European Molecular Biology Laboratory (EMBL) Australia Node in Single Molecular Science, which is based in our Faculty of Medicine & Health. Kat was a brilliant researcher, an inspiring role model and her desire to innovate and discover has left a significant, invaluable legacy.
In honour of her great affection for the Centennial Parklands, a bench dedicated to Kat will be established in a serene location within the parklands. If you would like to contribute, you can make a donation to the Centennial Parklands Foundation at yourparklands.org.au. Please highlight in the details section that your donation is for a bench in memory of Katharina Gaus.
Kat will be very much missed by friends and colleagues. I had the privilege of having meetings with Kat to discuss her work – I know first-hand that it was impossible to meet with her without being excited and inspired by her passion for science and her brilliant insights. We will be exploring options for honouring Kat's name and legacy at UNSW and will hold an event in her memory, details of which will follow.
A year into the pandemic
The world passed a significant milestone last week: 12 months since the World Health Organisation declared the outbreak of the novel coronavirus a pandemic. A time to reflect on just how much has changed in the past year for so many people around the globe. And on the ways people have demonstrated such generosity of spirit – towards their loved ones, their peers and colleagues, and people whom they do not know and will most likely never meet. There are lots of examples of this generosity of spirit to be inspired by in our University community. I hope that, like me, you get a sense of this from reading about a selection of your colleagues' efforts and achievements in this Issue of Inside UNSW.
Awards from the Australian Academy of Science
Congratulations to six outstanding researchers who have been recognised among the leading scientists in Australia, with 2021 honorific awards from the Australian Academy of Science: Professor John Church received the Jaeger Medal, Professor Angela Moles the Nancy Millis Medal, Dr Vera Roshchina the Christopher Heyde Medal, Professor Joseph Powell the Ruth Stephens Gani Medal, Scientia Associate Professor Xiaojing Hao the Pawsey Medal and Dr Sarah Perkins-Kirkpatrick the Dorothy Hill Medal.
UNSW had the highest number of recipients from any organisation in this year's honorific awards, testament to our wealth of talent in science research. Please join me in congratulating our colleagues on their well-deserved recognition by the academy. You can read more about the work for which they have been honoured here.
Diversity Champions expressions of interest now open
One of the most enriching features of UNSW is our diversity. We take seriously our strategic objective to enhance the culture of equity, diversity and inclusion throughout our University community. Every two years UNSW Diversity Champions are appointed, working closely with the Division of Equity Diversity & Inclusion on key portfolio areas.
Expressions of interest are now open for the appointment of 15 Diversity Champions to champion Cultural Diversity, Gender Equity, Disability, Parents and Families, and the LGBTIQ+ and Ally Network. Being a Diversity Champion is a tremendous opportunity to make a direct contribution to inclusion and diversity at UNSW, and to build on the positive impacts of current and past champions.
Expressions of interest close on Friday 26 March, for commencement in April 2021.
UNSW alumna Dr Kerry Chant – NSW Premier's Woman of the Year 2021
I have extended my hearty congratulations and those of the UNSW community to NSW Chief Health Officer, Dr Kerry Chant, who was last week named NSW Premier's Woman of the Year in the 2021 NSW Women of the Year Awards. In announcing the award, the Premier recognised Dr Chant's work throughout the COVID-19 pandemic as well as her years of service to the health sector. Dr Chant also received the Woman of Excellence Award.
Dr Chant last year received the Chancellor's Award for Exceptional Alumni Achievement in the UNSW Alumni Awards, and in 2015 the Public Service Medal for outstanding public service to population health in NSW. UNSW is proud to have Dr Chant among our community of alumni.
Focusing on the student experience
As we strive to continually improve the student experience, the vision of the Pro Vice-Chancellor Education & Student Experience portfolio is for the UNSW student experience to be among the best in Australia and the world. In pursuit of this vision, the portfolio is organised in four interconnected pillars of Education, Experience, Wellbeing and Educational Innovation.
Professor Rorden Wilkinson, Pro Vice-Chancellor Education & Student Experience, recently recorded a welcome message that introduces the portfolio's work: four pillars united in their service of the interests of UNSW's students. You can see Rorden's message and find out more about the work of the expanded PVCESE portfolio here.
Creating a supportive English language learning community online
Almost 12 months ago I wrote to you about the successful online Personalised English Language Enhancement (PELE) Learning Festival, which created a supportive environment for international students to strengthen their English language skills together.
I am pleased to bring you more news of PELE, which, through the leadership of Associate Professor Mira Kim, is a terrific example of fostering an online community in response to physical distancing requirements. Because PELE relies on group work and social clubs in addition to classes, last year was uniquely challenging. It is a credit to Mira, her students and colleagues that PELE received high satisfaction rates for students in Sydney and in China for T1 and T2, 2020. I encourage you to read about how PELE moved online and ideas for the further evolution of this innovative program.
The Year Ahead
Given all that we experienced last year, it is quite understandable that some myCareer conversations and plans were put on hold or not realised fully. With our new organisational model in place and new objectives for 2021, it is important for our staff and our University that we resume myCareer planning.
The 'Year Ahead' conversation is an opportunity to understand goals, set expectations and finalise your myCareer plan. There are several tools and resources available to help you prepare for your Year Ahead conversation, which should ideally be conducted before the end of April.
A First Nations Voice to Parliament
From 22 – 26 March, a 'University Week of Action' is taking place to raise awareness of the Uluru Statement from the Heart, the Interim Voice Report and the opportunity to take part in the federal government's consultation about the design of the First Nations Voice to Parliament.
The Uluru Dialogue and Indigenous Law Centre at UNSW have developed a range of resources to engage the community in the discussion and consultation process. These resources and information about the Week of Action are available on the Uluru Statement website at ulurustatement.org/week-of-action.
Many Australian universities have already pledged their support for the Uluru Statement. I encourage the UNSW community to participate and contribute your views in this important national conversation.
UNSW consultation on academic freedom and freedom of speech
A reminder about the consultation paper on UNSW's Academic Freedom and Freedom of Speech Code of Conduct, which will be available for comment until Friday 19 March 2021. Information about how to make a submission is on the Governance website.
Please help us all enjoy a vibrant campus experience by continuing to follow our Safe Return to Campus Guidance and check the NSW government website for the latest COVID-19 updates and alerts.
Take care and stay well
Ian
Comments