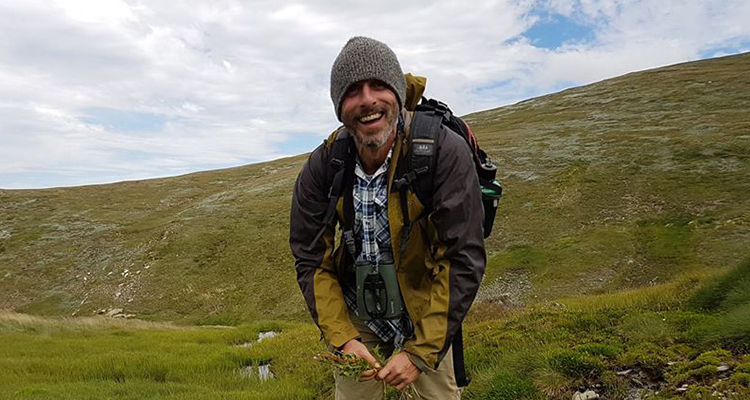 UNSW Sydney has joined the Australasian Virtual Herbarium by uploading over 21,000 specimen records online to help scientists from across Australia access our collection.
An important resource for research and teaching, UNSW Science's John T Waterhouse Herbarium has gone online with the collection now publicly available via the Australasian Virtual Herbarium. Researchers using the herbarium have been depositing voucher specimens since 1960 and have worked across diverse fields such as ecological research, education, and biosecurity management.
An essential tool for the identification of plants, the Herbarium's curator, Frank Hemmings (pictured), has seen scientists use the data for a variety of important questions.
"Historical herbarium data allows people to look at what the landscape and vegetation looked like in the past. In a world with a changing climate, this data gives us a window into what grew where, how it looked and maybe what else it grew with. It allows us to track changes into how a species range may change through time and may help us understand how our world may look in the future," said Mr Hemmings.
"Similarly, herbarium data can help us look at invasive species and inform us how far they have spread, how much further they may spread and what interactions - positive and negative - they may have along the way."
Herbarium data is also a gift that keeps on giving. Specimens collected 50 or a hundred years ago are being used to answer new questions that weren't even dreamt about at the time of collection, that are helping scientists look into the future.
Before UNSW's Herbarium collection went online, anyone wishing to use the data from the physical Herbarium collection would have to visit it in person or request a loan of specimens, even just for   data about the specimen contained on the specimen label. Now that the label data is available in the database it is publicly and readily available to anyone who needs it.
"Having our collection data online via the Australasian Virtual Herbarium (AVH) exposes our collection to a wider audience," said Herbarium Director, Associate Professor Stephen Bonser.
"As a smaller Herbarium, many researchers looking for specimens or data would not necessarily be aware of what we have on offer. We now have the opportunity to share these resources and help scientists all over Australia."
"Sharing scientific data is an important public service, and we are proud to make our substantial collection available to all," said Dean of UNSW Science, Professor Emma Johnston AO.
"As a Faculty, we are committed to understanding and protecting the natural world. To do this we need to answer important scientific questions and share what we find with the community.  Having our herbarium resources online enables more of this work to happen and at scale," she said.
Mr Hemmings has already seen benefits to having the collection online:
"We have increased visibility since moving the collection online. It's incredible to watch the statistics, we've already had 114,217 records downloaded and we're only half-way through April.  This equates to more data requests than I would have had in the 20 years of managing the herbarium," he said.
The project was full of challenges including having the right data in place and in a format that could be sent over.
"The herbarium community in Australia and New Zealand is a tight-knit and collaborative one and we all work together quite closely across our varying institutions," said Mr Hemmings.
"UNSW was grateful to receive help and advice in data migration and exporting from other institutions. Niels Klazenga, who works the National Herbarium of Victoria and for the Atlas of Living Australia, and Jacinta Green from BEES were particularly instrumental in setting up the data export process.  The process we use, different to that used by many larger herbaria at the time, was first trialled using our dataset.  We were the guinea pigs for what is now becoming the standard method for supplying data to the Australian Virtual Herbarium," he said.
What is a herbarium and why is it important that we have one?
Herbaria are collections of pieces, or whole individuals, of plants, fungi, lichens or algae that have been preserved so that their morphological features are maintained. Each specimen is tagged, named and labelled accurately with details of where, when and by whom it was collected and a description of the plant's habitat with details such as the soil, aspect and surrounding plant community. Carefully prepared and curated specimens can last indefinitely and there are many specimens in the world still extant from the eighteenth century.
The John T. Waterhouse Herbarium is in the lower ground floor of E26 Biosciences South. Most of its 61,000 specimens are Australian and the majority are from NSW, with a local emphasis on the Sydney Region, although other regions and countries are represented too.
During normal operations, the collection is available for use by UNSW students, staff and external visitors by appointment within work hours. Specimens are available for loan to other institutions for study. All undergraduate students are allowed supervised access to the herbarium and staff and research students who may need unsupervised access are given the training and induction to do so.
Comments