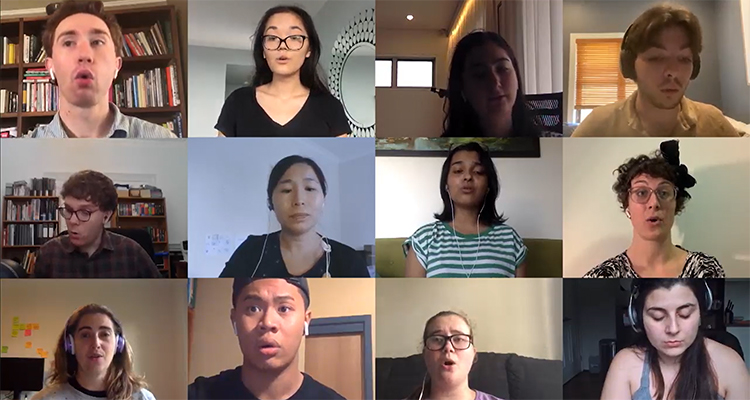 Dear colleagues
I was reminded last week, as I browsed our social media posts, of the incomparable power of music to bring people together and to lift our spirits. Thank you to the UNSW Chamber Choir, the Burgundian Consort, for their moving rendition of Duruflé's 'Ubi Caritas', with voices joined via Zoom. This centuries-old message of charity and love is especially poignant as we live through the pandemic together. If you have a few minutes to spare you can watch the performance here. 
With the Term 1 examination period underway, may I again express my gratitude for the extraordinary work done by all involved in making remote education possible this term. Your dedication to teaching and learning, amid the uncertainty and challenge of this time, has been extraordinary. Thank you.
As we start to turn our sights to Term 2, we are also taking steps to address our financial challenges through the COVID-19 crisis. Thank you to all who are contributing to our cost-saving measures, whether through the voluntary salary-related initiatives or through other means. 
Last week I announced the Taskforce 20/21+ initiative. The recommendations of the four working groups will assist UNSW to prepare for the challenges of the next months and years. I have asked the working group members to think creatively about the future and look forward to reporting more about the work of the Taskforce in coming months.
Global Impact 
Congratulations to all who contributed to our impressive results in the Global Impact Rankings, THE's measure of universities' progress towards the UN's Sustainable Development Goals. UNSW ranked first in the world for our work towards SDG 12, Responsible Consumption and Production; fourth in the world in SDG 7, Affordable and Clean Energy; and 66 overall of 766 institutions around the world. This was a marked improvement from our place in the first round of the rankings a year ago and will have been assisted by our move to being carbon neutral for our on-campus electricity supply. It is tremendous to see our commitment to sustainable development recognised independently on a global scale, with each one of us contributing in small and large ways.
A Nature Index first
In another notable achievement, UNSW is now the highest-ranking Australian university in the recently released 2020 Nature Index, which ranks institutions for their contribution to scientific research in the natural sciences. UNSW was first of 42 Australian institutions ranked for high-quality scientific research published in the world's top scientific journals in 2019. Congratulations to our first-class researchers on this fine result.
UNSW Community's generosity of spirit
I hope that, like me, you been energised by the compassion and generosity of spirit that many in our community are demonstrating as we navigate the pandemic together. An example is the UNSW Tax Clinic. Students and staff of our Business School, in partnership with PwC and KPMG, are providing free tax help for individuals and small businesses affected financially by this crisis. This is an expression of our University's vision for positive social impact, and I commend all involved in this important work.
It is uplifting, too, to see the many UNSW Alumni showing great acts of #CovidKindness in our community. I encourage you to read about these terrific adaptations and innovations that members of our alumni are sharing.
U21 Global Education Enhancement Fund announcement
Universitas 21 has opened the Global Education Enhancement Fund to encourage universities to collaborate in creating solutions for online learning, teaching and assessment as our sector evolves through the COVID-19 crisis. Partnerships of two or more U21 member institutions may apply to the fund. The outcomes of funded programs will be shared among U21 members, true to U21's – and indeed UNSW's – strong commitment to collaboration. Applications are open until Monday 11 May 2020.
AFR Higher Education Awards – expressions of interest open
Reflecting on all that our staff have accomplished in the past six weeks, moving teaching, education and assessment to online platforms, we are awash with initiatives worth considering for the 2020 AFR Higher Education Awards – and all these on top of what we had achieved already in the last year. As UNSW can submit only one nomination in each of the award categories, we are conducting an expression of interest process from now until Monday, 18 May, to select our nominees. We received 30 EOIs in the 2019 round with an entry in every category; let's see if we can surpass that for 2020.
UNSW's herbarium goes online
As we have moved much teaching and learning online in the past six weeks, work has also been underway to upload more than 21,000 specimens from our John T. Waterhouse Herbarium into the Australasian Virtual Herbarium. Making this extraordinary collection available online extends access to a vast scientific audience, in a boon for research, teaching and our natural environment. Well done to all who made this delicate operation a success. 
Australian Mental Health Prize launched
Last Wednesday, Scientia Professor Richard Bryant launched the 2020 Australian Mental Health Prize. In his address, Professor Bryant noted that the COVID-19 pandemic is causing unprecedented pressure on people around the world, including mental health impacts that may be seen for years to come. It is vital that we talk about mental health during this crisis, and that we recognise the people who are making a real difference in mental health outcomes. Nominations for the prize are open until 30 August 2020.
One of the challenges that I have been reflecting on is the plethora of pandemic-related information in the public domain. While we are fortunate to see experts leading public discourse, there are daily decisions each of us need to make on the basis of the information at hand. As state and territory governments begin to lift some restrictions on our movement and interaction, it can be challenging to weigh the facts. Discussion this week about the public health and personal privacy pros and cons of the Australian Government's COVIDSafe app are an example. I urge you to look into informed discussion about the app and decide what is right for you. 
But amid all the information, the seemingly endless Zooming, and the day-to-day challenges we face, I have also been grateful for the time to reflect. I hope that you are managing to take time to relax, reflect, stay in touch with your loved ones, and take good care of yourselves. 
Please remember if you need support, free, confidential counselling is available through our Employee Assistance Program. The service is also available for immediate family members. Assistance for our students is available via The Nucleus on 02 9385 8500 and our Student Support Advisors.
Take care and stay well.
Ian
Comments