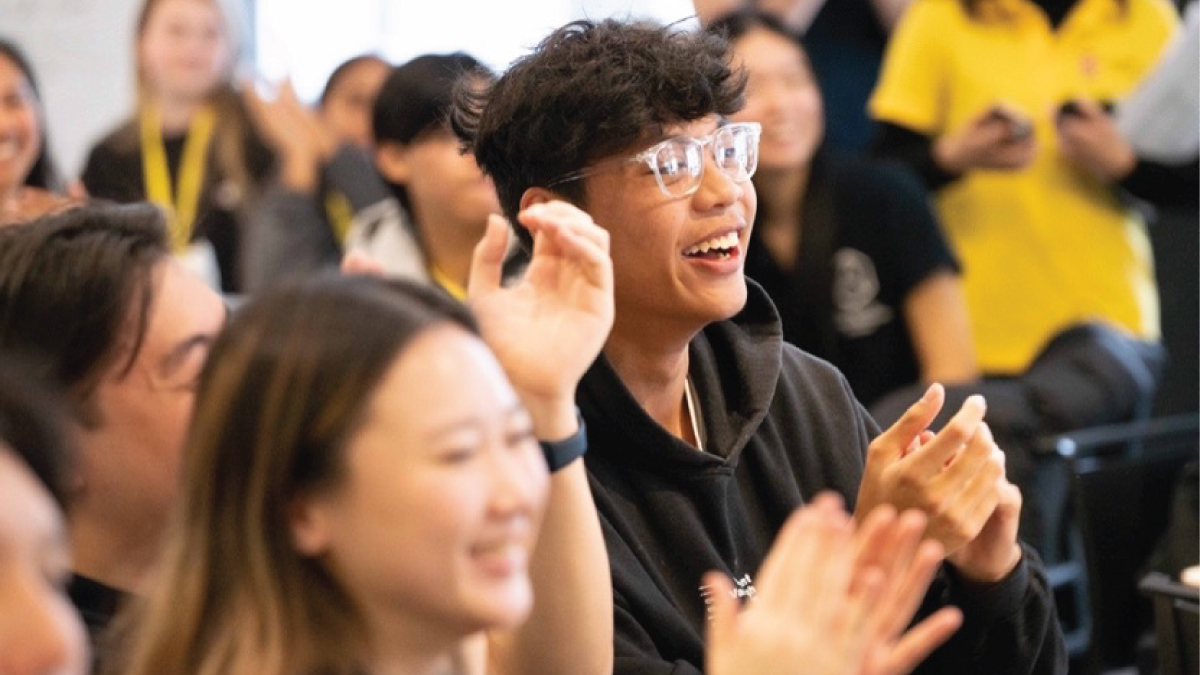 700 Year 12 students spent time getting to know the UNSW Kensington campus last week. 
The Gateway Winter Program supports students to prepare for the HSC through subject-specific exam practice and workshops led by experienced HSC teachers and markers. Students are also supported to write their personal statement, as part of their Gateway Admission Pathway application and they get to experience UNSW firsthand through on-campus days. 
Mary Teague, Director of Access, Equity and Inclusion (AEI) says "this program is a key initiative that expands students' experience and knowledge of UNSW and builds our reputation amongst equity cohorts who may not have considered UNSW as an option for future study." 
"This huge collaborative effort between AEI and all faculties is paramount to its success and is instrumental in making progress towards the Gateway Equity Target." 
Every UNSW faculty had a strong presence in the on-campus days, giving students the chance to explore degree options and be involved in micro-learning experiences. Topics covered in these sessions were far-reaching, and included: 
An interactive session exploring how ideas in politics and humanities have shaped and changed the fabric of society from the Faculty of Arts, Design and Architecture 
A rapid prototyping challenge emulating the engineering design process from the Faculty of Engineering 
A range of hands-on experience introducing students to the Medicine and Health fields from the Faculty of Medicine and Health 
A wildlife forensics lab and a chemistry session analysing bio-signatures from the Faculty of Science 
A workshop exploring leadership, community building and negotiation skills from the Business School 
A session demonstrating law and criminology in action, tackling moots, mock trials and client interviews from the Faculty of Law and Justice.
The on-campus days were an invaluable experience for the group. They gained an insight into life as a first-year student at UNSW through micro lectures and engaging activities, met other students thinking about UNSW and were introduced to our University Ambassadors. Representatives from 11 clubs and societies delivered a Fair Day full of engaging activities and this was an opportunity for students to meet people with similar interests and see how they can get involved in university life next year. 
The experience concluded with a visit to UNSW Galleries at the Paddington campus, where students enjoyed a private viewing of the exhibition Turrangka... In the Shadows by James Tylor. This was followed by a hands-on activity to create a Boorongur (totem), followed by dinner to celebrate the culmination of the Program. 
Transforming our undergraduate community 
The Gateway Winter Program is one part of UNSW's 2023 educational outreach program for students attending Gateway partner high schools or living in low-socioeconomic areas. The Program and other related Gateway opportunities work to address the barriers to university experienced by students who have been historically underrepresented in higher education. These critical activities are core to UNSW's commitment to student equity and to creating a community inclusive of all students, regardless of the school they attended. Transforming UNSW's undergraduate community in this way means essential work must be done to ensure students are supported in every step of their journey, establishing an early sense of belonging and understanding of the expectations of the university. 
Regional Residential Program 
With 45 students joining for four days on campus, travelling from regional areas including Dubbo, Wagga Wagga, Nowra, Parkes, and Coffs Harbour, the Regional Residential Program coincided with the on-campus days of the Gateway Winter Program. 
To attend this program, students must be in Year 12, on an ATAR pathway, live in a regional area and have an interest in pursuing university in Sydney and an interest in courses at UNSW.  
In addition to the faculty and club activities on-campus, regional students spent the week exploring life in Sydney. University Ambassadors who moved from regional areas to attend UNSW guided participants in the Regional Residential Program throughout their four days, sharing their experiences and answering any questions. 
Thank you 
Access, Equity and Inclusion, part of the Division of EDI, would like to extend a big thank you to all the Faculties and Schools for their efforts in making the program such a success, and a huge thanks also goes out to over 100 University Ambassadors who facilitated the delivery of the program. 
Learn more 
Comments