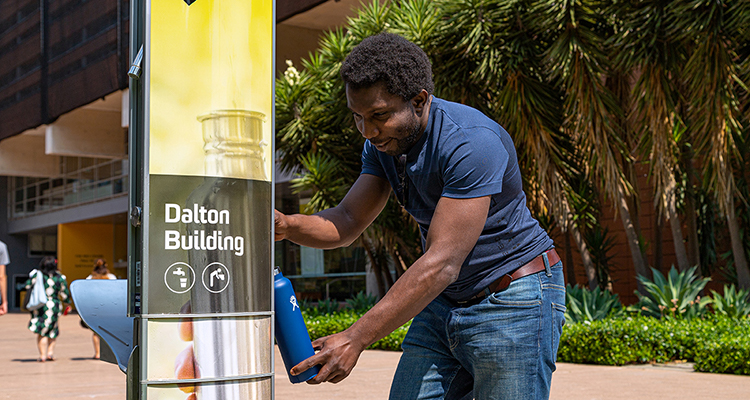 Extra bubblers, stormwater recycling and smart irrigation at UNSW all point to a focus on campus environmental sustainability.
UNSW Sydney has taken another step towards enhancing the University's environmental sustainability credentials with the installation of 10 new water refill stations.
The smart bubblers are fitted with water meters, which means UNSW will be able to estimate the number of plastic water bottles removed from the waste stream. By providing additional bubblers on campus, UNSW aims to save students and staff money, reduce consumption of sugary drinks and tackle the associated health risks.
"Our waste audits in 2019 found that 17% of the material in our general waste bins was plastic, and 6% were beverage containers," Head of Environmental Sustainability, Will Syddall said.
The use of 23 bubblers across Kensington, Paddington and Randwick campuses aims to significantly reduce single-use plastic waste at UNSW.
"Our water bubblers have always been popular with students. We've installed more so that wherever you are on campus, you are never far from a free water refill," Mr Syddall said.
The bubblers are located near popular walkways, cycle routes, food courts and main venues, making them highly visible and accessible. See where they are on the UNSW Sustainability map. 
The new bubblers were installed by Estate Management, with support from UNSW Safety & Wellbeing, as part of UNSW's ambitious Environmental Sustainability Plan 2019-21 (ESP).
UNSW recycles its own rainwater through infiltration tanks
Another key target area of the ESP is improving UNSW's water and energy efficiency. Estate Management has long been efficiently recycling rainwater on campus with the use of underground infiltration tanks. 
UNSW Sydney has five infiltration tanks to harvest rainwater including:
A 60 cubic metre tank between Goldstein Hall and Colombo House

A 90 cubic metre tank servicing the Tyree Energy Technology Building

A 210 cubic metre tank servicing University Terraces

A 535 cubic metre tank next to the Roundhouse  

A 1,300 cubic metre tank under the Village Green to capture in excess of 75% of runoff from the campus.
"The infiltration tanks are above ground on-site stormwater detention tanks," Estate Management Engineering Manager Claude Pelosi said.
"Effectively, our water use is naturally renewable. Whenever it rains, instead of going into drains, our infiltration tanks capture the water; it filters down through the sand and refills the Botany Sands Aquifer, which we in turn use to pump out for our alternate water supply."
Instead of drawing on Sydney Water's resources, UNSW draws on this precious underground source to provide clean bore water for non-drinking use. This water is treated and used for the swimming pool, building cooling towers, laboratory water uses and toilet flushing.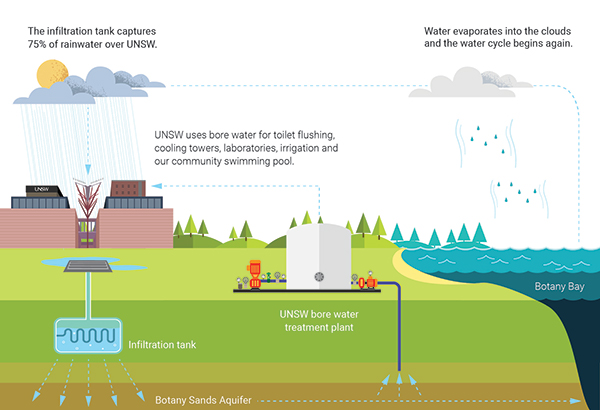 Efficient greenkeeping with smart irrigation
UNSW's grounds management was recognised with multiple industry awards for its outstanding green-keeping and garden maintenance program last year.
Landscape Association last year awarded UNSW's contractor Green Options with the 2019 Husqvarna Award for Best Commercial Landscape Maintenance Site of the Year, and Gold and Best in Category for Commercial Maintenance.
The 40,000 square metres of lawn and 500 individual garden beds on campus are managed with minimal watering, through the use of bore water and good mulching. 
This water distribution is managed efficiently with the Hunter Hydrawise irrigation system, a smart system with automatic features.  
"Our irrigation systems are fitted with rain sensors that will automatically stop if they detect rain, so the plants can be watered by the rain instead," Estate Management Grounds Manager Mark Clark said.
"The system can also be adjusted seasonally, manually and predictively, to enhance efficiency.
"We also have a 50mm layer of wood-chip mulch on the garden beds to reduce evaporation," Mr Clark said.
"When we are choosing new plants, we favour the use of drought-tolerant indigenous species, where possible, to lessen the need for watering."
Following the outbreak of COVID-19 and the campus closure, Estate Management continues to maintain the grounds sustainably.
What else is UNSW doing to become more environmentally sustainable?
Under the Environmental Sustainability Plan 2019-21, UNSW has committed to
Installing a bore water network for non-potable uses in all new buildings

Ensuring all new water consuming fixtures are Water Efficiency Labelling and Standards (WELS)-rated

Protecting the existing 28% tree canopy cover.
What can you do?
There are lots of ways you can save water. Here are a few ideas:                                                                                
Take shorter showers

Use the half flush on your toilet whenever possible

Turn the tap off – you don't need to leave it running unnecessarily

Wait until you have a full load before using your dishwasher

Use rainwater or bore water for all external washdown and watering if possible. 
Comments