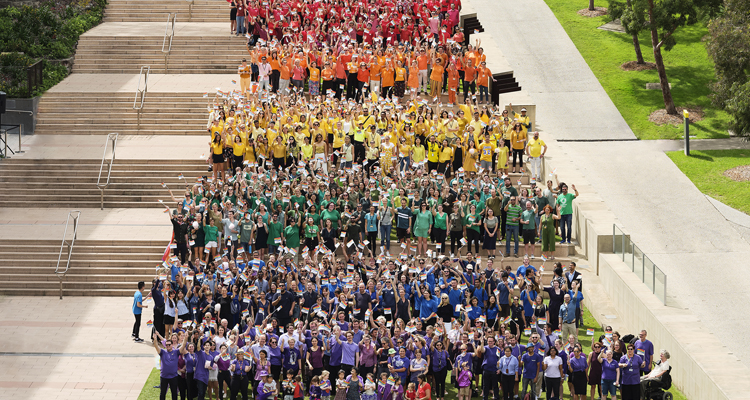 UNSW has stepped up to gold status in Australia for LGBTIQ+ inclusion, says an assessment of more than 150 employers.
UNSW has achieved the level of Gold Employer status in the Australian Workplace Equality Index (AWEI) as recognition of its commitment to the inclusion of gender, sex and sexuality diverse (LGBTIQ+) staff and students.
This is the third consecutive year that UNSW has been honoured as a leader in LGBTIQ+ inclusion, moving from bronze to gold status in the past year, emphasising the University's continuous improvement in embracing diversity and building a culture of inclusion.
The AWEI is a rigorous, evidence-based benchmarking instrument that assesses LGBTIQ+ inclusion initiatives in Australian workplaces. This year, a new iteration of the Index was released to address shifting best practice globally – raising the bar for participating organisations and leading to higher standards in areas such as policy, data collection practices, community engagement and inclusive leadership.
Professor Eileen Baldry, Deputy Vice-Chancellor Equity, Diversity & Inclusion, is thrilled by the strides UNSW has made in the space of one year.
"Together with the LGBTIQ+ community and Allies, we will continue our journey to ensure each individual feels accepted for who they are," she said. "Especially during such challenging and uncertain times, it is more important than ever that people can work and study without fear of harassment, bullying or discrimination and have the freedom to be themselves at UNSW and in society more broadly."
More than 150 employers across the country participated in the Index, which included a mix of public, private, higher education and not-for-profit workplaces. For the first year, UNSW has joined the ranks of Top 3 performing employers in LGBTIQ+ inclusion. UNSW is in the Top 3 out of 60 large employers (2000 – 8000 employees), and Top 3 out of 13 higher education institutions that applied to the index.
This award recognises the unwavering passion, advocacy, and leadership of students, staff and UNSW's Diversity Champion – LGBTIQ+, Dr Bridget Haire (Kirby Institute), who is driving significant cultural and systematic change across the University, Professor Baldry said.
"Our ranking in the AWEI has shown how investment in LGBTIQ+ pays dividends for the University, making it a more attractive place to work and to study," says Dr Haire. "We can be very proud of the investment that we have made as a university community to achieve this excellent result. UNSW has demonstrated commitment to providing and maintaining a safe and inclusive environment for people who belong to sexuality and gender minorities."
UNSW's participation in the Australian Workplace Equality Index provides a clear road map for action and an opportunity to benchmark our activities against other organisations and identify areas for improvement, Professor Baldry said.
Even with the challenges of COVID-19, the Division of Equity Diversity & Inclusion and Ally@​UNSW will continue to ensure the LGBTIQ+ community is front of mind – including supporting LGBTIQ+ students and staff in the return to campus, celebrating and increasing the visibility of LGBTIQ+ issues through Days of Recognition, hosting educational webinars, building inclusive leadership and strengthening policy and procedures. 

The Division of Equity Diversity & Inclusion welcomes your feedback or ideas for future improvement through the anonymous suggestions box. 
Comments