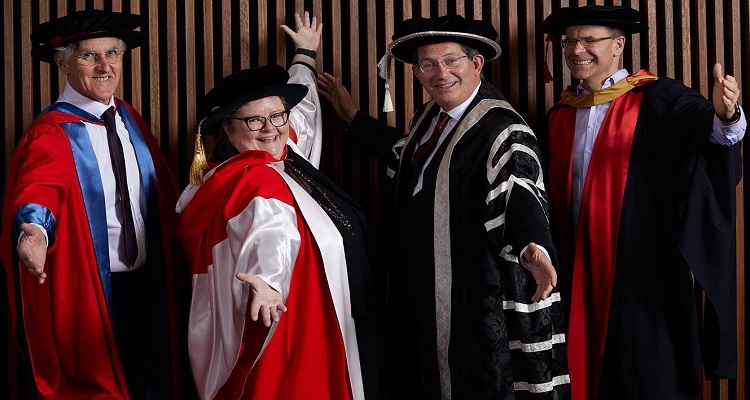 Thank you again to everyone who made Open Day such a success. Despite gale-force winds, a record 38,000 visitors came to our Sydney campuses to see what our university has to offer prospective students. It's been great to see the vibrant atmosphere continue with O Week and the commencement of Term 3 classes this week. A warm welcome to all new and returning students and staff.
I hope you took a moment to celebrate the results UNSW has achieved in the 2019 Times Higher Education World University Rankings. Our 25-place jump to 71st spot was the biggest rise by a top 100 university. It moves our average rank across THE, ARWU and QS global rankings to 69th place, putting us within 20 percentage points of our goal to be a top 50 university by 2025. This represents a superb collective effort and, once again, I offer my congratulations and sincere thanks.
It was great to catch up recently with staff from the Schools of Taxation & Business Law and Information Systems & Technology Management and the Schools of Mathematics & Statistics and Physics. I enjoyed the chance to hear from Heads of School, Professor Michael Walpole, Professor Lemuria Carter, Professor Bruce Henry and Professor Sven Rogge on the challenges and opportunities in their areas and the impressive achievements of each school. The discussion sessions provided valuable feedback on the 2025 Strategy update.  
UNSW Strategic Priorities Paper 
There is still time until Friday (20 September) to submit feedback on the UNSW Strategic Priorities Paper. All comments are welcome and will help guide the 2025 Strategy Update document to be released at the end of the year.
I was pleased to help launch the Australian Social Policy conference last week, hosted by the Social Policy Research Centre here at UNSW. The conference welcomed delegates from across the world to discuss some fascinating current trends in social policy, including universal basic income, gender and the care economy, and the controversial Australian Government proposal to drug test welfare recipients. Congratulations to all involved in delivering this important multidisciplinary, global gathering.
Last week, I also enjoyed helping launch the innovative project, Design Next. This collaboration across the faculties of Art & Design, Built Environment, Business, and Engineering is about building the numbers of graduates who understand the importance of design in product development. Critical to this is better collaboration across disciplines and with the broader research community and industry. Congratulations to Design Next Director, Ilpo Koskinen and all involved in seeing this exciting project come to fruition – DVCA Merlin Crossley, Faculty Deans Mark Hoffman, Ross Harley, Chris Styles and Helen Lochhead, Deputy Deans, Nick Wailes and Mori Pagnucco.
If you have ever wondered where the nearest water bubbler or bike pump is on campus, or where you can recycle your batteries or Styrofoam, you can find all this and more on our new Green Campus map. I highly recommend it, especially to any new students and staff trying to make their way around our rather large campus. A brilliant idea!
Diversity Fest next week
A reminder about our inaugural Diversity Fest runs from 23-27 September which aims to bring the UNSW community together to celebrate and embrace our rich diversity. Congratulations to Professor Eileen Baldry and the Division of Equity, Diversity and Inclusion for organising what looks like a fantastic program of music, film, discussion and social gatherings. I encourage everyone to participate in one of the many events planned and support the equitable, diverse and inclusive environment we seek to achieve here at our university. 
Put a 'save-the-date' in your calendars for the Inspired Learning Summit on Friday 18 October. This annual gathering looks at innovations and partnerships that enhance both the teaching and student learning experience at UNSW and is part of a broader initiative within Strategy 2025's Educational Excellence Theme. More information will be available soon, but the theme of this year's event is 'Overcoming educational challenges'.
We can take pride in the activities of our Disability Innovation Institute. One example is the panel discussion on Innovation in Disability which the Institute will host on 1 October at 5pm. I hope that many of you will attend. Panel members are Dr Ben Gauntlett, Disability Discrimination Commissioner, Human Right Commission; Dr Graeme Innes AM, Chair DIIU Advisory Council and former Disability Discrimination Commissioner; Professor Karen Fisher, Social Policy Research Centre; and Dr Kate Bishop, Faculty of Built Environment. I encourage you all to take advantage of hearing these highly respected experts speak on this important topic.
The Three Minute Thesis has been run and won for 2019 with John Kokkinos taking out the $3000 first prize from a field of 22 talented students. The panel of expert judges was impressed by John's presentation about his research into the treatment of pancreatic cancer using gene silencing nano-drugs. Second place and $1500 went to Georgina Carson for her presentation about developments in quantum computing, while Liam Cheney claimed $500 for third place for his presentation on tracing the origins of cholera infections. You can read more about the 3MT event and the winners here. Congratulations to all!
Voting Open for the People's Choice Awards
Voting is open for People's Choice 2019. More than 300 nominations have been received for colleagues who 'light up UNSW' by actively demonstrating the UNSW Values in Action. Find out more about the awards and how you can vote here.  
Also, a reminder that the Insight employment survey will be open from 26 September until 11 October. Eligible staff will receive an email from Vice President, Human Resources with the subject line: "The staff Insight survey is open – share your perspective now." Make sure you take the time to give your feedback on working at UNSW.
I'd like to take a moment to highlight the work of Dr Rona Chandrawati, a Scientia Fellow and researcher at UNSW's School of Chemical Engineering who is developing cheap and simple nanotechnology for a range of uses. Colourimetric nanosensors will help to more accurately determine the freshness of food and reduce food wastage which sees $8 billion worth of edible food thrown out every year in Australia. Dr Chandrawati and her team now also have the funding to develop nanotechnology coating on medical devices to prevent blood clotting and infection, after recently being awarded an NHMRC Emerging Leadership Fellowship worth $1.5m over five years. I wish Dr Chandrawati the best with these worthy pursuits and I congratulate her on her success to date. You can read more here about Dr Chandrawati's work and the role the Scientia Fellowship's outstanding, tailored support has played.
I was pleased to have the opportunity to read the citation and congratulate award-winning actor, author and human rights campaigner, Magda Szubanski, on the conferral of her honorary UNSW doctorate. The awarding of the Doctor of Letters, honoris causa, was made during Social Sciences Week which is dedicated to discovering the diversity, relevance and impact of social sciences.  Dr Szubanksi, who also serves as an advisory committee member for the Australian Human Rights Institute at UNSW, received our university's highest honour in recognition of outstanding achievements in the performing arts, and eminent service to society by advancing important causes such as marriage equality. You can read more about the conferral here.
Academic excellence
I also congratulate three leading UNSW researchers who have been awarded prestigious Australian Laureate Fellowships. Scientia Professor Kaarin Anstey, Director of the UNSW Ageing Futures Institute and Professor of Psychology at UNSW Science, will receive $3,232,000 to advance our understanding of cognitive ageing. Scientia Professor Andrew Dzurak, from UNSW Engineering, was awarded $2,895,366 to develop a new quantum computer processor. And Professor Liming Dai, from UNSW Engineering, will use his $3,508,332 to develop new approaches to carbon-based catalysis without using expensive, scarce metals. Congratulations to you all on securing these extraordinarily competitive awards. You'll find more about these pioneering researchers here.
Four UNSW academics have been named finalists in the academic category of the 2019 Australian Financial Review 100 Women of Influence Awards. They are: Professor Louise Chappell, inaugural director of the Australian Human Rights Institute at UNSW; Professor Helen Lochhead, Dean of the Faculty of Built Environment; Tracey O'Brien, Associate Professor in paediatrics and director of the Kids Cancer Centre at Sydney Children's Hospital; and Robyn Norton, Professor of Public Health and principal director of the George Institute for Global Health. Winners are announced on 22 October. Best of luck to all.
I also congratulate the finalists in the inaugural UNSW Emerging Thought Leader Prize – Professor Richard Holden, Associate Professor Adriana Vergés, Dr Emma A. Jane, Ms Madeline Gleeson, Mr Sandersan Onie, and Ms Bassina Farbenblum. The $8,000 prize, to be announced on 14 October, will go to the person judged to have demonstrated exceptional use of evidence and critical thinking in their leadership on issues of public interest. The initiative seeks to reward resistance to the current trend of opinion-based commentary, especially on social media, which is often passed off as fact. It is about rebuilding the community's trust in expertise and leadership.
And in a little bit of sports news, UNSW-Eastern Suburbs Bulldogs won back-to-back premierships by defeating Sydney University in last weekend's Sydney AFL Grand Final. This comes hot on the heels of the team taking home the prestigious Club Champions trophy at the 2019 AFL Sydney Phelan & Mosytn Medal Awards Nights. Current and former UNSW students make up 50% of the team, and Dean Towers, who joined the club as Head Coach this year from the Sydney Swans, is also now studying at UNSW. The final score was Sydney Uni 51, UNSW 69 – which, coincidentally, is our current average global ranking!
Comments