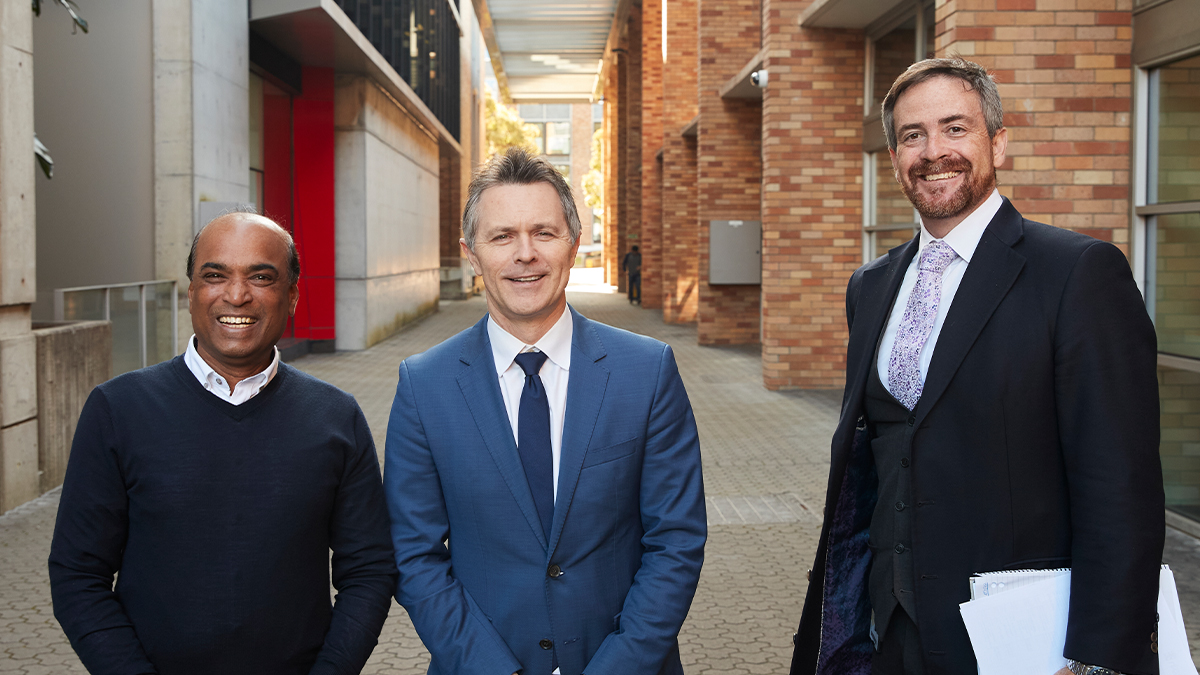 Dear colleagues,
As referenced in last week's COVID-19 update, the next few weeks may be particularly challenging as we expect COVID-19 case numbers to peak in NSW. Higher than usual incidence of colds and flu is exacerbating the situation and, as you would expect, we are seeing a significant increase in the number of students and staff reporting illness.
I ask everyone in our University community to redouble our efforts to keep those around us, and ourselves, safe. Critical to this are following the behaviours and practices outlined in last week's message. These include properly wearing a mask indoors while on campus, working from home if you are unwell or have symptoms, and discussing workable business continuity plans with your teams. Remember that there are a number of resources available on the web including FAQs and a COVID-19 exposure sites list which are updated as circumstances change. Please also continue to use the notification portal to report COVID-19 cases.
Earlier this month I had the opportunity to meet with UNSW alumnus Jason Clare, who is now Federal Minister for Education. While many visitors are impressed by the buildings, the high-tech facilities and development around campus, Mr Clare and my discussion focused on the role of a university which, first and foremost, is for the good of society and the people who make up our community. Mr Clare shared his ideas and priorities for higher education, including university-government collaboration, teacher retraining and expanding access to higher education for low SES, Indigenous and students from rural and regional Australia.
It was Mr Clare's first visit to the Kensington campus since he was appointed Education Minister in June. He experienced the University's world-leading research in engineering and saw first-hand the incredible development at the Randwick Health Innovation Precinct. But the highlight was meeting with students from the UNSW Sunswift Racing Team and current UNSW Law students. Their stories of long commutes, balancing study demands with enjoying the campus community and extensive extra-curricular opportunities as well as finding their passion, all resonated with the Minister. He fondly recalled his time in the UNSW Law Building.       
Sharing UNSW solar photovoltaic expertise with international counterparts
UNSW's world-class solar photovoltaic research and development garnered further attention from the Minister for Climate Change and Energy, Chris Bowen, who visited the Solar Industrial Research Facility (SIRF) for the second time in less than a month.
During his first visit in June, Mr Bowen announced $45 million of funding for the Australian Centre for Advanced Photovoltaics (ACAP) to expand solar research in Australia. This time, Mr Bowen returned with his Indian counterpart, Minister for Power, New and Renewable Energy, Raj Kumar Singh to demonstrate the potential of solar energy for India.
Getting to know our Schools
I am scheduled to visits all Schools across UNSW starting in a few weeks and continuing until later this year. I'm very much looking forward to these visits with the opportunity to talk with colleagues, many of whom I have not yet met, understand School priorities and opportunities as well as learn about School facilities.
Professor Crossley's roundup of the Universities Australia Conference
You may have missed Deputy Vice-Chancellor Academic and Student Life Prof. Merlin Crossley's terrific wrap-up of the recent Universities Australia Conference in last week's Campus Morning Mail. While I was unable to attend, Prof. Crossley did attend and was encouraged by what he learned. 
Lots of activity on the UNSW Newsroom
It has been a big few weeks for rankings, award and grant stories. To start with, six UNSW researchers and projects have been selected as finalists for the 2022 Australian Museum Eureka Prizes. Considered by many as the Oscars of Australian science, the Eureka Prizes are the most high-profile science awards in Australia.
The UNSW finalists are:
Professor Maria Kavallaris AM, Children's Cancer Institute and UNSW Medicine & Health - University of Technology Sydney Eureka Prize for Outstanding Mentor of Young Researchers
Professor Raina MacIntyre, the Kirby Institute at UNSW - Eureka Prize for Leadership in Science and Innovation
Scientia Professor Veena Sahajwalla, UNSW Science - Celestino Eureka Prize for Promoting Understanding of Science
Scientia Professor Toby Walsh, UNSW Engineering - Celestino Eureka Prize for Promoting Understanding of Science
Scientia Associate Professor Kate Quinlan and Professor Merlin Crossley, UNSW Science - UNSW Eureka Prize for Scientific Research
PhD candidate Casey Kirchhoff, Dr Mark Ooi, Associate Professor Will Cornwell, Professor Richard Kingsford and PhD candidate Thomas Mesaglio, The Environment Recovery Project at UNSW Science - Department of Industry, Science, Energy and Resources Eureka Prize for Innovation in Citizen Science
You can read more about the outstanding work nominated for this year's prizes here.
UNSW researcher Bill Sherwin has received the 2021 Australian Museum Research Institute Lifetime Achievement Award. Professor Sherwin applies mathematics to genetics and ecology to measure and predict how environmental changes affect certain species. His research findings have helped pinpoint the likely source of an invasive weed and he has contributed important fieldwork on species such as koalas, wombats, prawns, and penguins.
Further success emerged in the recent Australian Research Council Industrial Transformation Research Program (ITRP) grant round, with almost $10 million awarded to two projects. The funding will support academics to develop novel solutions to protect Australia's infrastructure from fires and build workforce capacity in the nation's architectural sector. I extend my congratulations to UNSW Engineering Professor Guan Heng Yeo and UNSW Arts, Design & Architecture Associate Professor Matthias Haeusler.
UNSW tops academic subject rankings
For the sixth year in a row, UNSW topped the ShanghaiRanking's Global Rankings of Academic Subjects (GRAS). The University appeared in 52 out of 54 research disciplines, which placed UNSW equal first with the University of British Columbia for the highest number of subjects on the list. UNSW had 10 subjects ranked first in Australia this year. Two UNSW subjects feature in the top 10 globally - Mining & Mineral Engineering and Water Resources – both in 10th place. UNSW also had 21 subjects in the top 50, more than any other Australian institution.
The innovators and changemakers pushing boundaries
We know our students, staff and alumni are out there making waves in every industry imaginable and this point was exhibited in this year's The List: Innovators 2022 published by The Australian. The list featured 26 individuals with a UNSW affiliation, from Dr Warren McKenzie, Managing Director of HB11 Energy, which recently achieved a world-first hydrogen fusion milestone using a laser, to Nicole Liu, founder of Kin Fertility, a digital platform that helps women take control of their fertility journey. The recognition continues UNSW's tradition of educating the next generation of trailblazers, innovators and changemakers.
Thanks to staff
The end of Term 2 is fast approaching, and I want to thank colleagues for their continued support and unwavering dedication to ensuring our students receive the world-class education they deserve. I applaud our community for its flexibility and agility as we continue to shift to meet the ever-changing demands associated with the COVID-19 pandemic.
Best regards
Attila
Professor Attila Brungs
Vice-Chancellor and President
Comments