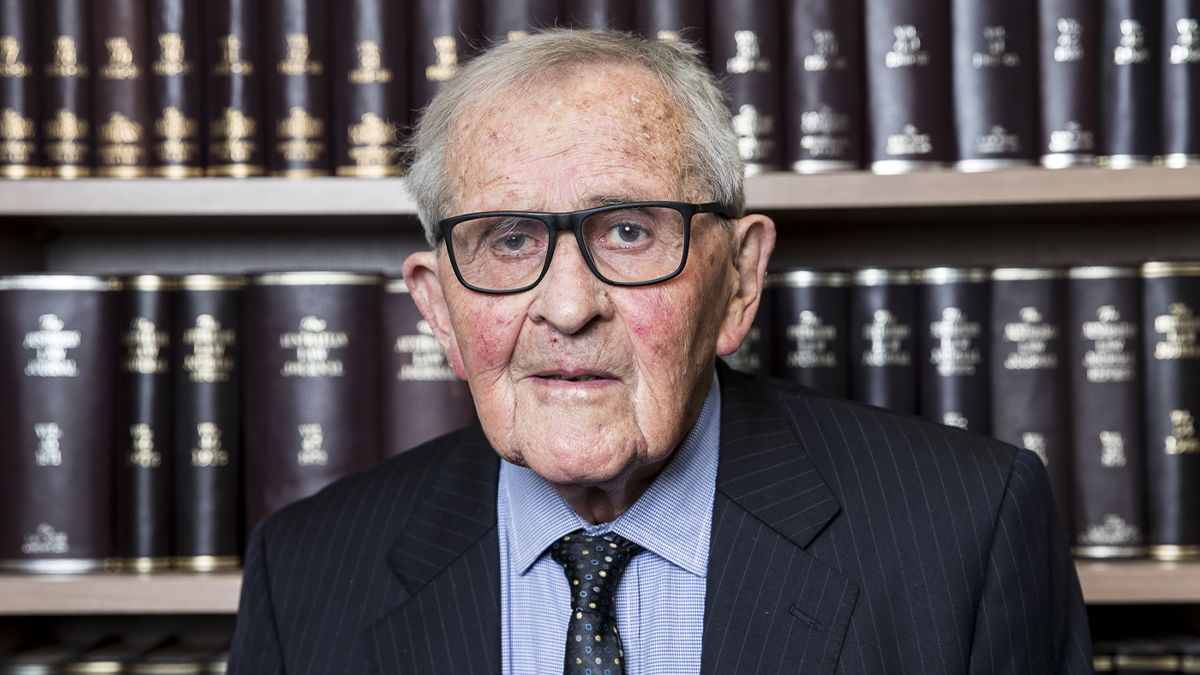 Friday 30 July 2021
Colleagues
Australia and the UNSW community this week lost a giant of legal, political and social justice spheres.
Emeritus Professor Hal Wootten AC QC, the founding Dean of our Law Faculty, passed away on Tuesday 27 July 2021, at the age of 98.
The University Council of UNSW voted to create the Faculty of Law in July 1964 and then the Foundation Chair, to be held by the first Dean, in early 1966. Hal's appointment to that post was approved by the Council on 8 September 1969.
In 1973, Hal was appointed to the bench of the Supreme Court of New South Wales, where he served for a decade.
In addition to his legal career, Hal lent his outstanding intellect and energy to a number of professional pursuits, serving with his trademark integrity.
As Chairman of the Australian Press Council, he took a stand against the Council's reluctance to stem the domination of the Murdoch media and resigned his position in 1986, after serving for two years.
Hal was also one of the five Commissioners who led the Royal Commission into Aboriginal Deaths in Custody from 1987-91 and helped set up the first Aboriginal Legal Service in Australia.
His love of nature saw Hal serve as President of the Australian Conservation Foundation between 1985 and 1989, where he elevated the concept of conservation beyond the protection of just land or species, to addressing systemic injustice and existential threats.
Hal Wootten has been described as an educator, mentor and activist and one of our country's greatest legal minds. He remained a voice of advocacy for the vulnerable in our society throughout his years.
He was a man whose teaching and practice of law was anchored by an immovable moral compass, reflected in his quote that adorns the UNSW Law & Justice building: "A law school should have and communicate to its students a concern for those on whom the law may bear harshly."
In so many ways, Hal Wootten personifies the values UNSW seeks to encourage in all who pass through its halls.
Hal truly lived the UNSW motto of 'Knowledge by heart, hand and mind', through his boundless compassion, the practical application of his skills to bettering society, and the intellectual rigour for which he was renowned.
UNSW was fortunate beyond belief to have benefitted from the presence of Hal Wootten. His legacy will live on in those who were lucky enough to be taught and mentored by him, and by the legal and justice system in which they practice. UNSW Law & Justice will ever instil the ethos of its founder in those who study here.
I express the condolences of the UNSW community to Hal's wife, Gillian Cowlishaw, and all his family, friends and colleagues.
Vale, Emeritus Professor Hal Wootten.
Professor Ian Jacobs 
President and Vice-Chancellor
Comments