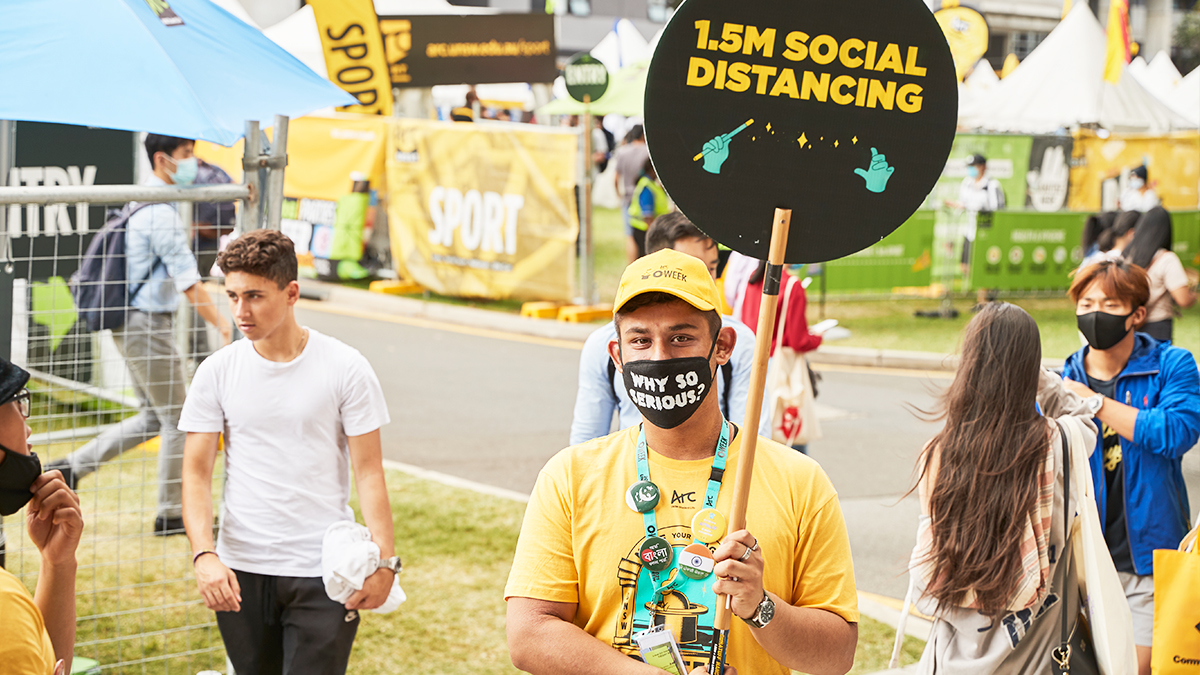 Hundreds of staff, students and volunteers worked together to deliver a COVID-safe O-Week for our newest cohort of students.
UNSW launched Term 1 with an amazing week on campus, as well as online. Our students were as keen as ever to get involved and connected, and they were willing to do this any way they could. 
The students who came to campus were excited to be there, to make friends and to experience our COVID-safe O-Week. The atmosphere throughout the week was exceptional, with everyone demonstrating a willingness to comply with our safety guidelines. People wore masks, socially distanced and checked in via Service NSW QR codes to the 100+ events on campus.
Meanwhile, our online engagement was excellent as well. Our new UNSW students wanted to be ready for week 1 and were keen to make friends, albeit remotely. 
At our Speed Friending activity, all 15 face-to-face sessions were sold out, with a total of 1,500 students attending. Online we ran five sessions, with 1,000 students.
Our Official Welcome Events were attended by almost 2,000 students face-to-face and 2,100 students joined online. 
This year due to COVID we weren't able to enjoy the iconic tents down the University's mall, but instead we had three Arc zones with stalls for students to interact with. Each zone required a check in and often a short wait time to keep numbers at a safe capacity. Over the week we had over 50,000 check-ins across the three zones, suggesting 16,000 unique visits to the stall areas.
Arc's eye-catching yellow shirts, worn by 180 volunteers, welcomed 3,303 students onto campus tours, in person and virtually. This army of helpers showed students their faculties and schools, as well as great places to eat and get coffee, study and sometimes sleep.
Additionally, over 50 school welcomes were held on campus and online, with students equally as engaged in person as they were virtually. 
Our academic staff were fantastic throughout the week. They trialled new approaches – offering blended models, such as livestreaming and recording welcomes for later viewing, and supporting the COVID requirements for all teaching spaces across campus. 
Based on the enthusiasm and energy levels seen in our new students throughout O-Week, 2021 is getting off to a terrific start. Hopefully it will be an extremely successful year in engaging our students both online and in person. 
Comments