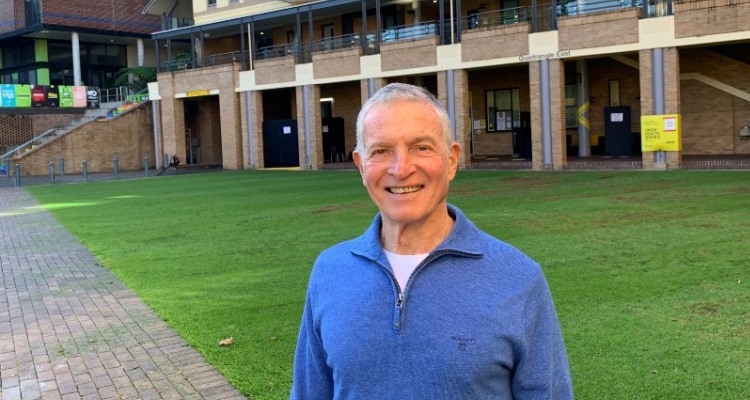 Associate Professor Malcolm Miller is retiring after almost 50 years at UNSW Business School.
Before we bid him farewell at the end of this month, Associate Professor Malcolm Miller took some time out to share his reflections on his time at UNSW.
Can you give us an overview of your career at UNSW and any key dates and moves?
I left KPMG to join UNSW as a Lecturer in 1971. I was promoted to Senior Lecturer in 1973 and to Associate Professor in 1980. I was Head of the Department of Accounting (as it then was) from 1984 to 1988. In the 1990s I took up the role of Postgraduate Program Coordinator. That was a role I retained until 2017.
I did retire from my tenured position in 2002, however I did not feel ready to fully retire and accepted an offer to recommence as a fractional (0.5 FTE) Associate Professor. Subsequently, I became the Associate Head of School in 2006 and held that position until the end of 2017. Thereafter, my title was changed to Executive Program Director.
Some folk would think 49 years with the one organisation could be stultifying. Was it so?
Not at all. There has been a changing cavalcade of key players such as VCs, Deans, Deputy Deans, and Heads of School along with strong external forces requiring innovation and resilience.
In addition, my UNSW employment gave me many opportunities for external engagement. I took two sabbaticals spending each of them at New York University. In 1986 I was nominated for the Public Sector Accounting Standards Board. That led to my appointment to the Australian Accounting Standards Board for two terms. I was on the Executive Council of the Accounting and Finance Association of Australia and New Zealand (AFAANZ) and was Vice-President of the International Association for Accounting Education and Research (IAAER). In 2009 I was on a panel given the task of comprehensively reviewing Monash University's Accounting and Finance Department and then on another review panel at the Auckland University of Technology in 2015.
The internal and external experiences outlined above have provided me with broad national and international perspectives on the operations of universities as well as the activities of the accounting profession.
What first brought you to UNSW Business School?
After six years in practice, I realised that a partner's life in a big accounting firm had its downsides. I had a rather romantic vision of the life of an academic – all that time for reading and research. So, when I was courted for a lecturing position, I decided to give it a go. I found the workload was as heavy as in practice if you wanted to climb the ladder. Fortunately, the upside included more autonomy and greater leave entitlements. The trade-off was less pay. This was offset to some extent by a very good super scheme. Alas for others, the scheme has been watered down over the last four decades.
What kept you at UNSW?
I have had offers to work elsewhere. But the work environment at UNSW has been pleasant. There has been almost no animosity in the School of Accounting. In general, the student quality has been good with remarkable students popping up regularly. Many now hold senior posts in Australia and overseas.
Is there a highlight of your 49 years here?
Let me supply you with three highlights.
First, I was very excited when early in my career I managed to get a paper published in the April 1973 issue of The Accounting Review (an A* American journal).
Second, I was chuffed when I was recognised by the peak academic body, the Accounting and Finance Association of Australia and New Zealand (AFAANZ), with the prestigious 2003 Outstanding Contribution to Practice Award.
Third, let me bundle together as a highlight the 70 or more overseas trips I have taken in connection with UNSW business. I taught in Hong Kong, Guangzhou, and Beijing and attended conferences around the world. These provided opportunities for the exchange of ideas, networking, exposure to other cultures, sight-seeing, and adventure.
Do you have a secret to share on how you managed to retain your sanity, cheerfulness, and health in the face of continuous change, pressures, and deadlines?
I have abused myself over the years. Two bad vices have been too much sitting and too much processed food. Nearly all of us know the importance of physical and mental activities, the right food, and enough rest. But knowledge without application fails to produce outcomes. I was rather sporadic about exercise until I reached my 30s. Then I started to go to gym for strength and cardio training. Physical activity is just as important as you age as it can extend your independence and keep you out of care facilities. I greatly admire the work of Harvard Professor Ellen Langer, a pioneer who invited her readers to challenge their own 'old age' stereotypes and reimage what was possible in the third stage of life.
On behalf of the UNSW and Business School community, thank you, Malcolm, for your decades of service and we wish you the very best in your next chapter.
Comments