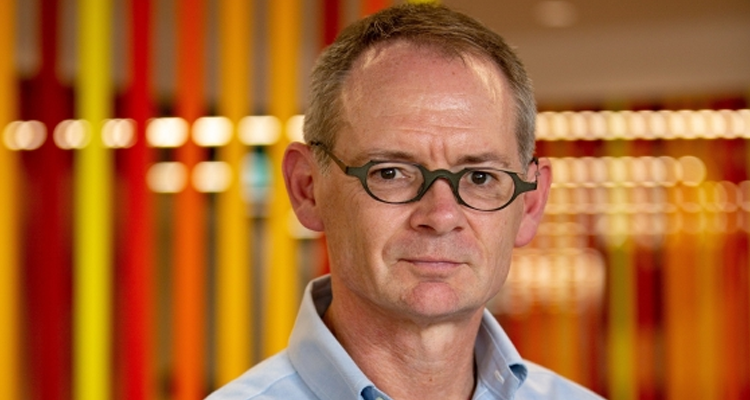 Justin Gooding has been recognised for his research into commercial diagnostic devices including a glucose meter and 3D bioprinter.
Scientia Professor Justin Gooding from UNSW Science has been awarded the 2021 Applied Research Award from the Royal Australian Chemical Institute (RACI).
The Applied Research Award is given to a member of the RACI who has contributed significantly towards the development of, or innovation through, applied research or in industrial fields. It is one of only a handful of national awards granted by the RACI.
The award is in recognition of Prof. Gooding's work with startup companies, developing commercial diagnostic devices such as a glucose meter and a 3D bioprinter which creates 3D cell cultures. The award also recognises the student and post-doc led startup companies which originated from within the group.
"For me, the award is recognition for the whole group and the hard work by many of the bench (lab) researchers that came through the group. As a collective we are delighted to win such an important award," Prof. Gooding said.
"It's also an award for a culture of trying to make a difference by trying to make the world better."
Prof. Gooding has been part of the commercialisation teams for an Australian-based 3D bioprinting company and a glucose biosensor that is sold worldwide. He leads a research team of over 30 researchers interested in surface modification and nanotechnology for biosensors, biomaterials, electron transfer and medical applications.
He said he believes it's important to validate an entrepreneurial approach to university research.
"Both fundamental and applied research are important and all types of approaches to research warrant recognition. The running of all research groups requires entrepreneurial skills, even if the work is focused on important questions with little to no apparent technological outcomes," Prof. Gooding said.
"The modern academic really needs to have a way of disseminating their important research to a broader audience than their peers. Commercialisation is just one way of doing this."
UNSW Dean of Science Professor Emma Johnston applauded Prof. Gooding's achievement.
"This award is wonderful recognition of Justin's achievements in translating research principles and creating diagnostic devices which are directly benefiting the community. We are immensely proud his research has progressed developments in biomedicine and the biotechnology industry," Prof. Johnston said.
UNSW Pro Vice-Chancellor, Research, Professor Sven Rogge congratulated Prof. Gooding on receiving the RACI award.
"It's important UNSW researchers develop strong relationships with industry and community partners, translating research into positive outcomes for society. This award affirms the dedication and ingenuity of Justin and his team in improving the lives of people in Australia and around the world," Prof. Rogge said.
Prof. Gooding is the co-director of the Australian Centre for NanoMedicine and a National Health and Medical Research Council (NHMRC) Leadership Fellow. He is a Fellow of the Australian Academy of Science, the Australian Academy of Technology and Engineering and the International Society of Electrochemistry. He is also the inaugural editor-in-chief of the journal ACS Sensors.
He has published over 440 research papers including 'Nature Nanotechnology', 'Nature Biotechnology', 'Nature Immunology', 'Nature Communications' and 'Science Advances'. He has also authored 14 patents and one textbook. His papers have been cited more than 22,000 times and he has won numerous awards including Eureka Prizes in Scientific Research and Mentoring of Young Researchers, the Faraday Medal of the Royal Society of Chemistry, the Elsevier Biosensors and Bioelectronics Award, the Katsumi Niki Prize in Bioelectrochemistry and the Heyrovsky Prize for Molecular Electrochemistry, both from the International Society of Electrochemistry.
Comments