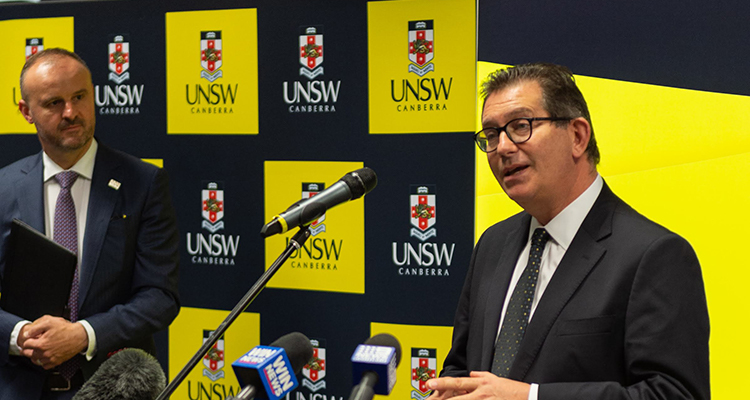 Dear colleagues
We find ourselves in a very different world to that of the last newsletter as our thoughts and energy are consumed by the COVID-19 pandemic. These are unprecedented times for all of us – students and staff alike.
The situation is changing rapidly and we are continuing to take action to protect the health and safety of our community, limit the spread of the virus and ensure the continuity of our teaching, academic and research mission. As you know, we implemented new social distancing measures earlier this week to contribute to helping shape the profile of the epidemic.
Starting today, Friday, 20 March, face-to-face classes at UNSW's Randwick and Paddington campuses will cease, and from Monday, 23 March, face-to-face classes will cease at UNSW Canberra at ADFA.
Until further notice, UNSW will deliver classes online or in other ways that can be accessed remotely including Moodle, Teams, Zoom and Skype.
The cessation of face-to-face learning extends to invigilated mid-term and final exams for Term 1. We're working on finalising the most appropriate assessment for each course and will provide more information soon.
I acknowledge the Herculean efforts of staff who have moved so many courses and assessments online this week. I am grateful for your flexibility, professionalism and commitment to our students, and to ensuring the integrity of the coursework.
I recognise the concern and anxiety that the pandemic is causing. As it evolves and impacts on our daily lives, it is vital that we support each another, and show respect, compassion, and understanding – something most of our community have been doing so well here at UNSW.
I also want to make mention of UNSW's experts who are being called upon to provide clear and precise advice and information about COVID-19 to health agencies, government and through the media – not only to those of us here in Australia, but to a global audience. Their expertise is crucial as our society copes with the challenge.
To all in the UNSW community who are contributing to the COVID-19 response, my sincere thanks to all of you.
I hope you have been finding the COVID-19 email updates and the UNSW COVID-19 website helpful. The website will continue to be updated regularly and we will continue to send daily email updates each weekday.
The health and wellbeing of the UNSW community remains our top priority. We will continue to follow carefully the advice of state and federal health agencies and the Department of Foreign Affairs and Trade to ensure we are responding to COVID-19 in the safest, most appropriate way for our students, staff and campus visitors.
At the same time, we are working on plans for the financial consequences that the higher education sector faces as a result of the pandemic. UNSW like most other universities in Australia is a not-for-profit organisation and we have limited reserves to cope with such a major change in our activities. We have a detailed planning process internally for various financial impacts over the next nine months and I am in ongoing dialogue with other universities, the Group of 8, Universities Australia, NSW government and Federal government. There is a recognition of the importance of sustaining our universities both in the immediate crisis and for the key role we will play in the recovery period.
Please remember our Employee Assistance Program is available for staff who need support. The counselling service is free for UNSW staff and their family members. Visit https://www.wellbeing.unsw.edu.au/eap-benestar. And please check up on colleagues who may live alone to ensure they are coping in these challenging times.
Divesting from fossil fuels
I recently shared the important news that UNSW will divest of fossil fuel assets.
Thank you to all who have expressed your support for this decision. I am proud that UNSW is taking a firm stand to help Australia's shift to a low carbon economy. By committing to leadership in this area, we honour our climate science and renewable energy credentials.
The Shadow Minister for Agriculture and Resources, Joel Fitzgibbon, suggested that there is a conflict inherent in our decision because of UNSW's Mining Engineering programs. As I wrote in The Australian last Friday (see the link to the full article in the comments section at the bottom of this page), this is all about contributing to a rapid and just transition. Our School of Minerals and Energy Resources Engineering has a key role to play as the world moves away from fossil fuels, ensuring that we have a workforce with the expertise to mine resources as safely and sustainably as possible, and expertise in next-generation technologies. Fossil fuel mining is an industry in transition. That is not a political statement, it is the reality.
It is also worth noting that as well as energy, mined resources produce the minerals needed for electric vehicle production and biomedical engineering, among many other applications and innovations. UNSW has one of the best mining engineering programs in Australia. We will continue to graduate accomplished mining engineers whilst also providing leadership in moving towards zero carbon emissions.
Excellent results in QS Subject Rankings
UNSW has consolidated our excellent research and education credentials with 20 of our subjects among the top 50 in the world in the 2020 QS Subject Rankings, up from 18 last year. In Australia, we are ranked number one in four subjects: civil and structural engineering; accounting and finance; electrical and electronic engineering; and materials science. From quantum computing to protecting native species, we are leading the race in solving some of the greatest challenges facing humankind. This is a credit to the quality of our academic and professional staff. My congratulations to you all.
UNSW Canberra City announcement
I recently joined ACT Chief Minister Andrew Barr and Professor Michael Frater to announce the world-class research, education and innovation campus that UNSW will establish in Canberra's CBD – confirming the city as a centre of tertiary education excellence. UNSW Canberra City's students will benefit from close proximity to leaders in government and industry. I am grateful for the true generosity of partnership that the ACT Government shares with UNSW in bringing our university's Canberra City campus to fruition. I look forward to this next exciting chapter in our 50-year history of delivering tertiary education in the national capital.
TEDI-London launch
TEDI-London, our innovative new engineering school established with our PLuS Alliance partners Arizona State University and King's College London was launched this month. TEDI-London will equip a new generation of engineers with the skills, creativity and diversity to address the global challenges of the future. It also aims to address the gender, cultural and skills imbalances in the engineering profession, and to build strong partnerships with industry and local communities. Thank you to Professor Nicholas Fisk, Professor Chris Roberts, Vinita Chanan and Liz Smith for representing UNSW at the launch in London. And thank you to all who have worked so hard to bring TEDI-London to life.   
NSW Women of the Year Awards
Congratulations to Professor Maria Kavallaris, who has been named 2020 NSW Premier's Woman of the Year in recognition of her pioneering, world-renowned work in nanomedicine and children's cancer research. Maria is the Head of Translational Cancer Nanomedicine at the Children's Cancer Institute, the Founding Director of the Australian Centre for Nanomedicine and a conjoint professor in the UNSW Faculty of Medicine. Professor Kavallaris received her prestigious award at a ceremony hosted by the Premier in the lead-up to International Women's Day.
I am delighted to share the news that 2020 NSW Young Woman of the Year, Hannah Beder, is also part of the UNSW community. Hannah is a Computer Science and Engineering alumna and her award acknowledges her ongoing work to address the historical gender imbalance in STEMM. Hannah is a dedicated mentor and a deserving recipient of this award. Congratulations, Hannah.
Encouraging more women and girls to enter STEMM and helping them thrive is crucial to making sure we can address the challenges of the 21st century. It is tremendous that two UNSW women have received these top accolades.
Australian Academy of Science honours
My congratulations, also, to two outstanding researchers who have been honoured by the Australian Academy of Science: Dr Jan Zika from UNSW Science and Associate Professor Marina Pajic from the Garvan Institute and UNSW Medicine. Dr Zika received the Anton Hales Medal for work on the importance of the ocean in the global climate system; and Associate Professor Pajic the Ruth Stephens Gani Medal for her work in understanding the development, spread and resistance of pancreatic cancers. Yet more evidence that UNSW is home to an inspiring array of talented researchers.
Visiting Chair of Australian Studies at Harvard
In tremendous news, Professor Andrew Schultz and Associate Professor Jennifer Biddle have been announced as dual Gough Whitlam and Malcolm Fraser Chair in Australian Studies at Harvard University for the 2021-2022 academic year. This dual appointment, to two scholars in the creative arts and both from UNSW, is fine recognition of Professor Schultz's and Associate Professor Biddle's talent and expertise, as well as UNSW's pre-eminence in the field. The Chair exists to foster understanding of Australia in the United States and it is wonderful that it may showcase Australia's creative arts under Andrew's and Jennifer's stewardship. My warmest congratulations. 
Vale Professor Geoff Wilson AM
I was sad to receive the news that Professor Geoff Wilson has passed away. Professor Wilson was an internationally distinguished nuclear physicist and, from 1984-1991, the inaugural rector of the University College of UNSW at the Australian Defence Force Academy in Canberra. Professor Wilson went on to become the Vice-Chancellor of Central Queensland University, and Vice-Chancellor and President of Deakin University. Geoff was a Member of the Order of Australia for his service to tertiary education, to Central Queensland and to physics. He leaves a remarkable legacy. I offer my sincere condolences to his family and colleagues.
AARNet eResearch Roundtable
I was pleased speak at the eResearch Roundtable convened by specialist education-sector internet and communications provider AARNet at UNSW earlier this month. Research, technology and infrastructure leaders from several Australian universities joined the CEOs of AARNet and Australian Research Data Commons to discuss the issues impacting research in data and technology-intensive disciplines. Collaboration across the sector is crucial in this rapidly evolving field; thank you to Associate Professor Grainne Moran, Louisa Jorm and Luc Betbeder-Matibet and for representing UNSW at this important event.
Dinner with Shalom College
I was honoured to attend Shalom College's first formal dinner of the year recently. Shalom and the wider UNSW community share much in our values, our commitment to diversity and our potential for social impact and it was a privilege to be asked to address the residents. I enjoyed sharing a meal with the students and talking to them about our role, as people who have the privilege of a tertiary education, in shaping a positive future for our world. The inclusive, mutually respectful and supportive ethos and action of Shalom College is more important than ever during these challenging times. Thank you, Shalom.  
New book: The University Challenge: Changing Universities in a Changing World
In these uncertain times for higher education, it is prescient that Professor Ed Byrne, President and Principal of King's College London, and Charles Clarke, tertiary education analyst and former UK MP, have just published The University Challenge: Changing Universities in a Changing World. The premise of the book is one with which I agree wholeheartedly: universities have a major role to play in making our complex, changing world a better place and responding to the great challenges we face as a global society. I commend the book to you.
I would like to once again acknowledge the dedication of all our staff over the past few months as we have been faced with unprecedented events. I am inspired by those who have demonstrated their commitment to work together in a such a compassionate and mutually supportive way to respond to the needs of the UNSW community and our society.
This is a time that will test all of us. Of course, we must look after ourselves and our loved ones. Can we also rise to our responsibility to contribute to our communities, be voices of compassion and take action to make a difference to the lives of those who are the most vulnerable? To all of you who have responded and adapted so thoughtfully to what has already been enormous uncertainty and disruption, my heartfelt thanks.
If ever there was a time for the UNSW community to live up to our vision: "To improve lives globally, through innovative research, transformative education and commitment to a just society" this is it.
Best wishes
Ian
Comments