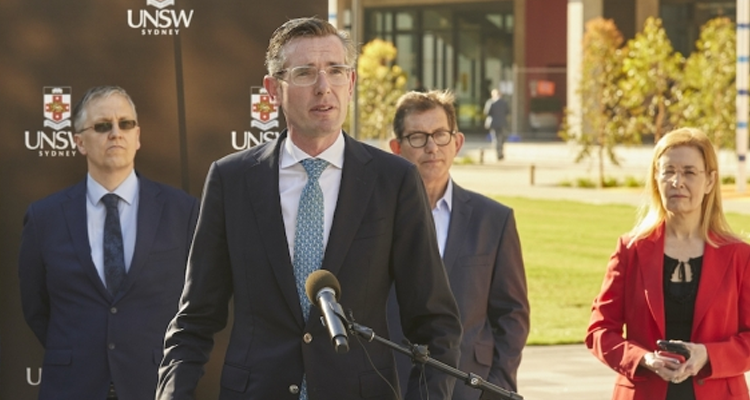 It's hoped NSW's first RNA pilot manufacturing facility will spearhead a commercialised RNA industry in the state.
A first-of-its-kind RNA pilot manufacturing facility to translate mRNA and RNA research into home-grown therapeutics and vaccines will be built in NSW following a $96 million investment from the state government.
The facility will be established in partnership with NSW and ACT universities through the NSW RNA Bioscience Alliance, led by UNSW Sydney Professor Pall Thordarson. It will include laboratories, pre-clinical scale spaces and a small-scale fill and finish facility to enable early-stage RNA-based drug development.
"We are the first state in Australia to deliver a pilot manufacturing facility to spearhead the establishment of a local RNA industry," NSW Premier Dominic Perrottet said at UNSW Sydney this morning.
"The COVID pandemic has demonstrated to the world that it is critically important that we have the capability to develop vaccines quickly and for our country to have sovereign capability.
"The advent of mRNA vaccines and the crucial role they've played in getting NSW back on the road to a pandemic recovery is just the beginning of what this incredible emerging medical technology can do.
"There is no better state than NSW to grow Australia's emerging RNA industry into a global player."
Prof. Thordarson is director of the UNSW RNA Institute which brings together researchers from UNSW Science, Engineering and Medicine & Health. He is an expert in nanomedicine and synthetic chemistry with a substantial history of working across research and industry.
"Vaccines are only the tip of the iceberg in the range of RNA therapeutics that are revolutionising medicine. This facility will capitalise on our existing expertise in novel cancer treatments along with RNA-based treatments against the virus that causes COVID-19," Prof. Thordarson said.
"A manufacturing capability would position Australia as a leader in the development of novel RNA technologies and the universities are proud to collaborate with the NSW government and industry partners to drive the development of the RNA ecosystem in NSW."
Professor Ian Jacobs, President and Vice-Chancellor at UNSW, said RNA technologies could play an important role not only in combatting pandemics, but also in new therapies and diagnostics.
"Whether it's novel RNA cancer treatments or therapies to address genetic and autoimmune diseases, we have an opportunity to tackle some of our most pressing medical challenges as we emerge from the COVID-19 pandemic," Prof. Jacobs said.
"UNSW is home to pioneering research in the field of RNA therapy. We look forward to working collaboratively with government, industry, our university partners and our brightest scientific minds to accelerate its development and advance human health."
Minister for Jobs, Investment, Tourism and Western Sydney and Minister for Trade and Industry, Stuart Ayres, said the facility will bridge the gap between NSW's world-class RNA research and a viable commercial RNA industry.
"Our RNA research strengths are unparalleled – we have the research talent, a thriving innovation ecosystem and we as a government are ready to take research translation and commercialisation to the next level," Mr Ayres said.
"There is also the potential for this facility to be scaled up to significantly increase our sovereign capacity in vaccine production, strengthening the state's resilience against future pandemics.
"Our world-leading research talent and expertise in RNA R&D will also attract international investment in NSW R&D, bringing companies from all over the world to use our pilot facility."
Treasurer Matt Kean said the facility was an investment in NSW's position as a global force in medical research and therapeutics.
"NSW's medical technology sector contributes $2 billion to the state's economy," Mr Kean said.
"Supporting the development of high-growth emerging industries such as RNA therapeutics allows us to not only lead the way in the fight against disease, but to boost productivity through innovation and create high-skilled jobs for the future."
Parliamentary Secretary to the Premier, Gabrielle Upton, said the NSW government's Accelerating R&D in NSW Action Plan will lead future industries and jobs by building strong partnerships between our universities and industry.
"The NSW government has already announced the formation of the NSW RNA Bioscience Alliance which brings together the best and brightest at our leading universities and research institutes to advance RNA research, development and manufacturing," Ms Upton said.
"This is a significant milestone in the creation of the RNA ecosystem and future R&D commercialisation, with our academics playing a major role in driving developments here in NSW for decades to come."
Comments