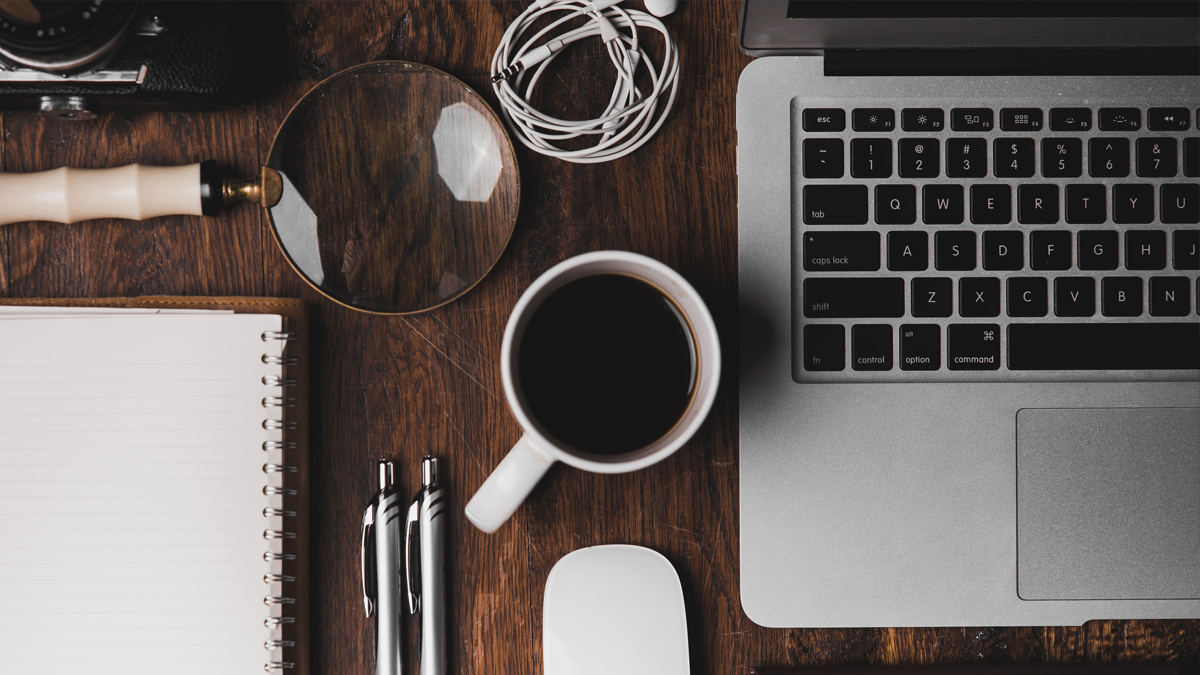 Professor Gary Velan (Co-Director of the UNSW Scientia Education Academy and Senior Vice Dean, Education in UNSW Medicine & Health) shares his thoughts on why myEducation ePortfolio is a valuable platform for teachers to showcase their achievements and inspire education practice for UNSW Sydney staff.
Research has traditionally been rewarded and recognised more than teaching at leading universities such as UNSW. One reason for this disparity is that measures of research excellence are widely used and accepted. In contrast, there are no generally accepted measures of teaching excellence.
But how can the multi-dimensional concept of teaching excellence be measured? Ideally, valid measures of the inputs (qualifications and professional development), process (teaching practice) and outputs (student learning) of education would all be incorporated. Evaluating student learning as a measure of teaching is clearly of great importance. However, many contextual and institutional factors affect students' learning; hence, the influence of the teacher is difficult to isolate.
While student surveys and peer review of teachers have roles to play in evidencing educational excellence, they do not provide a comprehensive view of teaching practice, either alone or in combination (Beckmann, 2016). Therefore, more holistic measures of teaching excellence are required (Gibbs, 2008).
Responding to the challenge
In 2017, Fellows of the UNSW Scientia Education Academy were awarded an internal grant to conduct a Delphi study to delineate the dimensions of effective teaching in higher education. Building on existing literature, the project group collaborated with national and international experts to develop consensus dimensions of effective teaching practice and associated criteria. The dimensions are:
teaching and supporting learning
design and development of learning activities and assessment
disciplinary expertise and professional development, and
educational leadership.
Each of these dimensions are underpinned by four criteria, and were operationalised in an ePortfolio platform, myEducation ePortfolio.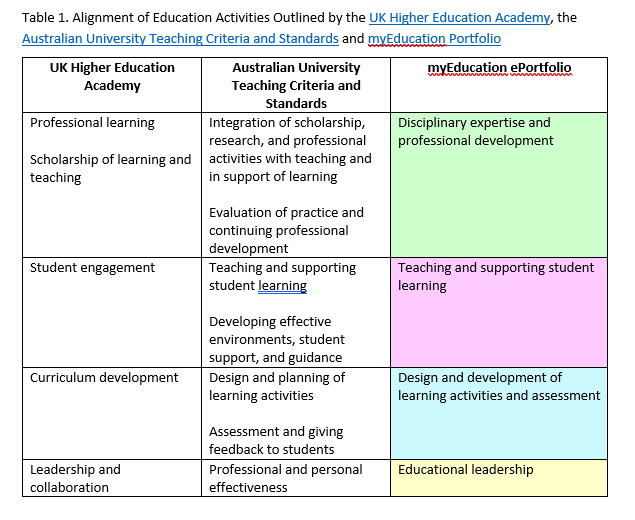 Genesis of myEducation ePortfolio
While an ePortfolio can be described as a digital collection of resources, a good ePortfolio is both a purposeful product and a process – specifically, the process of reflecting on those resources or artefacts and what they represent.
And this is what the myEducation ePortfolio aims to do. It empowers academics with ownership and control to showcase their work in a meaningful way: you decide how your portfolio might be organised and designed; what artefacts get added, and control who can view your profile.
Staff can create their individual profile with a brief biography, learning and teaching philosophy, as well as links to their UNSW research gateway and social media profiles. After developing their myEducation ePortfolio, staff can build a repository of artefacts, reflect upon their teaching practice, as well as curate and showcase evidence of achievement in alignment with the dimensions and associated criteria.
Benefits of myEducation ePortfolio
Teaching staff can utilise their myEducation ePortfolio profiles to assist in their professional development, teaching awards and fellowships, as well as academic promotion.
Associate Professor Stuart Clark, from the School of Minerals & Energy Resources, relied on the tool for his successful application for promotion in 2020. "I used myEducation ePortfolio to organise the evidence of my teaching successes in four dimensions of teaching, each with four criteria. Using the ePortfolio, I could assign the pieces of evidence to criteria across the four dimensions. I could see which dimensions or criteria were lacking evidence and then find examples to fill these gaps," A/Prof Clark says.
Appreciative of the reflective process embedded throughout the tool, A/Prof Clark further notes that the ePortfolio also helped him reflect on his teaching style and philosophy to build an evidence‑based narrative on the evolution of his teaching over several years.
myEducation Portfolio has been incorporated into academic promotion processes at UNSW, facilitated by the development of a myCases tool to help staff use the evidence in their portfolio. UNSW Medicine & Health also encourages teaching staff to utilise myEducation ePortfolio profiles to inform career development conversations and for determining teaching awards.
Getting started with myEducation ePortfolio
A step by step video guide is available to assist staff to get started with building their myEducation ePortfolio profile. Staff are also supported through a series of writing workshops facilitated by Dr Beth Beckmann (2014 Australian National Teaching Fellow) to build their myEducation ePortfolio profiles. These workshops will be introduced in the second half of 2021 by Professor Louise Lutze-Mann, Director of Education in the Office of the Pro-Vice Chancellor Education & Student Experience (PVCESE).
You can find indicative standards of practice for each dimension at each academic level, which have been incorporated into the UNSW Academic Expectations Framework. Guidelines for collecting evidence and exemplar profiles are good places to start if you are interested in developing your profile using this tool.
As teachers, we continuously develop our educational knowledge, skills and understanding. This tool serves as a valuable framework to reflect on your achievements to further improve your teaching practice. I would advocate that all Faculties should encourage their teaching staff to use myEducation ePortfolio, thereby incorporating the documentation, reflection upon and curation of educational achievements in routine practice for teachers across UNSW.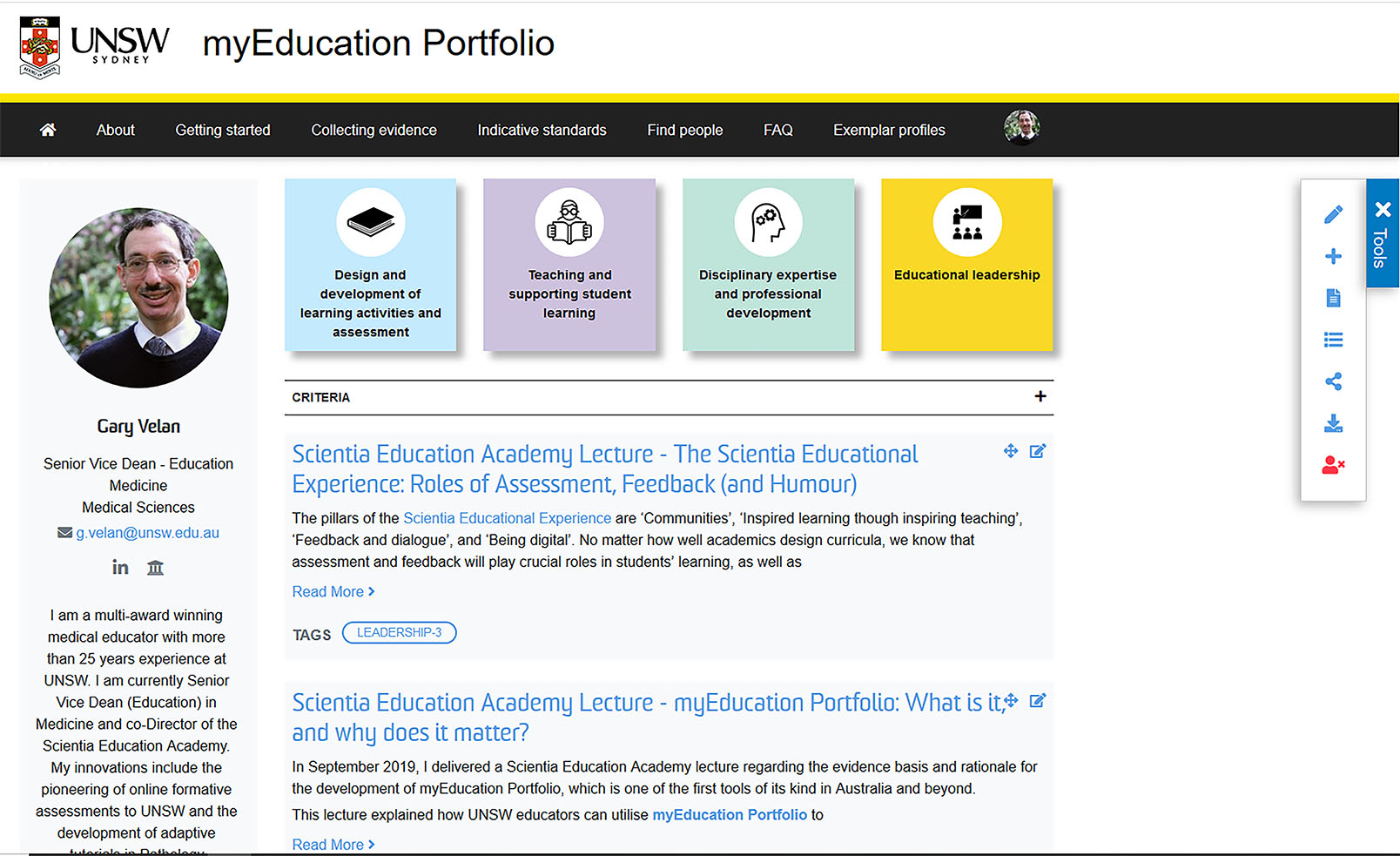 You can find more information about myEducation ePortfolio here. Get started with creating your myEducation ePortfolio profile using the step-by-step video guide. You can also watch a short video on how to create a case using the 'myCases' tool to develop an Education case for teaching awards, fellowships or academic promotion based on your profile and evidence of achievement. Guidelines and exemplar profiles were built in collaboration with the UNSW Education Focussed Community of Practice on Evaluation of Teaching and ePortfolios to assist staff in diverse disciplines to develop their Education case for academic promotion.
---
References
Beckmann, E. A. (2016, July 4–7). Teaching excellence: Recognising the many as well as the few. Paper presented at the Higher Education Research and Development Society of Australasia (HERDSA) Conference, Fremantle, Australia. https://conference.herdsa.org.au/2016/images/188_Beckmann__RefPaper.pdf
Gibbs, G. (2008). Conceptions of teaching excellence underlying teaching award schemes. York: Higher Education Academy.
Comments