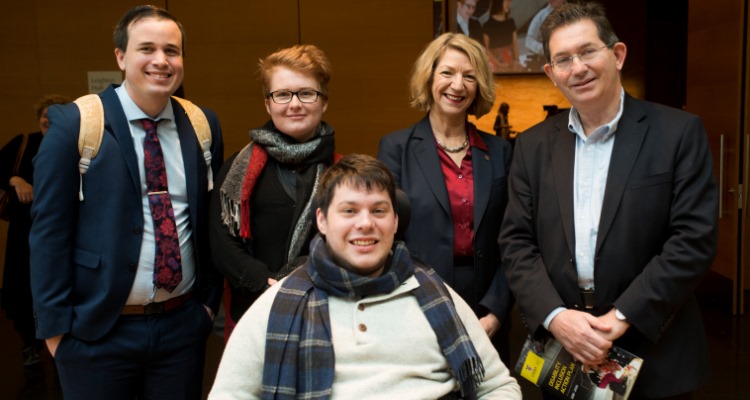 UNSW demonstrated its commitment to making its student and staff experience welcoming, inclusive and accessible to all by launching its Disability Inclusion Action Plan at an event at Leighton Hall on 5 June.
Disability Inclusion Action Plan 2018-2020 (DIAP) was launched by the Australian Human Rights Disability Discrimination Commissioner, Mr Alastair McEwen, alongside President and Vice-Chancellor Professor Ian Jacobs, the Deputy Vice-Chancellor Inclusion and Diversity, Professor Eileen Baldry and UNSW Diversity Champion (Disability) Professor Andrew Lynch.
The Plan delivers a framework to provide equal access across UNSW to ensure all staff and students can achieve to their highest potential.
"I am very proud to say that UNSW is backing up its good intentions with action," said Professor Jacobs at the launch.
"Today's launch brings us closer to our goal of achieving full and effective participation for UNSW people no matter their background or circumstance.
"The DIAP that we launch today will make changes that may seem small, but in practice will have an enormous impact on helping our students and colleagues to both be and feel included."
The DIAP identifies six focus areas:
Policy and planning
Learning and teaching environment
World-class digital environment
World-class built environment
Student life
Workplace environment.
Professor Lynch, Head of School/Deputy Dean UNSW Law, has been closely involved in the development of the Plan and is a member of the DIAP Working Group which will oversee the implementation of the DIAP and key performance indicators for the six focus areas.
"The bones of the DIAP's structure are clearly discernible in the succinct but powerful statement of commitment found in the 2025 Strategy – addressing learning and teaching experiences, physical and digital environments, and the creation of a governance framework and campus culture for staff and students that is truly inclusive," said Professor Lynch.
"The Plan reflects the priorities of many people who have been determined to see a real change in the way that the University supports and includes everyone who comes to this place – to study, to work, to visit."
This year also marks the 25th anniversary of the Disability Discrimination Act (DDA). The DDA enshrines in law the right for people with disability to be fully included in all aspects of the economic, social, cultural and political life of our great country. More information and resources can be found on the Australian Network on Disability website.
In the last edition of Inside UNSW, the Disability Innovation Institute announced that $150,000 in seed funding is available for UNSW academic staff whose research links with disability. A seed funding information session is taking place on Wednesday, 20 June. 
More information on UNSW disability initiatives can be found on the Disability@UNSW , and you can download a PDF copy of the DIAP here.
Staff and students can alert the University to issues regarding accessibility by contacting diap@unsw.edu.au.
Comments