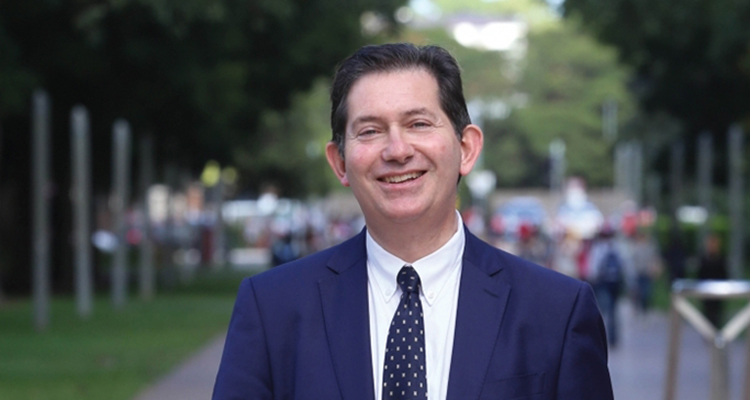 Colleagues
This has been an historic week for high-profile parliamentary visitors – with both Prime Minister Malcolm Turnbull and the Leader of the Opposition Bill Shorten visiting UNSW on consecutive days. In a speech delivered to members of the higher education and diplomatic communities on Tuesday, the Prime Minister reaffirmed the importance of international education and international research partnerships to the Australian economy. As the Prime Minister told a packed Tyree Room, Australia has always been at its best when open to the world. International education is Australia's third largest export after iron ore and coal, and our international research partnerships are paving the way for stronger relations with our Indo-Pacific region and beyond. In his talk, which you can read here, the Prime Minister profiled a number of outstanding UNSW researchers and alumni, including Dr Jing Guan, UNSW Engineering alumna and now Chief Scientist at one of China's largest water treatment technology companies, Beijing Origin Water; Professor Sean Li, pioneer in graphene technology, whose work with Chinese electricity company Hangzhou Cables has the potential to significantly improve the cost and efficiency of the Chinese electricity grid; and Scientia Professor Martin Green, world-leader in photovoltaics, a number of whose students have gone on to establish leading solar companies in China. The Prime Minister's remarks reinforced the Government's commitment to backing Australia's interests, and supporting our powerful international education and research sectors to continue to thrive.
On Wednesday, I welcomed Mr Bill Shorten and Senator Jenny McAllister, who were on campus for a tour of our Solar Industrial Research Facility hosted by Associate Professor Alistair Sproul. Mr Shorten was impressed by the role of UNSW researchers in taking solar energy from discovery science to application and by our commitment to become the first university to be carbon neutral for electricity on campus through solar energy. He spoke to the media about issues related to Australia's energy needs in the context of National Energy Guarantee discussions. I took the opportunity to press the case for the importance of greater public funding for high quality research.
Foundation Day last Thursday was an opportunity for students and staff to mark UNSW's 69th birthday and celebrate all that makes our university great. If you delve into the archives you will find that the actual date of Foundation Day has been somewhat of a moveable feast over the years. But putting that small detail aside, the archives also contain some amazing tales of student antics from foundation days past. It is worth a read if you are interested in learning more about UNSW's history or simply enjoy a good prank story involving alligators, kidnappings or ferry-takeovers. Being on a plane on my way to Thailand meant I missed out on the fun last week, but from all accounts it was a great day.
Last week, we received the news that nine UNSW academics have received 2018 ARC Future Fellowships. Congratulations to Dr Tjeerd Boonstra, Dr Laurie Menviel, Dr Danyang Wang, Dr Melissa Merritt, Dr Kristopher Killian, Associate Professor Kalervo Gulson, Dr Thanh Vinh Nguyen, Dr Lijun Chang, and Dr Yvonne Wong. You can read more about their research here. As part of the same announcement, we also heard that Professor Joe Dong has secured more than $3 million for a five-year project developing cheaper storage devices for renewable energy. These are terrific accolades and vital support for important research. We also heard that UNSW has 10 finalists in this year's Australian Museum Eureka Prizes, or as some call them, the 'Oscars' of Australian science, and that Dr Brett Hallam has been included in Engineering Australia's 30 innovative engineers list for 2018. Congratulations to all. On the topic of exceptional UNSW people, in this edition of Inside UNSW, we present the first of our new 'Faculty Matters' video series profiling outstanding members of our community. The first is a conversation with Scientia Professor, Veena Sahajwalla, in which she talks about her work in recycling science, her inspirations and influences.
As I mentioned, I was in Thailand last week where I attended and spoke at the UN University Scholars Leaders Symposium in Bangkok. The event brought together more than 1,000 student delegates from 87 UN member countries to discuss global humanitarian issues. I had the pleasure of joining my U21 colleagues, Professor Peter Mathieson from the University of Edinburgh, and Professor Tan Eng Chye from the National University of Singapore, for a panel discussion on the importance of leadership in tackling grand global challenges such as mass migration, food security, climate change, cyber threats and disruptive technology. I was proud to showcase the tremendous work UNSW is doing in our Grand Challenges program as well as our Institute for Global Development.
Having a global focus is, as you know, a key part of UNSW's 2025 Strategy. But also enshrined in the Strategy is a commitment to addressing inequality in our own community. A great example is our partnership with the Australian Council of Social Services (ACOSS) to work together on tackling poverty and inequality in Australia. Last week, Professor Peter Saunders from the UNSW Social Policy Research Centre, and ACOSS CEO (and UNSW alumna) Dr Cassandra Goldie launched the first joint publication of our partnership – Inequality in Australia 2018.  The report reveals Australia to have among most unequal distribution of wealth in the world. You can read the report here.
It's also been a busy couple of weeks for events on campus. This included the Enterprise Town Hall, which, besides revealing Brian Boyle and his team as Star Trek tragics, showcased the important work of the Enterprise Division. Over the first six months of this year, the Division graduated 107 start-ups and generated $91 million in knowledge exchange revenue. These are impressive results and testament to the great work being done across the Founders program, Government relations and knowledge exchange teams to translate UNSW research into tangible impact.
The Professorial Inaugural Lectures also continued with engaging presentations from Professor Jason Evans and Professor Jonathan Morris from the Faculty of Science. Next Thursday, we will hear from two rising stars from the Faculty of Medicine: Professor Danny Eckert, who will present on sleep, and Professor Jane Butler, who will share her research on breathing. The week after, on 22 August, we will hear from two outstanding new professors from the Faculty of Arts and Social Sciences, Professor Brigitta Olubas and Professor Jon von Kowallis. I hope that many of you will make time to attend some of these lectures! They are a great opportunity to learn about the work of our newly recruited or promoted professors and to hear about the people, both professional and personal, who have made their success possible. I can assure you that you will find the lectures interesting, enjoyable and a good use of an hour of your time. The drinks afterwards are always a welcome opportunity to meet colleagues from across UNSW. These inaugural lectures are open to all, so please bring along students, colleagues, family and friends.
In the lead up to National Science Week, the Sydney Science Festival is upon us. An exciting  program of events happening across Sydney, including a number of talks featuring our own UNSW scientists. I will be speaking in my Group of 8 Chair capacity at the National Press Club in Canberra next Tuesday and will launch a report prepared by London Economics on the economic impact of the Group of Eight universities. Anyone interested can watch or stream my presentation here.
Best wishes,
Ian
Comments