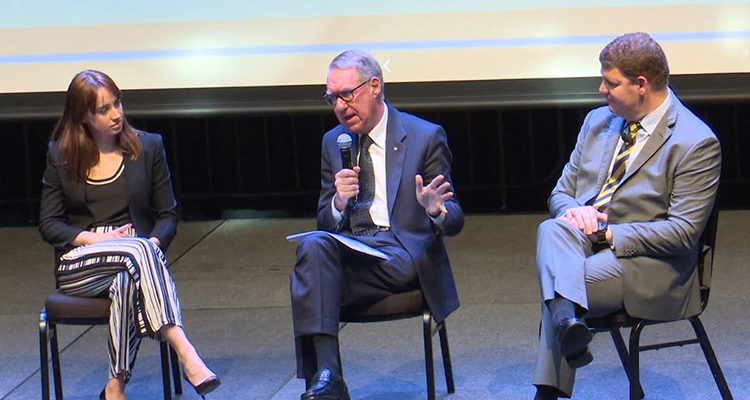 Everyone has a role to play in supporting the generous philanthropic networks that provide essential support for the work of our University.
Did you know that since 2015, philanthropic giving alone was responsible for $141 million of funds raised in support of the 2025 Strategy?
This incredible figure demonstrates the depth of human generosity that is helping to fuel UNSW's success, and was the theme of a recent Town Hall, hosted by the University's growing Division of Philanthropy.
Last year alone, more than 4,500 donors – of which 70% were alumni – donated a total of $46.4 million. This formed a critical pillar underpinning the work of The Kirby Institute, Scholarships, Women in Engineering, the Kaldor Centre for International Refugee Law, the Lowy Cancer Research Centre, the UNSW Matraville Education Partnership, and the Entrepreneurship program.
"Without philanthropic giving, many of these initiatives and centres would not be possible," explained Jon Paparsenos, Vice-President Philanthropy (Alumni, Engagement & Development), in his Town Hall presentation. "At UNSW, philanthropic giving supports research and teaching excellence, global impact and world class environments."
However, the success of UNSW Philanthropy is highly dependent on partnering together with staff – the University's "most compelling ambassadors and advocates", Mr Paparsenos said.
Why give back?
To further demonstrate the drive and importance of philanthropy, attendees also heard from Caitlin Barrett, UNSW alumni and CEO and Co-Founder of the Love Mercy Australia Foundation.
"Philanthropy is never one-sided," said Ms Barrett, as she shared her thoughts on why people engage in philanthropic behaviour. "I think it's rare to have an experience that is completely altruistic. Philanthropy is always a two-way street.
"People give something in order to get something back. That's not necessarily something tangible. It might just be the feeling you get when you engage in a philanthropic way. It might be something that you can put on your Linked In profile. Or it might be access to a network of people that you wouldn't otherwise have had access to."
Speaking after Caitlin, UNSW Chancellor, and donor, David Gonski AC agreed. "I am not completely altruistic in giving to this place. I believe in it. I love it. And I can see the contribution it can make."
"My father was born very poor.  His education changed his life," Mr Gonski told the crowd. "My father got through first a Bachelor of Science and then went through to become a brain surgeon through other peoples' generosity. He qualified for scholarship after scholarship… I give to education because it is powerful. I saw the way it changed my father's life and I experienced the way it changed mine."
Partnerships key to success of Philanthropy
At the Town Hall, Mr Gonski described philanthropy and the engagement of our alumni community as "vital to the future of this University" and is a key pillar of our 2025 Strategy. But the ongoing success of this type of support will depend strongly on partnerships formed across the university, to make the division aware of the various ways in which its work can elevate the work of UNSW and its staff and students.
"We invite you all to work in partnership with us to build a foundation of support and provide meaningful engagement opportunities for our 300,769 UNSW alumni based around the world," said Mr Paparsenos.
"What are the big ideas that we can work together on to develop, to find meaningful engagement opportunities and to get the resources that are needed to have success in the future? We need your support to help build a culture of Philanthropy across the university," he said.
Have an idea you'd like to share with the Division of Philanthropy? Contact us today at philanthropy@unsw.edu.au.
Comments