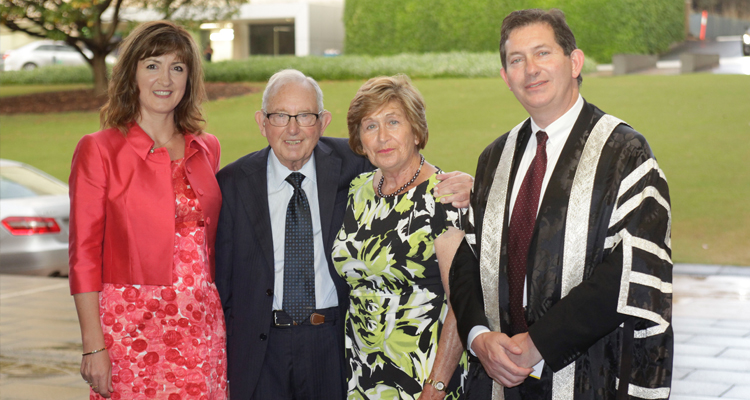 Colleagues
Since we established Taskforce 20/21+ in April, much work has been done to consider the way forward for UNSW as we face a significantly altered higher education landscape. Thank you to all who have been involved in the Taskforce Working Groups and to the staff who provided valuable suggestions during the consultation. I invite everyone to attend a virtual meeting tomorrow afternoon to hear about the next phase in our response to the COVID-19 crisis and the outcome of the Taskforce 20/21+ Initiative. The staff forum will be a 'Teams Live' event on Wednesday (15 July) at 3.00pm and there will be an opportunity to provide feedback and ask questions. You can register here.
Some of you have heard that my father, Sidney, died in London last week and I am grateful for the many messages of support and condolence. I had a close and loving relationship with Dad who was in his 90th year and had lived a long, happy and fulfilling life. I was able to join Dad's funeral via Zoom – an unexpected use of modern technology – and speak about his life. He was a wonderful man who I miss badly. I was fortunate to grow up in a home with loving and supportive parents, who despite not having the opportunity to go to university, understood the power of education and worked hard to open up that opportunity for my brother and myself. Mum and Dad visited Sydney, soon after Chris and I arrived in Australia, and got a sense of the wonders of UNSW and our excitement at the new chapter in our lives. The photo is a picture of Mum, Dad, Chris and me outside the Scientia Building, at the 2015 UNSW Town and Gown event, when I launched Strategy 2025 - I am so glad that Dad was there.
It was hard not being able to immediately fly to the UK to be with my Mum and family, but I realise that millions of people globally are experiencing much more difficult circumstances. I want to acknowledge other members of the UNSW community who have found themselves in similar situations and I extend my deepest sympathy to those who are feeling the grief of separation from loved ones.
UNSW excels in Australian Laureate Fellowships
As a community, we have much to celebrate as our work continues. It is with delight that I highlight the news that five out of the 14 recently announced ARC Australian Laureate Fellowships went to UNSW academics. It was the greatest number of Fellowships awarded to any one university in Australia, and only one other was awarded in NSW. As Professor Nicholas Fisk reminded us, these are incredibly prestigious awards, the 'pinnacle of achievement and highly coveted in the research sector'. I know that I speak on behalf of the entire UNSW community when I say congratulations to Professor Alison Bashford; Scientia Professor Ross Buckley; Scientia Professor Dennis Del Favero; Scientia Professor Martina Stenzel; and Scientia Professor Toby Walsh. You can read more about the Fellowships here.
UNSW engineers among the most innovative
We also heard the fantastic news that two of UNSW's engineers have been named among the country's most innovative, by create magazine. In the Young Engineers category, Dr Rona Chandrawati, Scientia Senior Lecturer in the School of Chemical Engineering, was named for innovative technology that overcomes several challenges when using nitric oxide to treat a range of health conditions, including glaucoma. Dr Farshid Pahlevani, a senior research fellow in UNSW's School of Materials Science and Engineering, won his accolade for an innovative process that uses discarded coffee grounds to create a sustainable source of agricultural phosphorus. Congratulations to Dr Chandrawati and Dr Pahlevani. Their work is a great example of the ability and creativity within our community.
UNSW experts to help establish the National Disability Research Partnership
Congratulations also go to Professor Jackie Leach Scully, UNSW Sydney, and Professor Helen Dickinson, UNSW Canberra, who have been chosen as members of the interim working party to establish the Australian Government's National Disability Research Partnership. The working party brings together experts and advocates from the disability sector and researchers from numerous Australian universities. The group will develop a collaborative, holistic approach to a governance structure and research agenda for the NDRP in partnership with the disability community. I wish you and your colleagues well with this important task.
The Research Sustainability Working Group
I was honoured to be asked to sit on the Australian Government's Research Sustainability Working Group which has been convened by Education Minister, Dan Tehan. I join fellow Vice-Chancellors from UTS, QUT, University of Melbourne, Monash, University of Tasmania and Charles Darwin University. I hope that we can come up with better mechanisms for organising and funding research, that marry the needs of society with the intellectual firepower of universities and the commercialisation prowess of industry. We have so much world class research to tap into and now have a chance to accelerate its translation and commercialisation in support of Australia's economic and social recovery from the pandemic. The Working Group will report in six months.
Virtual engineering laboratories replicate 'real' experience
I encourage you to read this story about how the School of Electrical Engineering and Telecommunication used existing infrastructure to develop fully remote laboratories for some of the Electrical Engineering and Telecommunications courses. The EET team of Zhenyu Liu, Dr Arash Khatamianfar, Roy Zeng and Dr. Aron Michael and Dr. David Tsai devised a way, using Microsoft Teams, to replicate the lab experience, so that it closely resembled what students would have experienced on campus. This is another great illustration of how the UNSW community has responded to the challenges of teaching and learning in 2020. Great stuff.
UNSW Winter Gateway Program supports Year 12 students
Between the disruption of the pandemic and proposed changes to fees for some university courses, it has been an incredibly difficult year for students studying Year 12. Those challenges are compounded for students who experience disadvantage. UNSW's Gateway Program aims to improve the progress and success of students from low SES backgrounds and the program's recent inaugural Winter Program gave students the chance to reset their sights on a university education. Congratulations to Mary Teague, Director, Access and Equity (Students), and Professor Eileen Baldry, DVC Equity, Diversity and Inclusion, for their visionary work in encouraging and assisting students who may otherwise not even dream of going to university. 
National defence strategy launched at UNSW Canberra
Prime Minister Scott Morrison delivered the 2020 Defence Strategy Update on campus at UNSW Canberra on 1 July 2020. The PM announced $270 billion Defence spending over the next decade, including a new $130 million Capability Acceleration Fund, $7 billion for space, $6-9 billion to 2040 for hypersonics research and $15 billion for information and cyber security to 2030. You can read further details on the Defence Strategic Update here.
UNSW merchandising branches out
And now for something completely different…for those who have been asking when UNSW Merchandising is going to bring out a range for your four-legged friends, the answer is – soon. And you can have your say on what it might look like by completing this survey.
Please remember if you need support, a free, confidential counselling is available through our Employee Assistance Program. The service is also available for immediate family members. Assistance for our students is available via The Nucleus on 02 9385 8500 and our Student Support Advisors.
I hope that many of you will join the Teams meeting at 3pm on Wednesday.
Take care
Ian
Comments