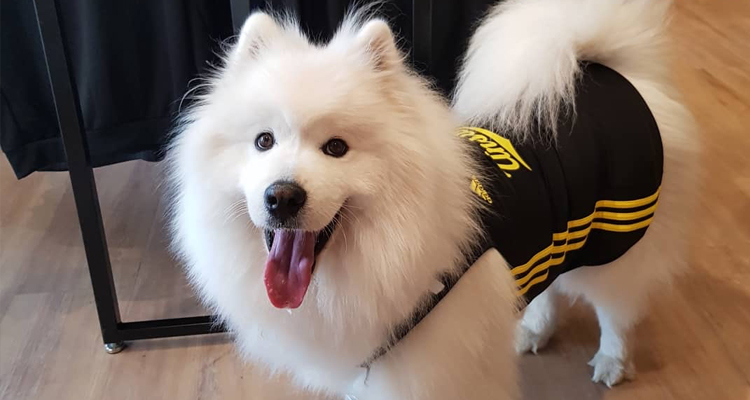 With the new pet range from UNSW Merchandising, your pet could become the fashion maven of its pack.
UNSW Merchandising is currently digging up a brand new, never seen before, four-legged fashion range, but needs your help in making the range irresistible to beloved pooches and kitties, as well as their owners.
Just take a short survey to tell us your opinion on what products you'd like to see brought to life in the pet range. Is it a jumper you're after, or a cat collar with cutesy bells? Maybe you want a bandanna or a food bowl … tell us what you really like.
In addition to selecting products, you can also rank four unique collections, designed exclusively for the new range. Each collection features two stylish, yet playful, designs suitable for any pet, big or small.
The first collection, 'You Little Animal', introduces striking animal print in two sassy colours. If your four-legged friend is a feisty trend setter, this is the design for them. For pets who are a little more on the playful side, the 'Cat at Play & Dog Dining' collection is bright and cheerful, featuring bold icons.
The 'Study Cat & Diversity Dog' collection offers sophisticated designs fit for any pet with style, perfect for any 'furshionistas'. If you prefer something a little quirky, the 'Zen Cat & Zen Dog' features fun caricatures and UNSW's signature yellow as the background.
"Since we launched UNSW Merchandising in 2019, we have constantly been asked if we were ever going to create a pet range. The UNSW pet community is much-loved and ever growing, and we're very excited to be working on the new range. It interprets the UNSW brand in a fun and unusual way," said Stephen Wong, Director of Business & Campus Services.
UNSW Merchandising's new collection aims to be playful and fun, with just a touch of whimsy, much like the personalities of our pets. You can help shape the new pet range by having your say in the short survey here. The range is set to launch in late 2020.
To browse the current UNSW Merchandising range and for more information, visit the Business & Campus Services website.
Comments